Another top Trump administration official has come out against recommending the antimalarial drug hydroxychloroquine, days after President Donald Trump again said he was a "believer" in the medication as a treatment for the novel coronavirus.
"From a public health standpoint, at first, hydroxychloroquine looked very promising. There were not the definitive studies. At this point in time, there's been five randomized control, placebo-controlled trials that do not show any benefit to hydroxychloroquine. So at this point in time, we don't recommend that as a treatment," Assistant Secretary for Health at the Department of Health and Human Services Admiral Brett Giroir, a medical doctor, told NBC News' Meet the Press on Sunday.
"There's no evidence to show that it is [effective against COVID-19]," Giroir confirmed. He added: "Right now, hydroxychloroquine, I can't recommend that."
"The evidence just doesn't show that hydroxychloroquine is effective right now. I think we need to move on from that and talk about what is effective," the doctor explained, pointing out that mask wearing has been shown to effectively curb the spread of new infections.
Newsweek reached out to the Department of Health and Human Services for further comment, but they did not respond by the time of publication.
The remarks, which align with those of other top health officials within the Trump administration, were starkly at odds with the president's own assessment last Wednesday.
"I happen to be a believer in hydroxy. I used it. I had no problem. I happen to be a believer. Many, many people agree with me," Trump told reporters. "A great test just came out from the Ford clinic in Michigan — very respected. We'll see how it is," he said.
Dr. Anthony Fauci, a key member of the White House coronavirus task force who serves as the director of the National Institute of Allergy and Infectious Diseases, asserted that there is no evidence that the drug is effective against the novel virus.
"We know that every single good study — and by good study I mean randomised control study in which the data are firm and believable — has shown that hydroxychloroquine is not effective in the treatment of Covid-19," Fauci told the BBC.
Dr. Deborah Birx, the White House coronavirus response coordinator, shared a similar assessment with Fox News on Thursday.
"We know in the randomized controlled trials to date — and there's been several of them — that there's not evidence that it [hydroxychloroquine] improves those patients' outcomes," Birx said. "Whether they have mild, moderate disease or whether they're seriously ill in the hospital."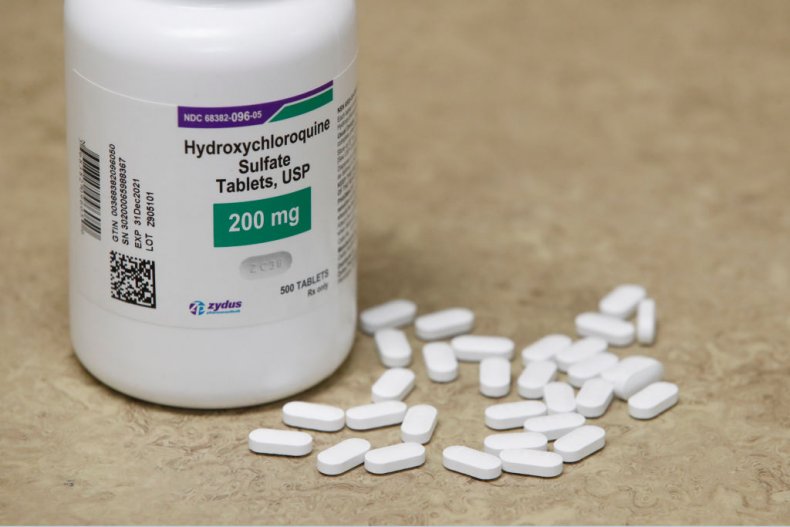 The Food and Drug Administration (FDA) had granted hydroxychloroquine emergency use authorization as a treatment for COVID-19 back in March. But that authorization was revoked in mid-June, with the federal agency saying that the drug was "unlikely to be effective."
Prior to that in May, Trump said that he had begun taking the drug as a preventative measure against the novel coronavirus. The White House shared a letter from his doctor, showing that the drug had been prescribed.
About a week later, Trump said he was no longer taking the drug. "Finished, just finished," he told Sinclair Broadcasting on May 24.
About the writer
Jason Lemon is a Weekend Editor at Newsweek based in Brooklyn, New York. Prior to taking on the editor role, Jason's reporting focused on U.S. politics and international affairs. He joined Newsweek in 2018, and had previously worked as a founding editor at a Middle Eastern media startup called StepFeed. He also worked a year as a contributor to The Atlanta Journal-Constitution and has bylines in The Christian Science Monitor, The Palm Beach Post, Al Fanar Media and A Magazine. He is a graduate of the American University of Beirut in Lebanon and Andrews University in Michigan. You can get in touch with Jason by emailing j.lemon@newsweek.com. Languages: English, Spanish, French and Levantine Arabic