Trump Administration Sought Even Closer Taiwan Ties, Wanted Japan to Do More on China
President Donald Trump's administration sought to build even closer ties to Taiwan, and wanted Japan to adopt a tougher stance on China during his four years office, his former top diplomat has said.
Speaking during a virtual seminar hosted Tuesday by the Nixon Foundation on the topic of the U.S.-Japan alliance, former Secretary of State Mike Pompeo discussed at length how he and other U.S. officials "tried to encourage the nations in the region to work alongside of us to defend the West against the threat from the Chinese Communist Party.
Pompeo recalled his discussions with Japanese counterparts throughout his tenure and said they were cognizant of what both Washington and Tokyo considered Beijing's aggressive moves in the Asia-Pacific including against the self-ruling island of Taiwan and the semi-autonomous region of Hong Kong. Still, he argued Japanese officials would not adopt the forceful language adopted by the Trump administration.
"They were resolute in understanding what mattered about Taiwan, what mattered in Hong Kong," Pompeo said, "but it was very difficult for them to find a footing for them to find a place where they could talk about this in the same way that the Trump administration was able to talk about this."
Still, Pompeo argued that Japanese officials watched China's assertion of greater central government authorities in Hong Kong "and it gave them even heightened sensitivity about the risks throughout the entire set of islands there, I think they saw the risks and realized they were going to have to do more, not only with respect to Taiwan, with respect to the Pacific Islands, with respect to the Philippines, other places as well."
But the former CIA director acknowledged that there was unfinished business left behind with Trump's electoral loss and the subsequent inauguration of his successor, President Joe Biden.
"I actually think you can do everything you can to drive the Japanese to the right place," Pompeo said. "I think we ought to absolutely do more with Taiwan, we tried to do that we made some progress, we didn't get all the way home, for sure there's an awful lot of space left to there."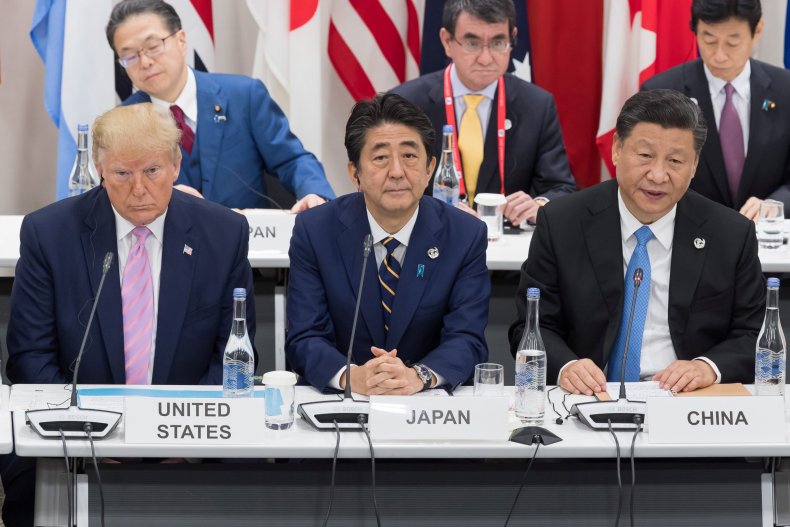 Trump broke precedent on Taiwan even before taking office as he accepted a congratulatory call from Taiwan President Tsai-Ing wen in December 2016. The call marked the first of its kind between leaders in Washington and Taipei since the former severed ties between the two in favor of recognizing Beijing in 1979, three decades after the Chinese Communist Party won the mainland in a civil war and the People's Republic of China, sometimes called PRC, was established.
While the U.S. does not have official diplomatic relations with Taiwan, it does maintain informal defense and political ties that were expanded under the Trump administration in development that angered China, which considers the island to be a rogue province. Chinese President Xi Jinping has vowed to retake Taiwan through talks or military might, if need be.
Trump initially set out to court Xi in order to establish a favorable trade relationship with Washington's top economic rival. Diverging views, however, eroded their dynamic and the emergence of the COVID-19 pandemic was followed by a serious falling out as Trump sought to blame China for the disease's spread due to the novel coronavirus first being detected there and allegations the country mishandled the initial outbreak.
Even as COVID-19 spread, however, the U.S. doubled down on its investment into a coalition of Asia-Pacific states known as the Quadrilateral Security Dialogue. The group also includes Australia, India and Japan.
During Tuesday's seminar, former national security adviser Robert O'Brien said he felt the Trump administration's reinvigoration of the Quad "is going to be viewed historically as one of the singular foreign policy achievements of the Trump administration." He praised Pompeo's role in bolstering the "critical relationship between the United States and Japan," especially as it relates to the Quad.
O'Brien said also credited Japanese National Security Secretariat Secretary General Kitamura Shigeru, who served under former Prime Minister Abe Shinzo and continues to do so under Prime Minister Suga Yoshihide, as someone who "understands the challenges that the PRC and the Communist Party of China present to the region and to the world as well as anyone."
Japanese officials, O'Brien said, "also understand the importance of Taiwan, and ensuring that Taiwan is not subject to an invasion and taken over by the Communist Party of China by the PRC."
"If that happened," he added, "geopolitically it would be extraordinarily difficult for the Japanese, or they'd essentially be surrounded by the Chinese and so that's something that I think the Japanese understand very well and under both Prime Minister Abe and Prime Minister Suga, they've been very supportive of the U.S. and supportive of Taiwan and presidency."
O'Brien said the U.S. and Japan "had a shared strategic vision" during his and Pompeo's time in office.
Biden too has affirmed Washington and Tokyo's traditional alliance. He also appeared to face the same reluctance on the part of Japan to take on China when it came to Taiwan.
Following Suga's White House visit as Biden's first foreign leader guest in April, the two sides released a joint statement in which the pair said they "underscore the importance of peace and stability across the Taiwan Strait and encourage the peaceful resolution of cross-Strait issues." The remarks contained no commitment to Taiwan's defense and, while there were "concerns" expressed regarding human rights in Xinjiang and Hong Kong, the two men also "recognized the importance of candid conversations with China, reiterated their intention to share concerns directly, and acknowledged the need to work with China on areas of common interest."
Suga and Xi also expressed the need for cooperation and building better relations in their own initial communications last September. When it comes to Taiwan, however, Chinese officials have made clear there was no room for debate.
Amid media reports Monday suggesting that the Japanese government was considering sending COVID-19 vaccines to Taiwan, Chinese Foreign Ministry spokesperson Wang Wenbin warned against politicizing international health efforts.
"We are firmly against those who exploit the pandemic to put on political shows or even meddle in China's internal affairs," Wang said. "I've noticed that Japan can barely ensure adequate supply of vaccines at home. Under such circumstances, the Japanese government's announcement of considering providing vaccines to China's Taiwan region has drawn doubts from media and the public including in Taiwan."
"I would like to stress that vaccine assistance should be restored to its original purpose," Wang added, "which is to save lives, and should not be reduced to a tool for selfish political gains."
China has also defended its practice of sending flying daily aerial patrols through the Taiwan-claimed Air Defense Identification Zone, and deploying maritime patrols to the disputed Pinnacle Islands, known to China as Diaoyu and Japan as Senkaku, for which Japan has scrambled its coast guard on a regular basis, and lodged diplomatic protests.
"I think the situation surrounding the Senkaku is a very difficult security environment," Japanese Defense Minister Kishi Nobuo told reporters Tuesday. "We will deal resolutely and calmly with the determination to firmly protect Japan's territorial land, sea and airspace."
As the confrontations neared a record-breaking daily streak, the head of U.S. Indo-Pacific Command traveled to Japan on his first overseas visit to reaffirm the alliance between the two nations during meets with top Japanese officials.
"It was important that I visit Japan as part of my first overseas trip to listen and learn from our allies about their security concerns in the region," Navy Admiral John C. Aquilino said, according to a statement. "The U.S.–Japan alliance is the cornerstone of peace and security in the Indo-Pacific, and we remain absolutely committed to working alongside Japan and other like-minded countries to ensure a free and open Indo-Pacific where all nations can thrive and prosper."