U.S. Calls for Taiwan to Join WHO Meeting, China Warns Against 'Separatist Activities'
The United States has called for Taiwan to be included as an observer in the World Health Organization's upcoming meeting, but China has warned the self-ruling island against any actions intended to divide it from the mainland.
Secretary of State Antony Blinken issued a statement Friday, arguing that "there is no reasonable justification for Taiwan's continued exclusion" from the World Health Assembly (WHA), an annual international gathering of just about every nation in the world set to take place on May 24. While Taiwan is viewed by the United Nations as part of China, the U.S. feels it deserves it own seat at the table, especially given its early, effective response to the COVID-19 pandemic, which was first observed in China's Hubei province.
Taiwan previously participated in the forum as an observer under the name "Chinese Taipei" from 2008 through 2016, but the invite was revoked amid a rise in cross-strait tensions following the election of Democratic Progressive Party (DPP) President Tsai Ing-wen.
"Global health and global health security challenges do not respect borders nor recognize political disputes," Blinken said. "Taiwan offers valuable contributions and lessons learned from its approach to these issues, and WHO leadership and all responsible nations should recognize that excluding the interests of 24 million people at the WHA serves only to imperil, not advance, our shared global health objectives."
And though Washington severed official ties with Taipei in favor of Beijing about half a century ago, the U.S. continues to provide political and military assistance to the island.
"Taiwan is a reliable partner, a vibrant democracy, and a force for good in the world, and its exclusion from the WHA would be detrimental to our collective international efforts to get the pandemic under control and prevent future health crises," Blinken added. "We urge Taiwan's immediate invitation to the World Health Assembly."
The ongoing, informal yet expanding relationship between the U.S. and Taiwan has fueled anger in China, where President Xi Jinping has pledged to reintegrate Taiwan either through diplomacy or force. A sharp increase in People's Liberation Army activity through airspace claimed by Taiwan has caused concern on the island that its rival may be gearing up for an invasion.
These concerns were voiced by Taiwan Foreign Minister Joseph Wu, referred to in Mandarin as Wu Zhaoxie, in an interview Wednesday with the Australian Financial Review.
On Friday, China's Taiwan Affairs Office reacted strongly, with spokesperson Zhu Fenglian "telling the DPP authorities, Wu Zhaoxie and others not to misjudge the situation."
"'Taiwan independence' is a dead end," Zhu was quoted as saying by her office. "We have the determination and ability to thwart all 'Taiwan independence' separatist activities, resolutely defend national sovereignty and territorial integrity, and resolutely safeguard the common interests of compatriots on both sides of the strait."
She said that the cause of an independent Taiwan and those who support it were doomed.
"We will never leave any room for various forms of 'Taiwan independence' separatist activities," Zhu added. "All 'Taiwan independence' elements who sell their national interests and split China will eventually face trial by history and a day of reckoning."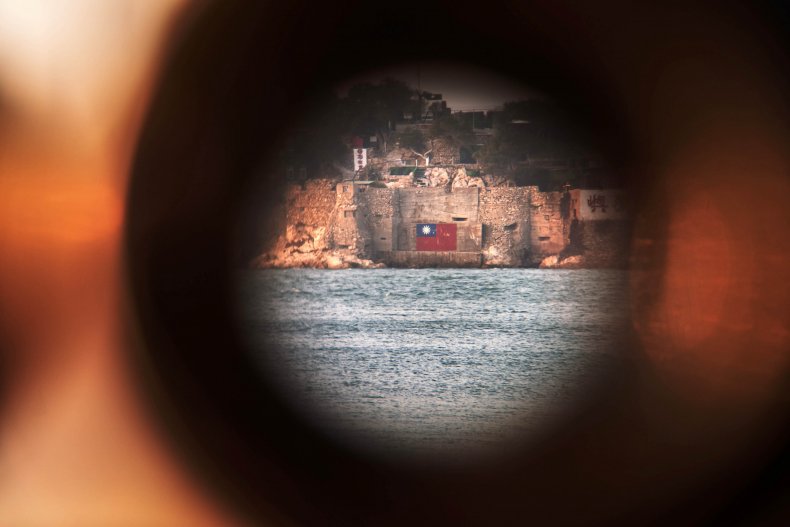 Taiwan has been an influential factor in the deterioration of relations between the U.S. and China that began under former President Donald Trump, who broke early on by accepting Tsai's congratulatory phone call shortly after his election. His successor, President Joe Biden, has also pledged to shore up support for Taiwan and even invited the island's de facto envoy to the U.S. to his inauguration in January.
The Biden administration has also vowed, however, to maintain a "One-China policy" that governs both its official relationship with Beijing and its unofficial ties to Taipei. China has refused to engage in diplomacy with any country that establishes formal ties with Taiwan, and today only 14 countries and the Holy See have relations with the island.
There are two ways in which Taiwan would be permitted to participate in the upcoming WHA gathering, as relayed to Newsweek in a statement.
"Taiwanese observership at the World Health Assembly is a question for the 194 Member States of WHO to consider and decide upon," according to the WHO. "The World Health Assembly can invite observers through a resolution or decision adopted by a simple majority of its 194 Members."
When it comes to issues of international concern, Taiwan officials have argued the world would benefit from having them join the conversation.
"The pandemic has reminded the world that disease knows no borders, and that all countries need to work together to prepare for the next public health event," the Taipei Economic and Cultural Office in New York said in a statement sent to Newsweek. "It has also exposed the absurdity of excluding Taiwan from the global health body, especially given how the information it provided at the early stage could have had an impact on containing the virus."
The office touted Taiwan's success in combating the coronavirus disease and issued five demands for the WHO. These included allowing Taiwan to join the WHO-led public health network, providing the contact information for Taiwan's Centers for Disease Control in the International Health Regulations intranet, establishing a relationship between the WHO Western Pacific Regional Office and Taiwan, listing Taiwan's disease cases separately from those of China and allowing Taiwan to participate in technical meetings.
"The WHO must fully accept Taiwan's participation," the office said.
The cause has won bipartisan support from lawmakers of the U.S. Congress as well. A proposed bill entitled the Strategic Competition Act would compel the Biden administration to further support efforts for Taiwan's participation in international organizations such as the World Health Organization, as well as to investigate alleged Chinese influence they see as expanding within these institutions.
The prospect of Taiwan being admitted to the World Health Assembly was also backed in a joint statement published by the Group of Seven, or G7, which includes Canada, France, Germany, Italy Japan, the United Kingdom and the U.S.
"To strengthen global cooperation on issues of concern to all we believe it is vital to ensure inclusive processes in international organisations," the communique read. "We support Taiwan's meaningful participation in World Health Organisation forums and the World Health Assembly. The international community should be able to benefit from the experience of all partners, including Taiwan's successful contribution to the tackling of the COVID-19 pandemic."
The group also noted that member states "remain seriously concerned about the situation in and around the East and South China Seas."
"We underscore the importance of peace and stability across the Taiwan Strait, and encourage the peaceful resolution of cross-Strait issues," the statement read. "We reiterate our strong opposition to any unilateral actions that could escalate tensions and undermine regional stability and the international rules-based order and express serious concerns about reports of militarisation, coercion, and intimidation in the region."
The U.S. has stepped up its own military movements and activities in the skies and seas surrounding Taiwan as China flexed its muscles.
With tensions high in the region, a senior State Department official also discussed the matter of Taiwan participating in the WHO and WHA ahead of the statement's release.
"It's not just that Taiwan should have a right to be there, because you don't have to be a state to be a participant in it, but that they have a lot to bring to the table, particularly on COVID," the official told reporters on Wednesday. "They have a lot of experience in this that can help all of us, and it just seems really self-defeating to exclude them."
In Beijing, however, the idea has been outright rejected.
"The participation of China's Taiwan region in activities of international organizations, including the WHO, which consists of sovereign nations, must be handled in accordance with the one-China principle," Chinese Foreign Ministry spokesperson Wang Wenbin said during a daily press briefing Thursday.
This, he said, "is an important principle" established by U.N. General Assembly Resolution 2758, which facilitated China's replacement of Tawain at the U.N. in 1971, and WHA Resolution 25.1, which reiterated this transition the following year.
"The G7, as a grouping of developed nations, should take more concrete actions to boost world economic recovery and help accelerate developing countries' growth, rather than stoking confrontation and difference and disrupting global economic recovery," Wang said.
This article has been updated to include a statement by the World Health Organization.