U.S. Flew Over Two Spy Planes a Day in South China Sea Throughout April
The United States military maintained a constant presence in the South China Sea last month, flying an average of two reconnaissance runs every day in April, according to a recent report out of Beijing.
In its monthly summary, the South China Sea Strategic Situation Probing Initiative (SCSPI)—a Peking University think tank tracking military activity around China—said at least 65 U.S. military aircraft operated in the contested waters, where the U.S. Navy carried out 83 percent of those missions.
The April total was consistent with the overall uptick in U.S. military operations in the region, the Chinese think tank said. Having compiled its numbers using available public flight data, SCSPI previously reported record U.S. spy plane operations in the South China Sea numbering 70 and 75 in January and February respectively.
P-8A maritime patrol aircraft flew by far the most South China Sea operations last month, with 43, followed by 10 missions by EP-3E electronic warfare and reconnaissance aircraft, according to the report.
Other RC-135W reconnaissance aircraft, E-8C airborne platforms and at least one MQ-4C drone were also present over the waters where China has vast maritime claims as part of its self-declared "nine-dash" line. Other major claimants include Taiwan, Malaysia, the Philippines and Vietnam.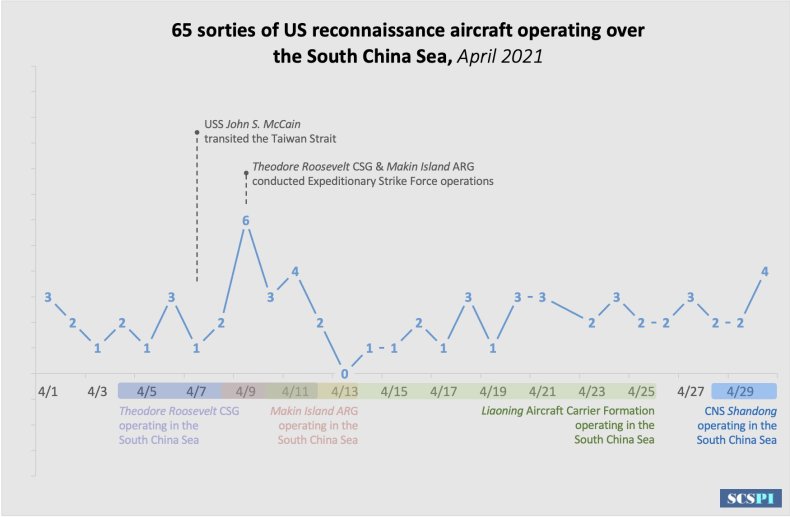 According to SCSPI's data, the U.S. Navy operated 54 of the 65 sorties, while the U.S. Air Force was responsible for the remaining 11.
The United Nations Conference on Trade and Development estimates that 80 percent of global trade is transported by sea, and about one third is carried by maritime shipping lanes in the South China Sea.
The U.S. has asserted navigational rights and overflight in the region for decades, but a recent SCSPI report said the U.S. military "exerted maximum pressure in the South China Sea" in 2020, calling the newfound intensity "unprecedented."
China has also remarked on what it says is an increased militarized presence in the waters around the country. U.S. surface vessel and aircraft activity near China has risen 20 and 40 percent respectively compared with the same period last year, China's Defense Ministry spokesperson Wu Qian said last week.
He also accused U.S. Navy destroyer USS Mustin of disruptive close-range reconnaissance of a Chinese aircraft carrier group led by Liaoning in April.
Beijing-based military analyst Du Wenlong told China's state broadcaster CCTV that the U.S. was now conducting "regular surveillance" of People's Liberation Army (PLA) forces in the South China Sea.
"65 sorties may not be the most ever [...] but it still represents high-intensity surveillance around China at an average of more than two aircraft per day," he remarked on the channel's prime-time program Defense Review.
Du said frequent spy planes rotating in and out of the region meant there was now "relay-style" intelligence gathering of China's land, air and sea forces, allegedly giving the Pentagon a firm grasp of the PLA's combat capabilities.
"The surveillance activity around China is a sign the U.S. is stepping up combat readiness," he added.
Ian Easton, senior director at the Project 2049 Institute, told Newsweek that the U.S. and its allies are "concerned by Beijing's expansionist behavior," particularly in relation to Taiwan. "They are likely increasing surveillance of PLA exercises and drills to ensure early-warning of a potential Chinese attack on Taiwanese territory."
"24/7 surveillance of areas of concern serves as a deterrent against opportunistic aggression of the type often seen in the South China Sea," Easton said, adding: "Given the stakes, no one wants to be caught off guard if an accident occurs."
This story has been updated to include comment from Ian Easton.