U.S. Warship, Carrier Ramp Up Maneuvers in Taiwan Strait and South China Sea
An American destroyer transited the sensitive waters of the Taiwan Strait on Wednesday. This is according to a U.S. Navy statement released hours after Taipei revealed 15 Chinese warplanes had flown into its defensive airspace on the day.
It was USS John S. McCain's second passage through the narrow waterway during the presidency of Joe Biden and the fourth such transit under the new administration. It also coincided with the Theodore Roosevelt Carrier Strike Group's combat drills in the South China Sea and Chinese aircraft carrier Liaoning's deployment to the Pacific this week.
The Arleigh Burke-class guided missile destroyer "conducted a routine Taiwan Strait transit on April 7 (local time) through international waters in accordance with international law," read a statement by the U.S. 7th Fleet."
"The ship's transit through the Taiwan Strait demonstrates the U.S. commitment to a free and open Indo-Pacific. The United States military will continue to fly, sail, and operate anywhere international law allows," it continued.
China's state-owned media outlets have described the latest U.S. Navy navigation as a further provocation amid rising tensions with Beijing, while the People's Liberation Army said it had tracked the warship "all the way."
"The U.S. warship's action sends the wrong signal to 'Taiwan independence' forces; it deliberately interferes in regional affairs and harms peace and stability in the Taiwan Strait," said Zhang Chunhui, a spokesperson for the PLA's Eastern Theater Command.
Zhang said China "strongly opposes" the operation.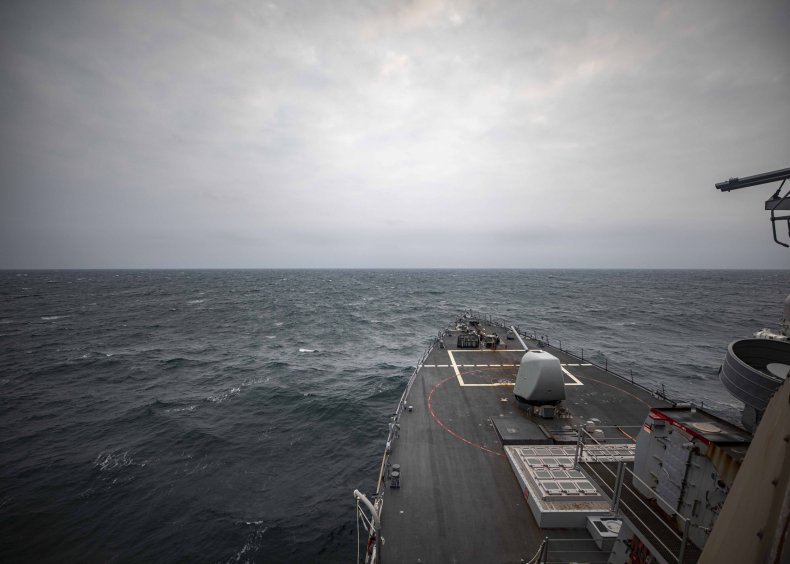 Taiwan, meanwhile, said it had also monitored the skies and seas around Taiwan during Wednesday's transit. Its Ministry of National Defense said USS John S. McCain sailed from south to north through the Taiwan Strait.
Several hours earlier, the defense ministry reported incursions into Taiwan's air defense identification zone by 15 PLA warplanes, including fighter jets and reconnaissance planes, bringing the number of Chinese aircraft sorties near the island to 29 since Monday.
It is unclear whether Wednesday's PLA Air Force operation was linked to the American warship transit, but analysts in Taipei have noted the airspace intrusions tend to spike during informal exchanges between Taiwan and the U.S., or when bilateral ties between the two countries are perceived to be improving.
This February, USS John S. McCain became the first U.S. warship to pass through the busy waters between China and Taiwan under the Biden administration. Analysts described it as a signal that the president was keen to emphasize regional security and stability at a time when China's neighbors, including Taiwan and Japan, were growing concerned about Beijing's military expansionism.
The Chinese government expressed similar opposition to subsequent Taiwan Strait transits by destroyers USS Curtis Wilbur and USS Russel, in February and March respectively. Beijing has also likened U.S. Navy operations elsewhere in the region to "muscle-flexing."
USS Theodore Roosevelt returned to the South China Sea with its carrier strike group on Sunday before conducting joint exercises with the Royal Malaysian Air Force on Tuesday and Wednesday, according separate bulletins this week.
On Monday, a PLA Navy official said a Chinese carrier task group led by Liaoning was conducting drills "in the seas near Taiwan." China's first combat-ready aircraft carrier is currently deployed to the Pacific for far-sea drills.
Asked whether the destroyer's transit was a response to Liaoning's drills east of Taiwan, Department of Defense spokesperson John Kirby said: "We don't conduct freedom of navigation operations around the world to respond to some specific event or the specific action of another country."
"We conduct freedom of navigation operations around the world to send a message about how strongly we believe in international law and in the freedom that all nations have to sail, operate and fly in accordance with that international law," Kirby said.
"Freedom of the seas doesn't just exist for fish and icebergs, and that's the purpose of conducting these operations—to reinforce that notion," he added.
Update 4/8/21 at 5.45 a.m. ET: Additional comments by Pentagon spokesperson John Kirby.