Trump Administration Turns to Twitter to Solve Israeli-Palestinian Conflict, Claims It's More Transparent
The lead White House negotiator in the long-standing conflict between Israelis and Palestinians has turned to Twitter in an attempt to rekindle the oft-stalled talks between the rivals.
Jason Greenblatt, President Donald Trump's assistant and special representative for international negotiations, has for weeks been tweeting his thoughts on the frozen Middle East dialogue, criticizing Palestinian officials for refusing to talk as the United States sided firmly with Israel on most points. The tweets were reported on Sunday by The Washington Post and The Independent, prompting a response from the U.S. diplomat.
"We remain dedicated to seeing if we can resolve the conflict," Greenblatt tweeted Monday. "We also are dedicated to responding to misinformation spread by some of the Palestinian leadership & being clear about our policies.
"Better for us to speak for ourselves so everyone knows where we stand. And, as I said in one of my tweets, we continue to meet ordinary Palestinians & are always available to meet their leadership," Greenblatt continued.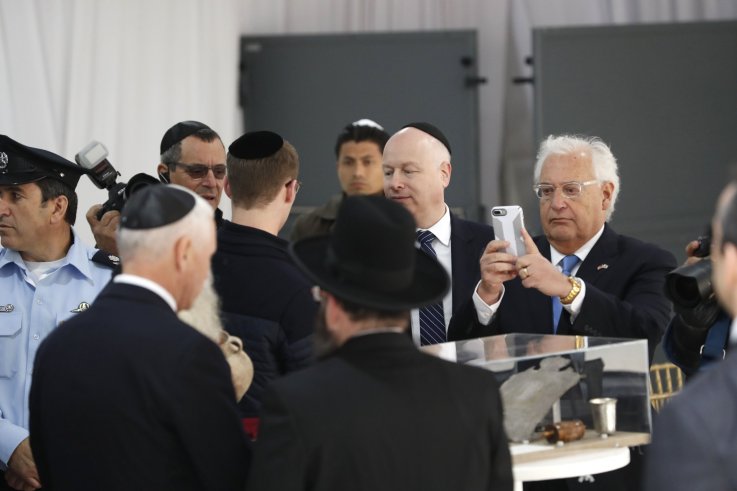 Palestinian officials severed all ties to Washington in the wake of Trump's December 2017 decision to recognize disputed Jerusalem as the capital of Israel. The Palestinian National Authority considers the sacred city the capital of a future, independent state already recognized by the United Nations and many nations worldwide. The U.S.'s move ignited protests across the region.
With speculation over Trump's "deal of the century" for the decadeslong conflict mounting, Israeli news outlet Channel 13 issued a report authored by journalist Barak Ravid last month citing a senior U.S. official describing the plan. The proposal reportedly entailed allowing Palestinians to control 85 to 90 percent of the West Bank, along with a number of majority-Arab neighborhoods in Jerusalem, while Israel would annex some of the majority-Jewish settlements.
"While I respect @BarakRavid, his report on Israel's Ch. 13 is not accurate. Speculation about the content of the plan is not helpful. Very few people on the planet know what is in it ... for now ..." Greenblatt tweeted in response to the report.
"Over the coming period, unnamed sources will peddle narratives to the media & others based on motivations that are far from pure. Peddling false, distorted or biased stories to the media is irresponsible & harmful to the process. Israelis & Palestinians deserve better..." he added.
Later that same week, British-Palestinian filmmaker Farah Nabulsi shared the same article and tagged Hanan Ashrawi, a member of the Palestinian Liberation Organization's Executive Committee. Ashrawi was also skeptical, tweeting: "You need a large grain of salt to believe any leak from Israeli sources, especially in the context of elections rhetoric. Anyway this has been vehemently denied by @jdgreenblatt45. Hypotheticals & red herrings to distract & divert. The US administration has zero credibility."
Greenblatt shot back with a string of tweets, calling Ashrawi's portrayal of the Trump administration having no clout "simply not factual" and touting the decision to move the U.S. embassy from Tel Aviv to Jerusalem the basis for the current stall in talks. He called for a return to dialogue and said he would "keep trying" for peace. Ashrawi later responded, saying her "zero credibility" claim was her "polite way of saying that you have unilaterally destroyed the chances of peace by taking illegal unilateral measures to prejudice/predetermine the outcome of the basic requirements of peace."
The Twitter diplomacy continued this month, with Greenblatt responding negatively to Palestinian presidential spokesperson Nabil Abu Rudeineh's argument that "the suspension of aid to our people, which included critical sectors such as health and education, will have a negative impact on all, create a negative atmosphere, and increase instability."
In a 10-tweet thread posted Friday, Greenblatt contended that the quote was "disingenuous" because "This aid was cut (not just suspended) at the PA's [Palestinian Authority's] request because they didn't want to be subject to US courts which would require them to pay US citizens killed by Palestinian terrorists when the PA was found guilty."
"Mr. Abu Rudeineh: time to get serious. Either work on peace and/or work on helping Palestinians. The old messages and methods don't work anymore- not with the US, and not with many other countries. It's only a matter of time until other countries say this out loud too," Greenblatt tweeted, before next taking on Palestinian negotiator Saeb Erekat and suggesting the new social media strategy was a better approach to tackling the issue.
"And who says the U.S. and the P.A. aren't talking? The only difference now is that we are speaking about these matters in public via twitter so the public can understand everyone's positions," Greenblatt tweeted. "Transparency is better for all."
The following day, Greenblatt again replied to criticism from Ashrawi, who said that "the instant gratification of a tweet can never be a substitute for a serious engagement in search of genuine solutions. Those who think they're transmitting knowledge, political solutions or negotiating positions via Twitter are 'engage' only in self deception."
Greenblatt responded, "Dr. Ashrawi- my door is always open to the PA & Palestinians to speak. In fact, I've met many Palestinians over the past 14 months & continue to. I'm happy to meet anytime- you, Saeb & all your colleagues are ALWAYS welcome to visit me at the @WhiteHouse to speak in person."
Trump Administration Turns to Twitter to Solve Israeli-Palestinian Conflict, Claims It's More Transparent | World