Trump Admits Melania's Life Is 'Not So Easy' But Avoids Mentioning Stormy Daniels
President Donald Trump admitted that his wife Melania Trump's life is "not so easy"—but in context of her role in fighting the opioid epidemic, not the rather obvious reason their relationship has appeared strained.
Related: Melania Trump Silent On Stormy Daniels, Unlike Hillary Clinton Who Defended Husband Bill Over Monica Lewinsky
"Great first lady. She's great," he said at a Pennsylvania rally on Saturday. "You think her life is so easy, folks? Not so easy."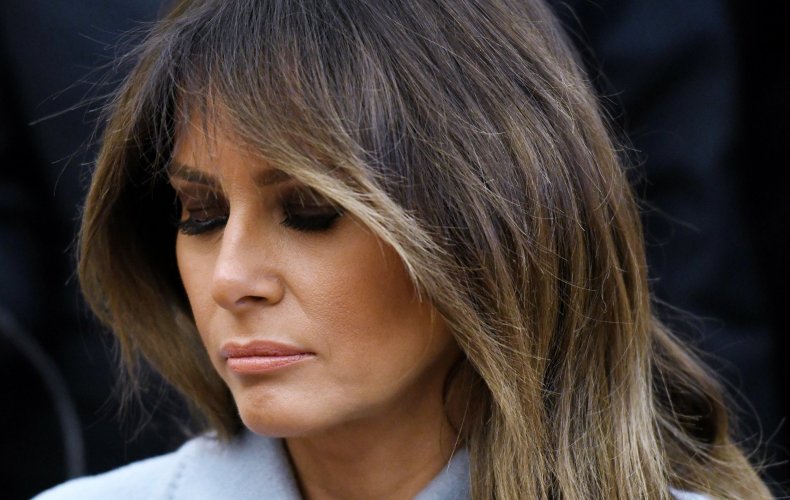 The president wasn't referring to reports of an affair he allegedly had with porn star Stormy Daniels, after which the first lady avoided several public appearances with her husband. Donald Trump was referencing his wife's hand in his administration's efforts to curb the nation's crisis around opioids.
"We put Melania and other people on this blue ribbon committee," he said, according to The Hill. "Do you think the drug dealers that kill thousands of people during their lifetime, do you think they care who is on a blue ribbon committee? The only way to solve the drug problem is through toughness. When you catch a drug dealer, you've got to put him away for a long time."
The first lady early this month at a White House opioid summit said she was "so proud" of what the administration has done to address the epidemic, and called for the work to focus on young mothers with addiction problems.
"We all know there is still much work to be done, which is why we are all here today," Melania Trump said.
Though the president didn't address the Stormy Daniels controversy at the Pennsylvania rally, he is well aware of criticism around it and the perceived wrench it has appeared put in his relationship with his wife.
At the Gridiron Club press dinner a couple days after the opioid summit, the president joked about the many White House departures.
"Who's going to be the next to leave? Steve Miller," he said, referring to one of his senior advisers, "Or Melania?"
Melania Trump, after reports first emerged her husband cheated just months after their son Barron was born, arrived on her own at his State of the Union address and rode solo to an air base instead of walking with him on the South Lawn, as is the tradition.
The affair plot thickened last Tuesday, when Daniels, whose real name is Stephanie Clifford, sued the president, claiming the non-disclosure agreement his lawyer compelled her to sign was null and void because it didn't include Donald Trump's signature.