Donald Trump Calls Putin's Nuclear Weapons Display 'Irresponsible' in Calls With Allies
President Donald Trump agreed with the leaders of key U.S. allies Germany, the U.K. and France that Russia's development and display of new nuclear weapons is "irresponsible," in a series of private phone calls.
The president, however, has yet to make a public statement or tweet about Russian President Vladimir Putin's unveiling of Moscow's new Sarmat nuclear missile last week, which NATO dubbed "Satan 2."
On Monday the White House said Trump spoke with British Prime Minister Theresa May in a one-on-one phone call the previous day. The two agreed that "Putin's recent statements on nuclear weapons development were irresponsible," according to an official readout of the call.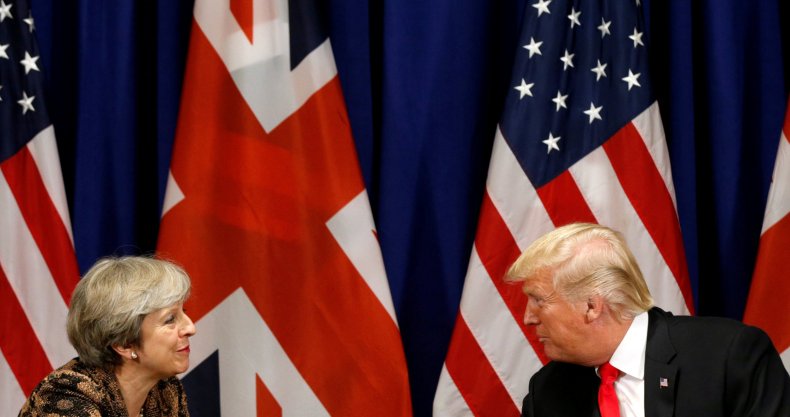 Putin gave his annual address to Russia's Federal Assembly in Moscow last Thursday. There, he said Russian scientists had developed a nuclear cruise missile that can evade current anti-missile technology and has "basically an unlimited range."
The backdrop for Putin's announcement contained a years-old animation of a weapon aimed at Tampa Bay, Florida, home of the U.S. military's central command. Putin said the new weapons meant the world would "listen to us now."
Trump, along with German Chancellor Angela Merkel and French President Emmanuel Macron, spoke about Putin's development of new nuclear missile technology in separate calls soon after Putin announced the weapons.
"The leaders also shared their serious concerns over Russian President Vladimir Putin's recent statements on nuclear weapons development," according to a White House readout, "which they agreed detract from productive discussion of a range of issues between Russia and the West."
Read more: Trump has said nothing about Putin's Satan 2 video of nuclear missiles aimed at the U.S.
Trump has received criticism about his response to Putin's video and a raft of new Russian weapons that could be used to breach the defenses of America's Western and NATO allies. Experts wondered if some of the weapons were capable of achieving Putin's claims.
As of early Monday, Trump had yet to tweet or issue any public statement in reaction to Putin.
Last week, a former U.S. ambassador to Moscow under President Barack Obama said he found Trump's public silence on the issue "amazing," since he is outspoken on so many other matters.
On Sunday, The New York Times reported the U.S. State Department had yet to spend any of the $120 million it was given to push back against a Russian disinformation campaign. In an indictment against 13 Russians last month, special counsel Robert Mueller called the campaign mounted during the 2016 election "information warfare." Trump's top intelligence officials warned in testimony to Congress last month that the U.S. was under attack right now and that 2018 midterms were vulnerable.
Trump has maintained at various times that investigations into the misinformation attack by Mueller and Congress were a "hoax." He has instead called for his political opponents to be investigated.
The U.S. State Department, the Pentagon and White House each gave public reactions to Putin's claims of obtaining a new and sophisticated nuclear weapons capability.
"We don't regard that as the behavior of a responsible international player," said State Department spokeswoman Heather Nauert last Thursday, using similar language to the White House call readouts between Trump and America's close European allies.
White House press secretary Sarah Huckabee Sanders said last week that the development of a new intercontinental ballistic missile may violate Moscow's treaty obligations.
Putin argued that "we create state-of-the-art systems of Russia's strategic weapons in response to the U.S. unilateral withdrawal from the [Anti-Ballistic Missile] Treaty" of 1972 back in 2002.
"We're not surprised by the statements, and the American people should rest assured that we are fully prepared," Pentagon spokeswoman Dana White said in a statement, indicating that America's military already knew about the weapons and had accounted for them in defense assessments.