Trump Aide Stephen Miller Throws Insults at 'Ignorant' CNN Reporter Over 'Cosmopolitan Bias'
Senior Trump administration policy adviser Stephen Miller sparred with CNN anchor Jim Acosta Wednesday calling him "ignorant" and "insulting" as he accused the reporter of "cosmopolitan bias" during a heated exchange at a news briefing on immigration.
The war of words between the pair took place at the tail end of an already combative White House press conference on an immigration bill endorsed by the president. The bill seeks to cut legal immigration to the United States by half and would also favor immigrants with advanced education or skills and those who speak English.
It was particularly on the issue of the English language that Acosta, whose father came to the U.S. as an immigrant from Cuba in 1962 before the Cuban Missile Crisis, took issue with.
Read More: Trump Sees Women As Business Animals or 'Secretaries'
"This whole notion of 'well, they have to learn English before they get to the United States,' are we just going to bring in people from Great Britain and Australia?" Acosta asked before Miller unloaded.
"Jim, it's actually—I have to honestly say I am shocked at your statement that you think that only people from Great Britain and Australia would know English. It's actually—it reveals your cosmopolitan bias to a shocking degree that in your mind—No, this is an amazing moment.
"This an amazing moment. That you think only people from Great Britain or Australia would speak English is so insulting to millions of hardworking immigrants who do speak English from all over the world," the senior staffer responded.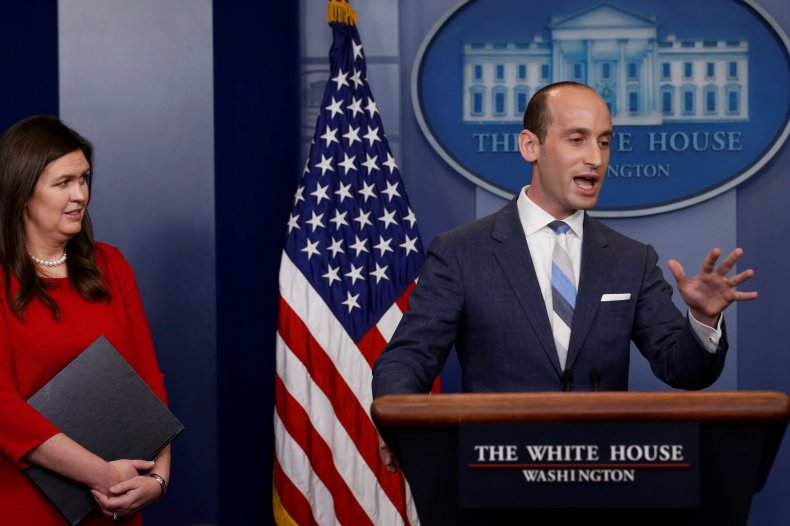 Acosta's protestations are revealed in the White House transcript of the briefing but barely audible in footage of the press conference. However, the bizarre and hostile back and forth reached its crescendo after the CNN journalist said it seemed the White House was "trying to engineer the racial and ethnic flow of people into this country."
"Jim, that is one of the most outrageous, insulting, ignorant, and foolish things you've ever said...the notion that you think that this is a racist bill is so wrong and so insulting," Miller replied.
The senior adviser ended the conference with a smile and handed the podium back to acting White House Press Secretary Sarah Huckabee Sanders. "I think that went exactly as planned. I think that was what Sarah was hoping would happen." he said to laughter.