Trump Ally Matt Gaetz Breaks With Marjorie Taylor Greene on Impeaching Biden
Republican Florida Representative Matt Gaetz, who's closely aligned with fellow Trump-ally Republican Georgia Representative Marjorie Taylor Greene, has distanced himself from her plans to impeach Democratic President Joe Biden if Republicans regain control of Congress in the upcoming 2022 midterm elections.
Gaetz spoke about impeaching Biden during an interview with Republican Iowa Representative Jim Jordan on Gaetz's Firebrand podcast, during which he cautioned against congressional Republicans developing "impeachment fever" if they regain control of Congress in 2022.
He said that impeachment proceedings should only occur in the event of a president's "purposeful wrongdoing," Politico reported.
"[Otherwise], any time you have a president and a Congress that are in different parties, part of the ceremonial exchange of power will be an impeachment," Gaetz said.
Asked if he also worried about that scenario, Jordan replied, "I do, and I have not called for that. There may be a time for that. You don't want it just to flip back and forth."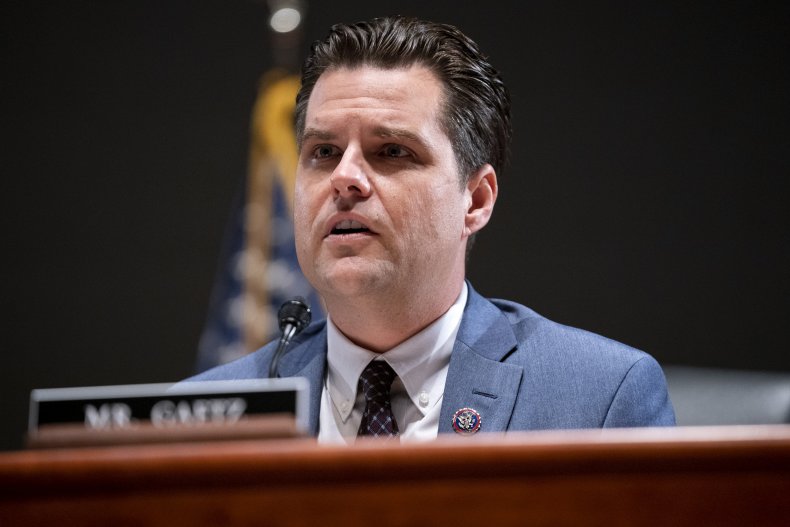 In August, Greene filed articles of impeachment against Biden. Gaetz co-signed onto Greene's filing.
"I believe in firing people when they're corrupt and they do a bad job," Greene said in a clip, shared by RSBN, during which she announced her filing. "Joe Biden is failing America and he needs to be impeached."
Greene retweeted the video along with the hashtag "#ImpeachBiden."
Greene had pledged to file articles of impeachment against Biden on her first day serving in the House. At the time, she tweeted, "I'll be filing Articles of Impeachment against Joe Biden for abuse of power," adding the hashtags, "#ImpeachBiden," #QuidProJoe" and "BidenCrimeFamilly."
Her tweet referred to claims made during the 2020 election campaign against Biden's son, Hunter Biden. The claims alleged that Hunter Biden had used his father's former position as vice president under former President Barack Obama to secure business deals in China and Ukraine.
An 87-page report, released in mid-September 2020 by Republican Senators Chuck Grassley of Iowa and Ron Johnson of Wisconsin, found neither evidence of criminal financial activity nor concrete evidence of wrongdoing by either Bidens.
In August, Gaetz said he supported Greene's articles of impeachment against Biden because of Biden's handling of the immigrant crisis at the southern border.
Jordan and Gaetz's seeming difference with Greene over future attempts to impeach Biden reveal a possible break between far-right and more moderate Republicans in Congress. The break could widen if Republicans regain control of Congress in 2022.
Correction (11/9/2020, 5:30 p.m.): A previous version of this article incorrectly stated that Greene's office had been reached for comment. The office has since been contacted for comment.