Trump Ally Peter Navarro Appeals for Cash as He Bemoans Democrat 'Lawfare'
Peter Navarro, an ally of former President Donald Trump, appealed to his supporters for cash on Monday, criticizing Democrats' "lawfare" strategy as he continues to face legal trouble.
"My legal bills just broke half a million bucks & I face a long road ahead. Help me fight back TODAY against a weaponized government with a donation to my legal defense fund," Navarro, who was a former White House adviser to Trump, wrote in a tweet.
In a subsequent tweet, Navarro shared a link to his GiveSendGo account and wrote, "Remember: Dems key strategy is 'lawfare' as they try to break you by breaking your bank...."
The comments by Navarro come as he faces possible legal trouble in a contempt of Congress case after he refused to comply with a subpoena from the House select committee that was in charge of investigating the January 6, 2021, Capitol riot.
"The so-called January 6 Committee that wants to jail Peter Navarro has a much bigger target. That Kangaroo Committee of seven Democrat partisans who first pushed a now discredited Russia Hoax wants nothing more nor less than to put Donald Trump in prison - and thereby keep Trump from winning back the White House in 2024," Navarro's GiveSendGo account states. "So please give to Peter's legal defense fund today. If they can come for Peter Navarro and Donald Trump, they can come for all of us."
Last week, Trump's lawyer, Evan Corcoran, said in a letter to federal court that Navarro had "an obligation to assert executive privilege," from the former president in regard to the subpoena that was issued for him.
"President Trump considers the conversations and correspondence you had with him, like those he had with his other senior aides, to be protected against disclosure by executive privilege," the letter said.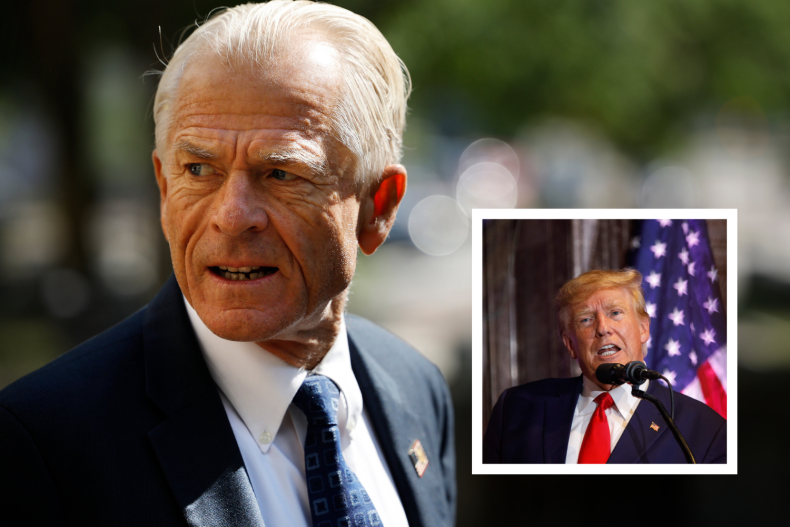 Last week, CNN reported that U.S. District Judge Amit Mehta delayed Navarro's contempt of Congress trial to allow for more arguments on executive privilege.
Prior to the letter filed by Trump's attorney, Navarro reportedly said in an email to the January 6 committee that he couldn't comply with the subpoena because Trump invoked executive privilege, saying, "Accordingly, my hands are tied," USA Today reported.
Last October, former Trump adviser Steve Bannon was sentenced to four months in prison for refusing to comply with the House committee. Bannon has since appealed the sentencing and the judge said that he will not have to serve his jail time until the appeals process is over.
Navarro's lawyer had no further comments after Newsweek reached out.