Trump and Wife Melania's Awkward Handshake: 'He Shut Her Down Like a Robot from Westworld,' Jokes Jimmy Kimmel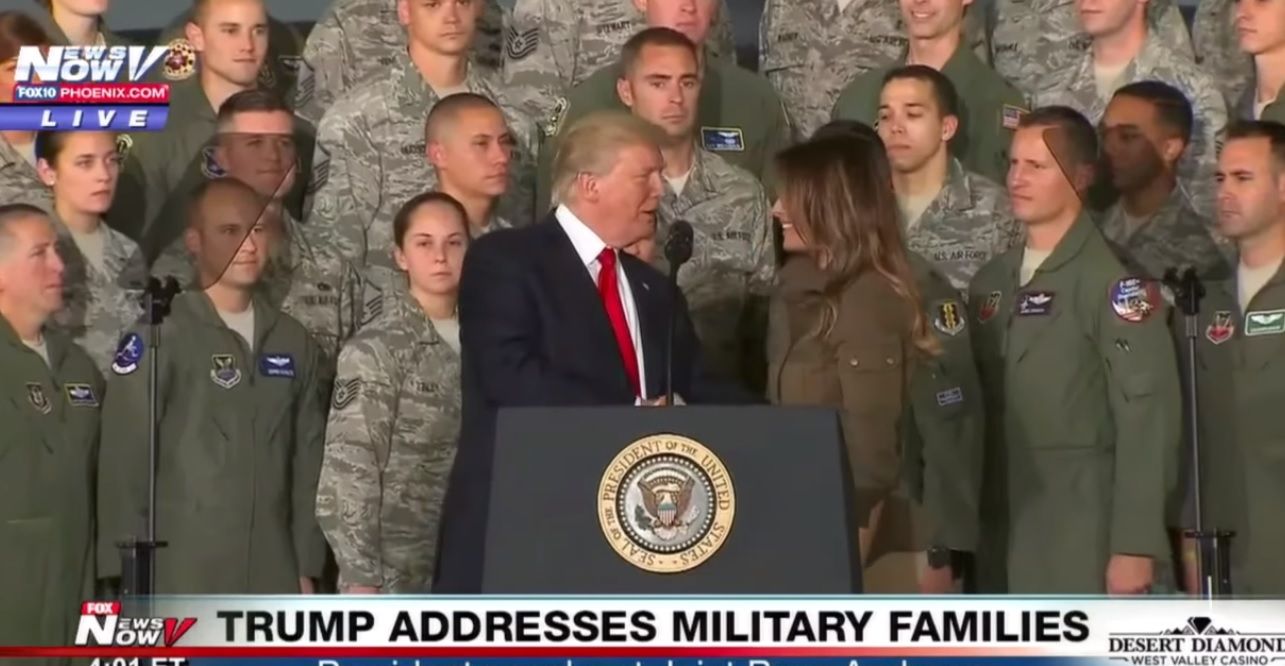 Jimmy Kimmel cracked a few jokes at Melania Trump's expense on his show Monday night, comparing the First Lady's awkward handshake with President Trump last Friday to an interaction with a Westworld robot.
Melania introduced her husband onstage during an address at Joint Base Andrews last week. After her remarks, Trump walked to the podium and gave his wife, not a kiss on the cheek, but a stiff business handshake.
On Monday's Jimmy Kimmel Live, the comedian described the moment as the "most uncomfortable display of affection between any husband and wife this year."
Showing footage of the introduction, which concluded with Trump telling his wife to "go sit down," Kimmel then cracked: "My wife and I shake hands before bed every night."
"He shut her down like a robot from Westworld," Kimmel added, nodding to the hit HBO sci-fi drama about a theme park inhabited by lifelike robots.
Referencing Trump's "you go sit down" remark, Kimmel advised Melania: "You should have walked off that stage and kept walking all the way back to Slovenia."
Friday's handshake was, of course, just the latest awkward interaction between the president and the first lady.
During Trump's inauguration in January, the president appeared to hasten to greet outgoing President Obama and Michelle Obama, leaving his wife behind as they got out of their car.
And later at the event, Melania grabbed headlines when she went from a hearty smile to looking solemn after Trump turned around to speak to her.
In May, during the couple's first foreign trip, Melania appeared to swat Trump's hand away when he tried to hold it as they arrived in Israel.
Kimmel, showing footage of the couple's various inept moments, joked: "These two lovebirds can't get enough of each other. After all these years of marriage it's so sweet how in love they are."