Trump Announces He's Hosting G7 at His Doral Resort While Arguing Biden Used VP Position For Personal Gain
President Donald Trump will host next year's G7 Summit at his Trump National Doral golf resort in Miami, Florida, Acting White House Chief of Staff Mick Mulvaney said Thursday, despite the president and Republicans accusing former Vice President Joe Biden and his son of improperly profiting under his father's presidency.
Mulvaney said the international event hosting foreign leaders will commence at Doral from June 10-12, 2020. The venue was selected by White House officials after shopping around for other potential venues in various states.
To avoid Trump profiting from the event, Mulvaney said it will be hosted "at cost" and, as a result, will be "dramatically cheaper" compared to the other dozen sites that were considered in California, Colorado, Michigan, North Carolina, Tennessee, Utah and Florida. He did not name a dollar amount, but suggested it would cost about 50 percent less, or a few million dollars.
Trump's other exclusive property in south Florida, Mar-a-Lago, was also a considered venue, Mulvaney told reporters at a rare White House press briefing.
The decision to host the G7 at Doral and force domestic and foreign governments to spend money at a Trump-owned business was made despite the president and his allies in recent weeks railing against former Vice President Joe Biden's son, Hunter, for profiting from his board position at a Ukrainian energy company while his father was first in line to the presidency.
Despite this, Mulvaney defended the administration's choice to host at Trump's Doral resort, denying the notion it could be a constitutional violation, conflict of interest or a branding opportunity because Trump would host the event at cost and due to the already infamous status of the Trump name.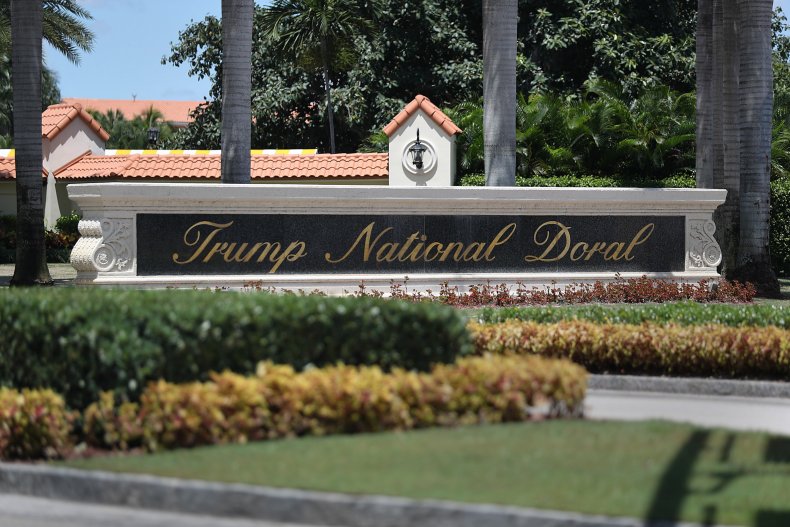 "I would ask you all to consider the possibility Donald Trump's brand is probably strong enough as it is and doesn't need any more help on that," Mulvaney said. "It's the most recognizable name in the English language and probably around the world right now."
Hinting in August that Doral may be the next site for the international summit, House Democrats opened an investigation into whether Trump may be violating the Constitution's Emoluments' Clause, which states a sitting president cannot profit from domestic or foreign governments.
Mulvaney said he believed there were two main differences between this decision and Hunter receiving a $50,000 per month board position at a foreign company.
"First of all, there's not profit here. Clearly there's profit with the Bidens," he said.
"If there's one difference that you look at with the Trump family and Biden family, the Trump family made theirs before they went into politics. That's a big difference.
Mulvaney said officials who toured the various facilities around the country returned from Trump Doral and told him, "It's almost like this built this facility to host this type of event." He cited the golf resort's on- and off-site accommodations as the crux for the decision, specifically referencing its ballrooms, the number of available rooms, photo ops, other nearby hotels to support guests and the proximity to cities, airports, helicopter landing zones and medical facilities.
"It became apparent at the end of that process that Doral was by far and away—far and away—the best physical facility for this meeting," Mulvaney said.
Democrats, especially those on the House Judiciary Committee, the panel investigating the G7 Summit venue pick, didn't buy Mulvaney's rationale. They were quick to lambaste the White House official and accuse Trump of committing further abuses of power and engaging in corruption.
Rep. Jerrold Nadler (D-NY), Judiciary chairman, labeled the move "the most brazen examples yet of the President's corruption" and said his committee will continue to investigate.
"He is exploiting his office and making official U.S. government decisions for his personal financial gain," he said.
Rep. Jamie Raskin (D-MD), also a Judiciary Democrat, characterized the venue choice as "a textbook case of unconstitutional conduct."
"President Trump's day of constitutional reckoning is fast approaching," he added. "This will not stand."
This story was updated to include statements from Democratic members of Congress.