Who Wrote the New York Times Anonymous Editorial? Here Are the Main Suspects
It's a question that will drive America crazy. And one American especially crazy—President Donald Trump.
The question is: Who is the senior Trump administration official behind the anonymous New York Times op-ed?
In the essay, the author reassures Americans worried about the erratic Trump presidency that many officials appointed by the president are putting country first and "working diligently from within to frustrate parts of his agenda and his worst inclinations.
"It may be cold comfort in this chaotic era, but Americans should know that there are adults in the room," the author writes. "We fully recognize what is happening. And we are trying to do what's right even when Donald Trump won't."
There are some hints as to who the author may be. For example, the senior official refers to "we" in the context of "Trump appointees," suggesting the author could be a Cabinet member.
A similar hint that the writer is in the Cabinet comes in this section: "Given the instability many witnessed, there were early whispers within the Cabinet of invoking the 25th Amendment, which would start a complex process for removing the president. But no one wanted to precipitate a constitutional crisis. So we will do what we can to steer the administration in the right direction until—one way or another—it's over."
What's more, the example held up to show that Trump and his own administration are running on different tracks is foreign policy, and in particular the president's approach to Russia. While Trump wants a softer position on Russia, his administration takes a much tougher stance.
Does this suggest the author is involved in foreign policy or national security?
The author is also apparently a committed Republican, questioning Trump's commitment to the party and its values: "Although he was elected as a Republican, the president shows little affinity for ideals long espoused by conservatives: free minds, free markets and free people. At best, he has invoked these ideals in scripted settings. At worst, he has attacked them outright."
Use of the word "lodestar" has also received some attention. The word is used in referring to Senator John McCain. Henry Kissinger used the word in his eulogy to McCain at the funeral—was the author there?
Moreover, a very senior official in the Trump administration has been known to use that word, despite it being somewhat unusual. But more on that below.
In a fruitless endeavor, Newsweek has compiled a list of the top suspects in Trump's Cabinet who may well be behind the op-ed.
Vice President Mike Pence
Everybody knows the vice president has his eyes on the ultimate prize. He's also pretty low-key in the administration and a much more conventional politician than Trump. What's more, Pence has several times used the word "lodestar" in his speeches and statements. Coincidence? Probably.
Secretary of State Mike Pompeo
Pompeo is a veteran and former CIA director who has seen firsthand Trump's approach to foreign policy. He also, unlike Trump, takes a tough line on Russia. However, he is a fairly recent addition to the Trump Cabinet, having been appointed to replace Rex Tillerson in April 2018. This makes his personal participation in the "early days" whispers unlikely, although we can't know for sure if the author is writing from personal experience.
Secretary of Defense James Mattis
According to Bob Woodward's new book Fear, Mattis believes Trump has a childish understanding of international affairs and America's role in the world. Mattis reportedly ignored Trump's order to assassinate Syria's Bashar al-Assad, despite telling him he'd "get right on it." Mattis supposedly reportedly told an aide: "We're not going to do any of that." Mattis has denied this.
Chief of Staff John Kelly
Kelly is reportedly frustrated by Trump and has a fractious relationship with him. In Woodward's book, Kelly reportedly called Trump an "idiot" and "unhinged," saying the president had "gone off the rails." Kelly has denied saying this.
Director of National Intelligence Dan Coats
Coats is a longtime Republican who was twice a senator, and is known for his independence on the issue of Russian interference in the 2016 election. But the author appears to hint that the author is part of the Cabinet, which Coats is not a member of, although he is a Cabinet-level official.
Attorney General Jeff Sessions
Sessions has been the target of Trump's fury since he recused himself from oversight of the Russia investigation into allegations that it interfered in the 2016 election. Trump has questioned Sessions's competence and, according to Woodward's book, called him "mentally retarded" while mocking his southern accent.
Someone Junior
There are lots of people who could be labeled senior officials but who are not necessarily top officials—deputies, assistants and so on. They could easily have access to and knowledge of the Cabinet without being part of it.
Kellyanne Conway, one of Trump's closest advisers, played down suggestions that the author is in the White House and one of the big names around the president.
"It's not clear to us anyway that's it's somebody in the White House," Conway told Fox News host Laura Ingraham on Wednesday night. "They're saying senior administration official. That could be many people. There are, I think, thousands of political appointees, hundreds of folks who qualify under that title alone."
Some people are also asking: Why write such a a piece? Philip Klein, the managing editor of The Washington Examiner, tweeted: "One weird thing about this anon op-ed: If you're arguing your goal at WH is to calm Trump down, doesn't publishing this op-ed (particularly in NYT) accomplish the exact opposite?"
Nate Silver, the editor-in-chief of FiveThirtyEight, responded: "It seems like the person's goal is to get outed and secure a very generous advance on a book deal.
"This is basically the equivalent of bragging to everyone who will listen about how you anonymously donated to charity.
"Could also be someone who doesn't necessarily need fame or money, but who was a Member in Good Standing of NYC/DC Elite Society before entering the White House and wants that image to be rehabilitated after leaving the White House."
Whoever it is, and for whatever reason they wrote it, Trump is furious.
"TREASON?" Trump tweeted in response to the article.
He then added: "Does the so-called 'Senior Administration Official' really exist, or is it just the Failing New York Times with another phony source? If the GUTLESS anonymous person does indeed exist, the Times must, for National Security purposes, turn him/her over to government at once!
"I'm draining the Swamp, and the Swamp is trying to fight back. Don't worry, we will win!"
The next morning, there was more. Trump wrote: "The Deep State and the Left, and their vehicle, the Fake News Media, are going Crazy - & they don't know what to do. The Economy is booming like never before, Jobs are at Historic Highs, soon TWO Supreme Court Justices & maybe Declassification to find Additional Corruption. Wow!"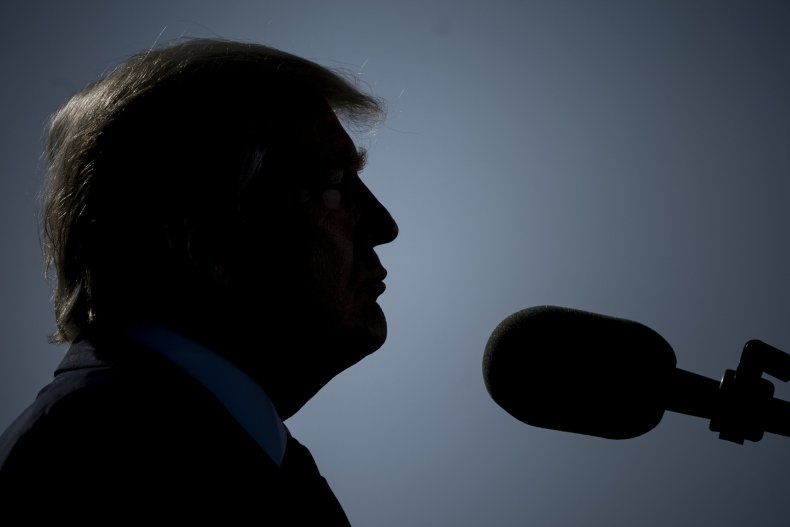 This article was updated to include comments by Kellyanne Conway and a tweet by Donald Trump.