Trump Apologizes to Kavanaugh for the 'Terrible Pain and Suffering' of Sexual Misconduct Allegations
President Donald Trump apologized "on behalf of our nation" to Supreme Court Justice Brett Kavanaugh and his family Monday evening "for the terrible pain and suffering you've been forced to endure," while proclaiming him innocent of allegations of sexual misconduct.
Trump began a ceremonial swearing-in for the Supreme Court justice in the East Room of the White House with the politicized and controversial declaration that Kavanaugh and his family deserved an apology for the confirmation process. "What happened to the Kavanaugh family violates every notion of fairness, decency and due process," Trump said.
Kavanaugh, Trump's nominee for the highest bench in the U.S., faced several accusations of sexual misconduct during the confirmation proceedings, including claims from Christine Blasey Ford, a psychology professor, that he sexually assaulted her at a house party in 1982. Kavanaugh strongly denied all the allegations against him.
The president did not directly address the allegations at the ceremony but said Kavanaugh had faced a "campaign of political and personal destruction based on lies and deception."
"[In] our country, a man or a woman must always be presumed innocent unless and until proven guilty," the president said, prompting applause from the crowd. He turned to Kavanaugh. "And with that, I must state that you, sir, under historic scrutiny, were proven innocent."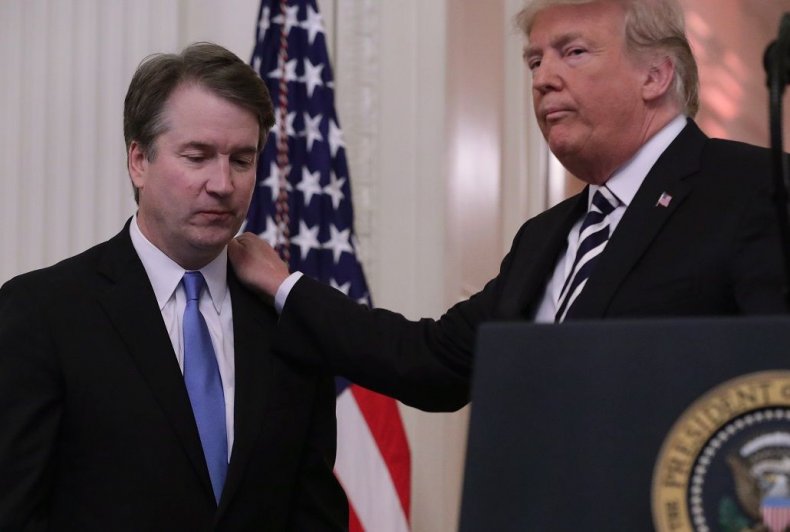 Among those who applauded Trump's defense of Kavanaugh was Justice Clarence Thomas, who was confirmed to the court in 1991 following sexual harassment allegations made by Anita Hill, reported The Hill.
Trump has defended Kavanaugh from the allegations made against him over the last few weeks, mocking Ford and her recollection of events as he addressed a crowd of supporters at a rally in Southhaven, Mississippi, on October 3.
"What neighborhood was it in? I don't know. Where's the house?' I don't know," Trump said to cheers. "Upstairs, downstairs, where was it?' I don't know, but I had one beer. That's the only thing I remember. And a man's life is in tatters."
Speaking publicly for the first time since his testimony at the Senate Judiciary Committee in September, Kavanaugh said: "My focus now is to be the best justice I can be. I take this office with gratitude and no bitterness," reports ABC.
"On the Supreme Court, I will seek to be a force for stability and unity. My goal is to be a great justice for all Americans and for all of America."
Kavanaugh was confirmed to the Supreme Court on Saturday following a 50-48 vote, the narrowest margin since 1881. He was officially sworn in at a private ceremony the same day.
One of Ford's lawyers has said Ford and her family have been unable to return home since she made the allegations against Kavanaugh, as she has received a slew of death threats.
"It's going to be quite some time before they are able to live at home," attorney Debra Katz told NBC's Kasie Hunt. "The threats have been unending. It's deplorable. It's been very frightening."
Trump Apologizes to Kavanaugh for the 'Terrible Pain and Suffering' of Sexual Misconduct Allegations | U.S.