President Donald Trump has made more than 60 appearances on Fox News shows since being elected in 2016. That is at least eight times the number of his appearances on any other U.S. TV network during that time.
Trump's phone call into Sean Hannity's Thursday night show marked the 61st time the president had appeared on a Fox News platform, according to CBS News White House correspondent Mark Knoller. The president's second most-frequented network is NBC/CNBC, where Knoller counted only seven appearances for Trump.
The president has also done a handful of interviews with ABC and CBS, appearing on each network five times. He has not done a single interview or appearance on CNN, a network he's repeatedly attacked as "fake news." Last year, the White House barred CNN reporter Jim Acosta and temporarily revoked his press pass.
Trump called into Hannity's show on Thursday for his first interview since Robert Mueller's congressional testimony, where the former special counsel fielded questions from lawmakers in back-to-back hearings on Wednesday about his two-year investigation into Russian election interference and allegations that the president had obstructed justice.
The president told Hannity the Mueller hearings showed that Democrats created a "fake witch hunt" with false accusations about collusion and obstruction of justice. He added that the charges were "a terrible thing to say about somebody, especially somebody that loves the country as much as I do."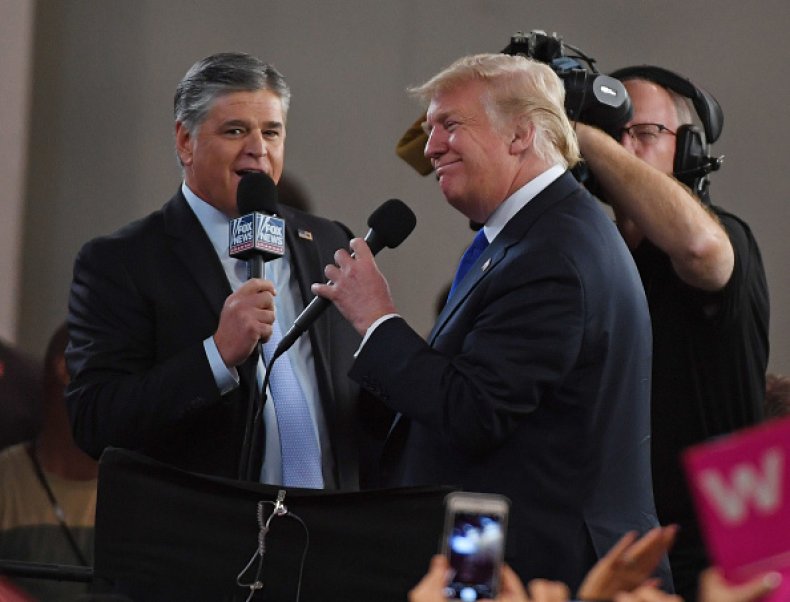 "I didn't do it. They create a phony crime," Trump said. "And then, they say, 'He obstructed.' They said there was no collusion, but 'he obstructed,' and there has never been anything like this ever in this country."
The president promised to "investigate the investigators" now that the Mueller probe has come to an end. Trump said he's given Attorney General William Barr "anything he needs" to conduct the investigation.
Mueller's testimony may not have been the blockbuster Democrats hoped for, but it likely wasn't the "disaster" Republicans have deemed it. The former FBI director reiterated the main conclusions of his report, which confirmed that Russia had interference in the U.S. election system, and that Trump could be indicted after he leaves office.
House Judiciary Committee chairman Rep. Jerry Nadler started off Wednesday's marathon questioning, asked Mueller if his report on the 2016 election totally exonerated Trump on obstruction of justice, as the president and his supporters have repeatedly claimed.
"Correct," Mueller responded. "It is not what the report said."
President Trump immediately took a victory lap following the hearing, claiming that Mueller's testimony cleared his name and the accusations of his criminal wrongdoings.
"This was a very big day for our country. This was a very big day for the Republican Party. And you could say it was a great day for me, but I don't even like to say that. It's great," Trump told reporters.