Donald Trump Says He Gave Attorney General Barr 'Total Release' To Investigate Origins of Russia Probe: 'He's Got Everything'
President Donald Trump told Fox News host Sean Hannity that he has given "everything" over to Attorney General William Barr as he investigates the origins of the special counsel's Russia probe.
"We have a very respected gentleman, a very high quality person named William Barr. And he is doing — I can tell you, he's working so hard," the president said.
Trump called into Hannity's show on Thursday evening for his first interview since Robert Mueller's congressional testimony earlier this week. Mueller fielded questions from lawmakers in back-to-back hearings on Wednesday about his two-year investigation into Russian election interference.
Democrats hoped the testimony would bring the 400-page Russia report to life, but Mueller's appearance did not bring any new information to light. Thought there were some standout moments, like when Mueller contradicted Trump outright, telling lawmakers the investigation in no way exonerated his behavior.
Republicans, on the other hand, deemed the testimony a complete "disaster" for the Democratic Party. Trump's personal attorney Jay Sekulow wrote on Twitter that the "testimony exposed the troubling deficiencies of the Special Counsel's investigation" and Rep. Mark Meadows accused Mueller of "struggling to answer even basic questions."
Trump told Hannity on Thursday night that the Mueller's investigation "was treason. This was high crimes. This was everything as bad a definition as you want to come up with."
At one point during the interview, Hannity turned to discussing the highly-debated FISA warrants that were used by the FBI to conduct surveillance on Trump's foreign policy adviser Carter Page during the 2016 election. The warrants in part relied on information from the controversial Steele dossier.
The FISA warrants are part of the beginning of the probe into Russian election interference. Republicans argue that the warrants were improperly authorized and politically motivated, though there is not much evidence to support those claims.
Hannity asked Trump why he decided turned over the FISA information to Barr instead of publicly releasing them.
"Rather than just doing a total release, I gave [Barr] his total release. In other words, he's got everything. Anything he needs, he's got," Trump said. He added that he's also given Barr the authorization to talk to whoever he wants in regards to the investigation.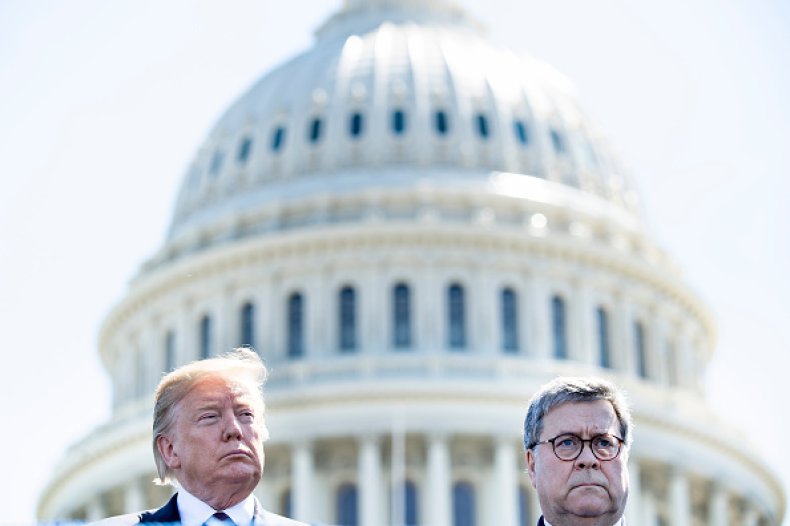 As soon as the Mueller investigation wrapped up in March, Trump called for "investigating the investigators."
Barr told lawmakers during congressional testimony in May that he was "working to try to reconstruct" the beginning of the Russia probe. He also confirmed that his internal examination will include "reviewing" whether the Steele dossier was part of a Kremlin disinformation campaign.
The attorney general also told Congress that he was also examining whether there was "any overreach" by officials at the Justice Department and FBI when they launched the counterintelligence investigation in the months before the 2016 presidential election.
Trump reiterated his claims that the Russia probe was a fake "witch hunt" during his conversation with Hannity. He also accused Democrats of creating a "phony crime" with collusion and obstruction of justice.
"And this is the United States," Trump told Hannity. "And we wouldn't stand for it and I wouldn't stand for it. We have some very great people, but we also have some very bad people. And I think we caught them."