Trump Applauds McCarthy and Stefanik, Calls Cheney 'Loser'
Former President Donald Trump congratulated the recent efforts of Representatives Kevin McCarthy and Elise Stefanik while slamming Representative Liz Cheney, calling her a "loser."
Friday afternoon, a statement was released from the former president in which he praised House Minority Leader McCarthy and Stefanik, the House Republican Conference chair for endorsing Cheney's primary opponent.
"Congratulations to Kevin McCarthy and Elise Stefanik on their strong and powerful endorsement of Harriet Hageman of Wyoming." He also included that "Harriet will be an outstanding Representative for the Great State of Wyoming!"
Trump, in that same statement, went on to express his contempt for his fellow Republican, Cheney, saying that she isn't worthy of her current position, working in the House of Representatives and he referred to her as a "Republican In Name Only."
"Loser Liz Cheney is a RINO and warmonger who doesn't even deserve to serve in the House of Representatives," the statement read.
Trump's praise comes after McCarty, a California Republican, in an interview Thursday, threw his support behind Hageman over his current House Republican colleague Cheney. McCarthy told The Federalist that he believed she's the right individual for the job.
"After spending time with Harriet, it is readily apparent she will always listen and prioritize the needs of her local communities and is focused on tackling our nation's biggest problems."
Likewise, New York Republican Stefanik, on Friday, voiced her endorsement of Hageman's candidacy in the race to replace Cheney in a press release.
"I'm proud to endorse Harriet Hageman in her race to unseat Liz Cheney. "House Republicans were ready for a change when I took over as Conference Chair, and it's resoundingly clear that Wyoming families are too."
Hageman's support from prominent Republicans McCarthy and Stefanik as well as Trump's name-calling are just the latest moves against Cheney. Cheney and Illinois Republican Representative Adam Kinzinger have faced severe backlash from Republican party leadership. Earlier this month, the Republican National Committee voted to censure both Republican House members, ending all support of the two for their participation in what the party deemed a "Democrat-led persecution of ordinary citizens engaged in legitimate political discourse."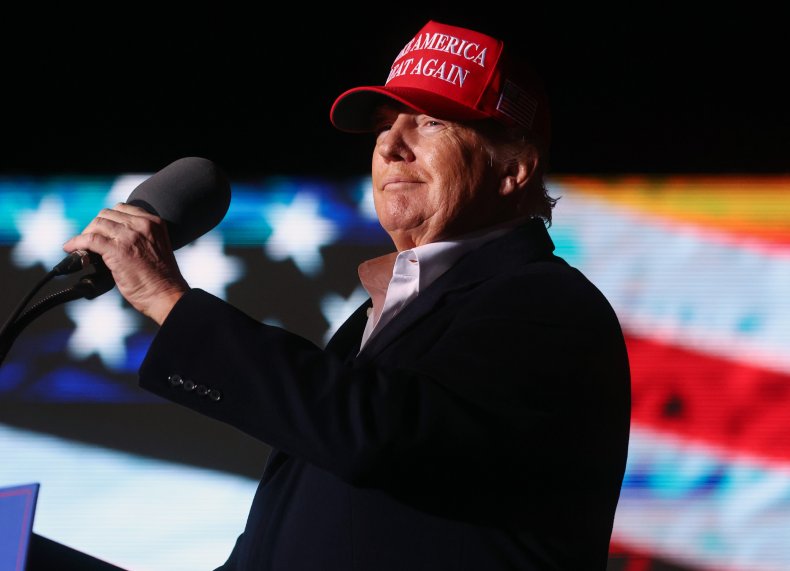 They are the only two Republican members of the House committee investigating the January 6 U.S. Capitol riots. Before being named to the committee, Cheney and Kinzinger voted to impeach Trump for his part in inciting violence on January 6.
Additionally, there are reports that Trump is supportive of changes to election laws in Wyoming that would keep Democrats and independents from voting in the upcoming GOP primary race between Hageman and Cheney. After the reports, Kinzinger on Twitter concluded Trump's support shows that he's "scared" of Cheney.
In addition to Hageman, Trump has endorsed candidates in several races all across the country.
Newsweek reached out to a spokesperson for former President Trump and Representative Cheney for comment.