Trump Appointee Who Took Part in Capitol Riot Swore an Oath Then 'Switched Sides,' Judge Says
Federico Klein, an ex-official in the administration of former President Donald Trump, will remain in jail after a judge said he "switched sides" by allegedly participating in the deadly breach of the U.S. Capitol on January 6.
U.S. Magistrate Zia Faruqui said that those who took part in the insurrection were "enemies at the heart of American democracy" during a Tuesday ruling denying a pre-trial release for Klein. Faruqui described Klein as "a person who swore an oath" to the Constitution but then "switched sides" by allegedly taking part in the riot.
The 42-year-old former State Department official is facing felony charges of assault on police officers, interfering with police during civil disorder, impeding an official proceeding and knowingly engaging in any act of physical violence against any person or property in any restricted buildings or grounds.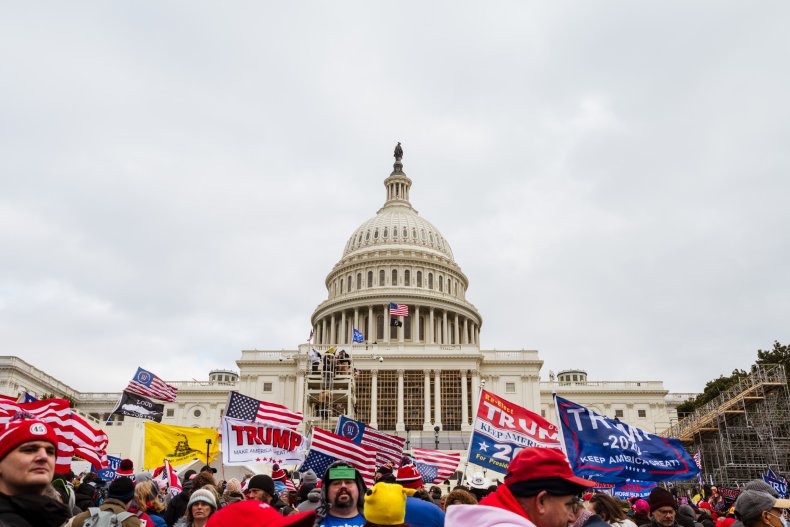 "How could someone sworn to protect the Constitution against all enemies, foreign and domestic, then participate in an attempt to stop the administration of the Constitution?" Faruqui said, according to Reuters.
Klein was appointed to serve in the State Department by Trump in 2017, receiving a top-secret security clearance. He had also been formerly employed by Trump's 2016 campaign. Klein resigned his State Department position on January 19 of 2021, almost two weeks after the riot and just before the former president left office.
Klein is the only Trump administration official to be charged in the Capitol riot. The events resulted in the former president being impeached by the House for a historic second time for allegedly inciting the insurrection.
Prosecutors allege in court documents that Klein ignored the instructions of Capitol Police, used a presumably stolen riot shield to force a door open at the Capitol, encouraged others to participate in the violence and engaged in "what can only be described as hand-to-hand combat" with officers for 30 minutes.
The prosecution has presented extensive photographic and video evidence purportedly showing Klein participating in the insurrection, while the FBI also allegedly showed he was present by matching his cell phone data to a nearby cell tower at the time of the riot.
Klein's lawyer Stanley Woodward has suggested that there is a lack of evidence showing that his client took part in the riot, while noting that the charges do not prove guilt. Prior to Faruqui's decision, Woodward argued that Klein should be released because he poses no threat but deserves leniency due to his past service in the military and government.
"Mr. Klein is disappointed with the result of today's hearing and especially the government's insinuation that that the mere allegation of his participation in the events of January 6 renders him a danger to his community," Woodward said in a statement obtained by Newsweek.
"He appreciates the Court's acknowledgement that he remains innocent until proven otherwise and looks forward to exhausting all of his rights under the law," added Woodward.
Klein complained about conditions in jail during his initial court appearance last week, reportedly telling Faruqui that "it would be nice if I could sleep in a place where there were not cockroaches everywhere."