Donald Trump's Disapproval Rating Hits Six-Month High Amid George Floyd Protests
President Donald Trump's disapproval rating has reached its highest level since mid-November after a week of protests and unrest sparked by the death of a black man in Minneapolis who was restrained by a white police officer with a knee on his neck.
According to 538's tracker of Trump's ratings, which is a compilation of all the scientific polling, his disapproval rating is 54.1 percent as of Wednesday, the highest since November 18 when it was 54.4 percent amid the Ukraine quid pro quo affair.
His current average approval rating is 42.6 percent per the tracker, which weights polls based on their quality of research and methodology, giving the president a net approval rating of minus 11.5 percent just five months before election day in 2020.
The wave of protests against racial injustice that have gripped cities across the states was for the most part peaceful, but a significant minority used the moment to loot and destroy property, and police in some areas have attempted to forcefully put down demonstrations.
Trump has urged state governors to send in the National Guard, which some have done, to quell any unrest. He also threatened to deploy the military if violence continued, prompting criticism. Soldiers are on alert across Washington D.C. because of the protests.
"D.C. had no problems last night. Many arrests. Great job done by all. Overwhelming force. Domination," the president tweeted on Tuesday, echoing his suggestion to governors on an earlier call that they needed "total domination" over protesters.
Floyd, 46, died last week while under restraint by officers from the Minneapolis Police Department. One of those officers, Derek Chauvin, held his knee on Floyd's neck for several minutes despite warnings that he could not breathe.
Chauvin, who has a history of complaints made against him during his time as a police officer, is now charged with third-degree murder and second-degree manslaughter. Video of Floyd's final moments went viral, triggering outrage and mass protests.
The protests have taken much attention away from the coronavirus pandemic that has seen more than 1.8 million Americans infected with the COVID-19 disease and more than 106,000 deaths linked to it, according to figures compiled by Johns Hopkins University.
The Trump administration's response to the pandemic is not viewed favorably by the American public, polling suggests. Issues around delays to testing, a lack of medical and protective equipment, and Trump's controversial remarks about the disease appear to have cut through.
Polling by Morning Consult put voter disapproval of Trump's coronavirus response at 53 percent on June 1, matching the previous high in March. Approval of his response was just 41 percent. The survey of 1,989 registered voters has a margin of error of 2 percentage points.
"2016 proved that polling is notoriously wrong and has always underestimated the President and his ability to connect with the American people," Ken Farnaso, deputy press secretary of the Trump 2020 campaign, told Newsweek in a statement.
"President Trump's America First agenda ushered in an economic renaissance, a renewed national security, strengthened our relationships with our allies, and kept our foes at bay.
"Compared to [Joe] Biden's dismal track record of record slow economic growth, China appeasement, and communist ideas, Americans know that it is a binary choice between a President who will fight for them versus a four decades-long, Washington elitist who will bow down to global leaders."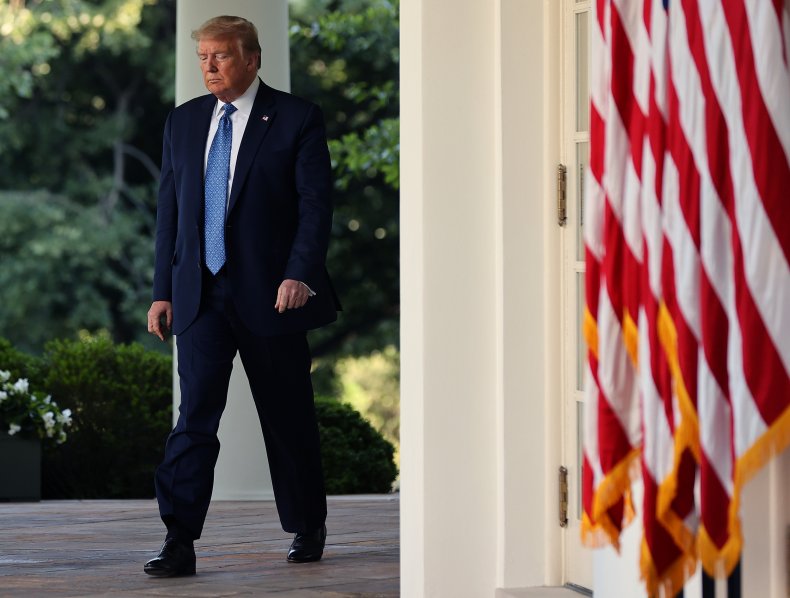 This article was updated with a statement by Ken Farnaso.