Trump Arms Control Envoy Says U.S. Expects Russia to Help Bring China Into Nuclear Weapons Talks
President Donald Trump's arms control envoy said he expects Russia to help the U.S. bring China into nuclear weapons talks as uncertainty surrounds the future of a key treaty.
Marshall Billingslea told the Hudson Institute on Thursday that he spoke to Russia's deputy foreign minister Sergei Ryabkov about the importance of involving Beijing in future nuclear arms control negotiations.
The special presidential envoy also said U.S. and Russian officials had "concrete ideas" for their next meeting on arms control talks, and had settled on a venue for discussions.
Speaking to the Hudson Institute, Billingslea said that he discussed the "crucial role" compliance played in effective nuclear arms control deals in a call with Ryabkov earlier this week.
"But above all, I made perfectly clear that it is our expectation that Russia help us to bring China to the negotiating table," he added. "Just as the deputy minister himself said needed to happen."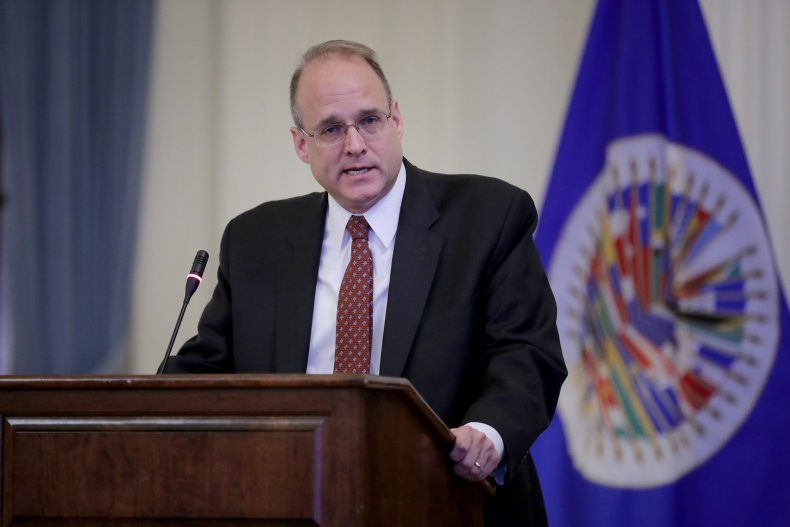 He later said that a multilateral deal would "not be easy," but added that the administration would not be "serving the national interest" if it only did easy things.
"We must understand the world as it is today, not as we wish it to be," Billingslea said. "Nor can we keep pretending that the two-party construct for nuclear arms control, which comes from the Cold War, is able to address satisfactorily the security issues of a multi-polar world."
Addressing the build up of China's nuclear arsenal, Billingslea said: "Beijing has stubbornly refused to share any significant information about its plans, its capabilities, its intentions regarding its move to a triad of delivery vehicles—a launch on warning posture, an exploration of low-yield nuclear weapons."
The arms control envoy added that it was a display of "outdated cold war logic" to only expect China to engage with America and Russia once it had a nuclear arsenal of a similar size.
"A three-way arms control agreement would provide the best way to avoid an unpredictable, three way arms race," he added.
Billingslea issued his statement on the need for Chinese involvement in nuclear weapons talks as former arms control officials have fretted about the chances of the New START treaty being renewed before it expires next year.
Under the terms of the deal enacted in 2011, caps apply to the number of nuclear warheads and bombs deployed by the U.S. and Russia. Restrictions are also levied against ballistic missiles, submarine-launched missiles and heavy bombers.
Russia wants to renew the arms control deal before it runs out on February 5, 2021. But the Department of State said it has been directed to "think more broadly" than the Obama-era treaty.
In his video call with the Hudson Institute on Thursday, Billingslea said he believed the New START deal had "serious verification inadequacies" and "exploitable loopholes."
"We are not in the business of negotiation new agreements, or extending old ones, if we cannot be sure other parties will hold up their end of the bargain," the arms control envoy said. "When it comes to Russia, we have little reason to be confident."
Newsweek has contacted the Chinese and Russian embassies for comment. This article will be updated with any responses.