A nuclear arms control treaty between the U.S. and China could still be possible in the near future despite the countries ongoing "war of words" over the coronavirus pandemic, former arms control officials have said.
President Donald Trump's former Under Secretary for Arms Control and International Security Andrea L. Thompson told Newsweek that Washington and Beijing still had "an opportunity" to work out a future arms control deal, regardless of mounting tensions about COVID-19's origins.
She also warned that diplomatic talks between the U.S. and China "need to happen," and cautioned Beijing officials against standing behind a "closed door" on the world stage.
"Despite the war of words, and despite the cyber attacks and economic espionage and a whole range of issues, I think there is an opportunity to have discussions perhaps at the technical level," Thompson told Newsweek. "I think that diplomacy takes time and you need to start somewhere and that needs to happen. China cannot continue to stand behind that closed door."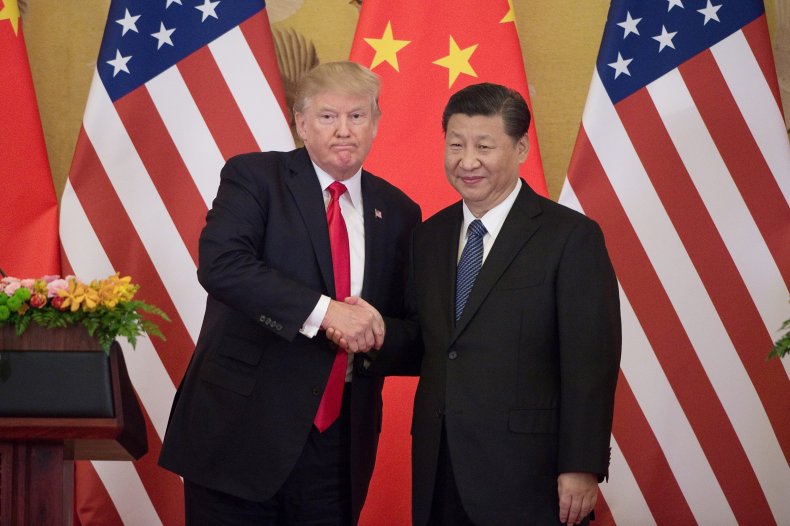 Thompson's remarks come a week after the Obama-era arms control secretary Rose Gottemoeller said a future nuclear treaty between the U.S. and China was "possible" despite sparring over the novel coronavirus.
Speaking to Newsweek, Gottemoeller said: "I do think, despite it all, it is possible. Because I do think that presidents feel a special responsibility to take action in this particular area, no matter what's going on in the larger arena.
"These weapons can blow us to smithereens, and so presidents take that fact seriously."
The chief negotiator of the New Strategic Arms Reduction Treaty (START) also noted that Ronald Reagan and the former Soviet Union President Mikhail Gorbachev reached a deal on nuclear arms when the then-U.S. president was calling the Soviet Union an "evil empire."
However, neither of the former arms control officials were optimistic about the chances of China signing up to the New START between the U.S. and Russia before its February extension deadline.
The New START was enacted in February 2011 as an update to the original START signed in the early 1990s. Under the treaty, restrictions apply to the number of nuclear warheads and bombs deployed by the U.S. and Russia. Caps also apply to ballistic missiles, submarine-launched missiles and heavy bombers.
Russia is interested in renewing the agreement before it lapses on February 5, 2021, but the Trump administration is reportedly eager to pull China into the deal before signing up to an extension.
Marshall Billingslea, the newly appointed special presidential envoy for arms control, told the Washington Times last Thursday that New START "does nothing for the United States with respect to our concerns regarding China."
Foreign Policy also reported in April that it had obtained documents showing that American officials wanted China to be involved in the New START.
"The President's been clear that he wants China at the table. My personal view is that China's not going to come to the table before February of next year," Thompson told Newsweek. "There's no incentive for them to come to the table. Their number of warheads versus what the US and Russia have are very different amounts."
The former arms control under secretary added that the New START would not be extended if the administration "tied" renewal to China signing up to the deal.
Thompson's Obama-era counterpart Gottemoeller also said it was was impossible to get China on board with arms control deal in time for its extension.
"It's not possible in my view, and the reason is a practical one. That is, China's nuclear arsenal is much smaller than that of the United States and Russia," the ex-NATO deputy secretary-general said. "We have 1,550 warheads deployed on our strategic missiles, and we have thousands of more warheads in storage in reserve. And in the case of China, they have under 500 warheads total."
In an emailed statement, a State Department spokesperson said: "The United States remains committed to effective arms control that advances U.S., Allied, and partner security.
"Arms control agreements must be verifiable and enforceable, and partners must comply responsibly with their obligations, just as the United States always does. In that sense, openness and transparency will be the hallmarks of our approach."
The spokesperson added that the president had directed the department to "think more broadly" than the New START deal, and include both China and Russia in its "next steps."
"The United States is concerned by the continued growth of Russia's nonstrategic nuclear weapons stockpile and its advances in novel nuclear weapons delivery platforms," the spokesperson later said. "Further, China's plans to at least double the size of its arsenal requires clear thinking on the future of nuclear arms control. We need an architecture that is adapted to a strategic environment that did not exist a decade ago."
Update 18/05/20: This article was updated with comment from a State Department spokesperson.