A lawyer for Donald Trump has claimed the hush money investigation into him is "dead," one week from the day the former president claimed he would be arrested as part of the probe.
Trump attorney Lindsey Halligan told Newsmax that the "weak" case against the former president is ending with no indictment for the Republican. Halligan's claim appeared to be more of a suggestion rather than an indication from authorities, adding that if Manhattan District Attorney Alvin Bragg's inquiry is not "dead" then "it should be."
Trump made an uncorroborated claim that he would be arrested in New York on Tuesday, March 21, as part of the investigation into whether the $130,000 he arranged to be paid to adult film star Stormy Daniels to keep an alleged affair the pair had a secret before the 2016 election amounted to a campaign violation. Trump has denied any wrongdoing, and denies having an affair with Daniels in 2006.
It is widely believed that a grand jury in New York who have been hearing evidence would soon be voting on the historically significant decision on whether to indict the former president. However, NBC reported, citing unnamed sources, that the grand jury will not meet on Wednesday as scheduled and any indictment vote will not take place this week.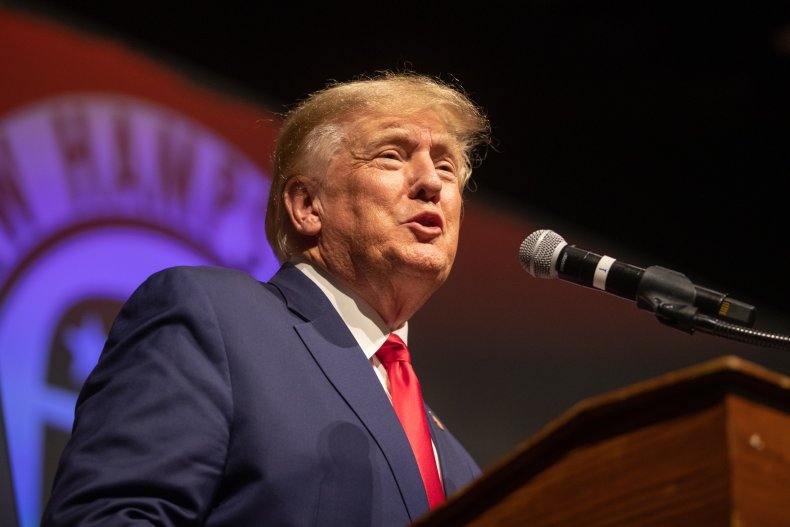 "I think they just are trying to keep the case alive—but it looks like the case is dead," Halligan said. "If not, it should be. Bragg needs to wrap this case up, stop focusing on someone who doesn't even live in New York City, and focus on protecting those living in New York City from the violent crime going on there."
On Monday, David Pecker, the former head of the company that publishes the National Enquirer tabloid who was said to have turned down the chance to buy Daniels' story about the alleged affair, testified for the second time to the grand jury as part of the investigation.
Halligan said that Pecker answering questions for the second time shows that the case is "weak" and that there is "chaos" from the D.A.'s office.
Halligan also said Bragg's investigation into Trump is politically motivated, while noting how much the 2024 Republican candidate can still draw a crowd.
"I think it really comes down to who else can get 20,000 or more people to go to Waco, Texas, for a 90-minute speech, who can even get 2,000 people to go watch them speak for 90 minutes," Halligan said.
"That's what this is all about. They hate to acknowledge that President Trump can draw a crowd. He has created a patriotic movement, and it seems that some people just can't stand that."
Local press reports that the true figure of the crowd size at Trump's first public 2024 campaign rally in Waco on Saturday was around 15,000 to 18,000.
In a Truth Social post on Tuesday dismissing Bragg's investigation, Trump said: "How do you indict an innocent man, a former very successful President who is now running and leading in the polls, that every legal scholar, and virtually every 'hater,' says, 'Don't do it, there is no case here?' This is what happens in Third World countries which sadly, the USA is rapidly becoming!"
The Manhattan District Attorney's Office has been contacted for comment via email.