Former President Donald Trump has attacked the House January 6 Committee as a "kangaroo court," while speculating that the committee postponed a hearing due to "very poor television ratings."
The committee announced on Tuesday that it was postponing its Wednesday hearing—which was set to focus on Trump's attempts to convince the Department of Justice to back his false claims of a "stolen" 2020 election—to an unannounced date in the future. The postponement was "due to a number of scheduling factors, including production timeline and availability of members and witnesses," a committee aide told ABC News.
On the same day, the former president's 76th birthday, Trump lashed out at the committee in multiple posts to his Truth Social platform. He said the panel was participating in "cancel culture" by refusing to entertain false conspiracy theories regarding 2020 "election fraud." Following the announcement of the postponed hearing, Trump said the rumored reason behind the rescheduling was a lack of public interest, although the committee's Thursday hearing is expected to take place as planned.
"Word out that the reason the Unselects have canceled Wednesday's Kangaroo Court is a total lack of interest leading to very poor television ratings," Trump wrote. "Could this be so? Maybe they should try getting a more talented Hollywood producer than the former President of ABC Fake News. He didn't do so well!"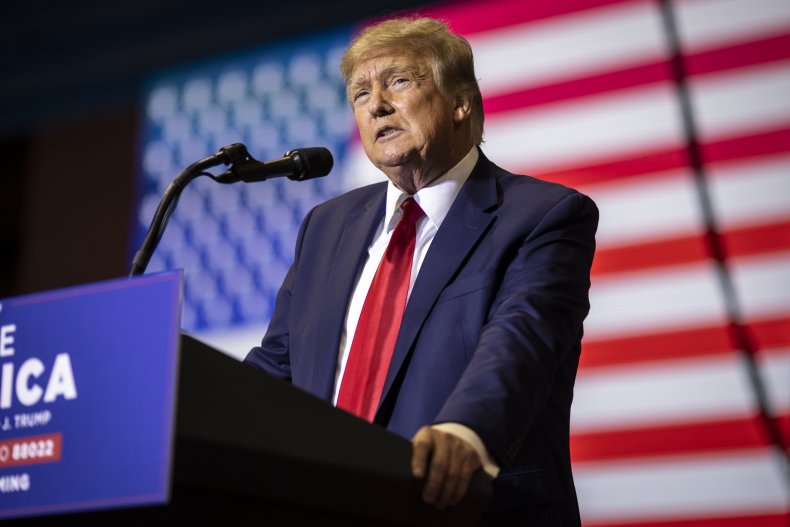 Trump's reference to the committee's "producer" refers to James Goldston, the former president of ABC News. Goldston is assisting the committee as an adviser, helping the panel assemble footage and other materials that have aired during the televised public hearings.
The hearings also do not appear to have earned the "very poor television ratings" that Trump has claimed. The committee's first primetime hearing last Thursday had around 20 million viewers across multiple networks, according to marketing research company Nielsen—a reasonably large viewership that does not take into account additional streaming services such as YouTube.
Trump's other Truth Social posts on Tuesday included an attack on Republican Wyoming Representative Liz Cheney, a committee member who became one of the former president's most outspoken GOP opponents following the January 6 riot at the Capitol.
"She's angry and sick," Trump wrote while sharing a post about Cheney trailing in polls from his son Eric Trump. "Loves sending our troops to fight and die in countries that don't even want us to be there, Endless Wars, but never had the guts to fight for Scooter Libby, who 'saved' her father and Bush - But I did!"
In another post, Trump accused the committee of "going against" him because he is "the only one who can fix our endangered Country, and they want to DESTROY it!" The former president argued that "people want to go back to where we were just two years ago," when he was still in office.
Newsweek reached out to the House January 6 Committee for comment.