'Trump Baby' Blimp Heading to U.S. After Campaign Raises Thousands of Dollars In Just 2 Days
The infamous "Trump Baby" blimp is reportedly heading stateside.
After a fundraising campaign by a group of local activists, the 20-foot tall inflatable, diaper-wearing version of President Donald Trump is scheduled to arrive in New Jersey next month, NJ.com reported Sunday.
Activist Didier Jimenez teamed up with a group called People's Motorcade that often runs protests outside of the president's Bedminster golf club in the Garden State, and together they raised almost $7,000 in two days through GoFundMe.
The blimp is expected to arrive next month after protestors in the United Kingdom flew it in opposition to Trump's visit both in London and then in Scotland.
"I saw that as a gift to us in the sense that the balloon is a tool to enable us to go after the president in a humor kind of way," Jimenez told NJ.com.
But rather than merely poking fun at a bombastic president, Jimenez said the blimp was a "symbol" of many things involving the Trump administration.
"The baby Trump is not just a piece of humor, but it is also a symbol of the administration. It's symbolic of the children that are in cages, it's a symbol of racism, and we know that he hates to be ridiculed," Jimenez said.
Given the president's love of golf and the many visits he makes to his own properties, it's possible the balloon could make its way to Trump National Golf Club in Bedminster.
While he avoided London and the blimp due to the protests, Trump made it known during his U.K. visit that he was quite aware of the blimp and claimed he "used to love London."
"I used to love London as a city," Trump told The Sun during an interview in which he was also critical of British Prime Minister Theresa May. "I haven't been there in a long time. But when they make you feel unwelcome, why would I stay there? I guess when they put out blimps to make me feel unwelcome, no reason for me to go to London."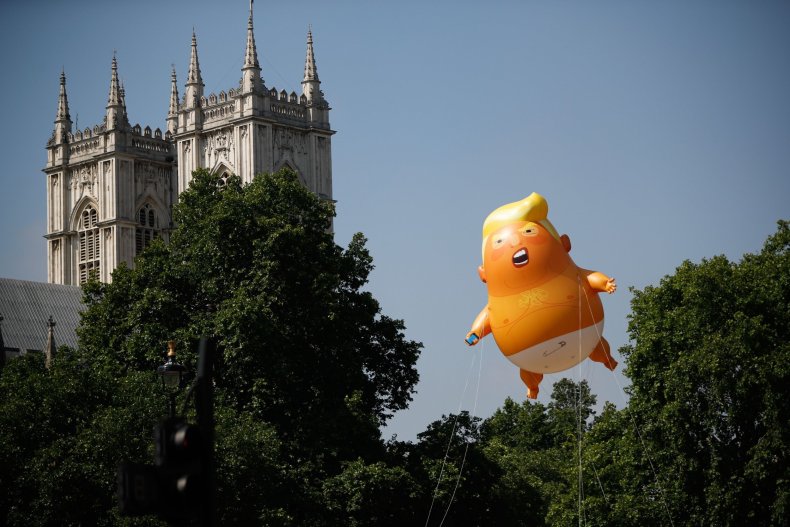 Originally, the massive blimp was approved for use by London Mayor Sadiq Khan. Khan, who has had very public spats with Trump over immigration and terrorism, said he believed the blimp was a proper exercise of free speech.
"The Mayor supports the right to peaceful protest and understands that this can take many different forms," a spokesperson for the mayor said July 5. "His city operations team have met with the organizers and have given them permission to use Parliament Square Garden as a grounding point for the blimp."