Trump-Backed Candidate Storms Out of Event After Tirade Over Speaking Order
Georgia congressional candidate Vernon Jones, who has been endorsed by former President Donald Trump, angrily stormed out of an event in Jackson County on Saturday after a tirade expressing frustration over the speaking order.
Jones, who previously served in the Georgia House of Representatives as a Democrat, announced he changed his party affiliation to Republican at a now infamous pro-Trump event in Washington, DC, on January 6, 2021—just before the former president's supporters attacked the U.S. Capitol. "Donald Trump has just begun. I'm a part of his team, and we're going to take back this country," Jones said at the rally near the White House.
In early February, Jones announced that he was foregoing a run to become Georgia's next governor and would run for Congress in the southern state's 10th District instead. Shortly later, Trump issued him an official endorsement.
In a video uploaded to Twitter on Sunday by Atlanta Journal-Constitution reporter Greg Bluestein, Jones can be seen expressing frustration at an event over the speaking order. The Trump-endorsed candidate says that he was told he would be speaking second, but is instead slated to go on stage before his GOP competitor, Mike Collins.
"I came here because I'm a fighter," Jones said, "but I'm not going to be subjected to parlor tricks. I was selected to be the second person. Mike Collins was supposed to go first and you all are now trying to change it."
Someone off camera responds angrily, telling him that he is "a guest" and will "listen." Jones argued that Collins regularly criticizes him at events when he is allowed to go second.
"No, we were told he's going first and I'm going second," Jones insisted. "I'm sorry this happened, but I don't play games like that."
Before leaving the event, he argued that the organizers "changed the rules."
In an email to Newsweek, Jones said: "This GOP group took a page from the Democrats 2020 play book and changed the rules for their candidate of choice, Mike Collins."
He claimed that Collins "is the Democrats and liberal Atlanta Journal & Constitution [sic] Greg Bluestein's preferred candidate."
"Former Democrat Vernon Jones—now a Trump-backed candidate in Georgia's 10th District—walks out of a Jackson County GOP event last night...because he was mad about the speaking order," Bluestein wrote Sunday, tweeting the brief clip.
A spokesperson for Collins' campaign knocked Jones in a statement to Newsweek following the incident, describing Collins as "a Pro-Trump trucker" who would "fight" for voters in Washington, D.C.
The spokesperson said Jones was a "crybaby Karen who berates grassroots GOP supporters" and that his campaign was a "desperate dumpster fire" garnering "zero traction with voters."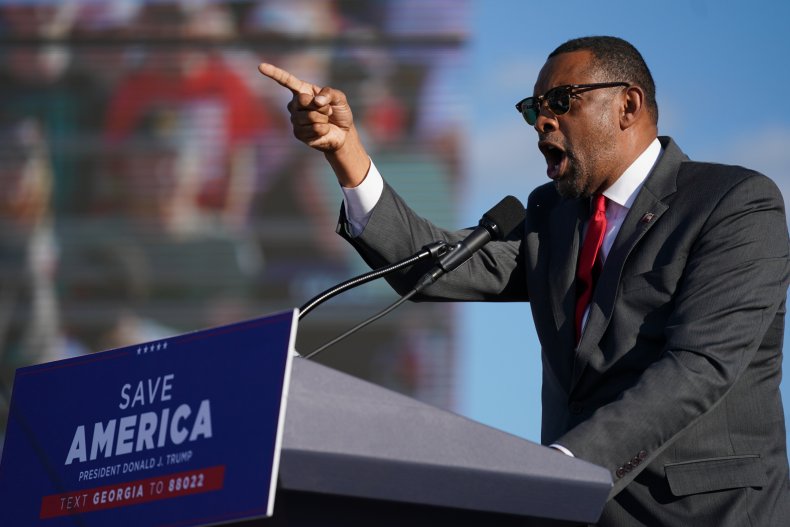 After receiving his endorsement from the former president in February, Jones tweeted that he plans to file articles of impeachment against President Joe Biden and Vice President Kamala Harris if he is elected to the House of Representatives. He also said that he would cast a vote for Trump to become House Speaker.
"On Day One in Congress, I'll file Articles of Impeachment against both Joe Biden and Kamala Harris for betrayal of public trust," Jones tweeted on February 9. "Then I'll cast my vote for President Trump to be Speaker and invite my colleagues to join me. It's time to throw out the old playbook."
Some Trump allies have repeatedly floated the idea of Trump serving as House speaker if Republicans manage to retake control of the lower chamber of Congress following the 2022 midterm elections. Although house speakers have traditionally been chosen from among the elected members of the legislative body, the Constitution technically allows for anyone receiving a majority of House members' votes to be chosen.
Trump praised Jones in a February endorsement video uploaded to Rumble.
"He's an America-first fighter, who will never back down to the establishment or the radical left," he said.
Jones responded with his own statement: "I am proud to have President Trump's endorsement, confidence and support as I seek to represent the people of Georgia's 10th Congressional District," he said at the time. "America First movement is alive and well!"
Update: 3/8/22, 5:12 p.m. ET: This article was updated with comment from Collins' campaign.