A Trump-Backed Candidate Could Become Ineligible to Run for Congress
On Monday, the Tennessee legislature passed a bill that could make a candidate backed by Donald Trump ineligible to run for Congress this year.
The legislation would require anyone seeking federal office in Tennessee to have lived in the state and district they wish to represent for at least three years. Morgan Ortagus, the Republican endorsed by Trump running in Tennessee's 5th district, just moved to the state last year.
The bill now goes to Republican Governor Bill Lee's desk. Lee's office told Newsweek on Tuesday that they were reviewing the legislation.
"No one questioned my residency when I served our country in the intelligence community, the Trump Administration, nor in the U.S. Navy Reserves, and President Trump certainly didn't question my residency when he endorsed me for this seat," Ortagus said in a statement.
Ortagus launched her congressional bid in February but had received the former president's support before she even entered the race. Ortagus, 39, is a U.S. Navy reservist who previously served as spokesperson for the State Department during the Trump administration.
Trump has praised the Republican as "an absolute warrior for America First and MAGA!"
"Morgan was fantastic in her role working with Secretary Mike Pompeo at the U.S. State Department and understands the threats posed by China, Russia, Iran and others, and will be tough, not just roll over like the Democrats and RINOs," Trump said in a statement on January 25. "She won't bow to the Woke Mob or Lefist Lamestream Media."
Trump has endorsed dozens of candidates for the U.S. House of Representatives and Senate as Republicans aim to retake control of Capitol Hill in the November midterm elections. Several of his picks are expected to win their races, according to bookmakers.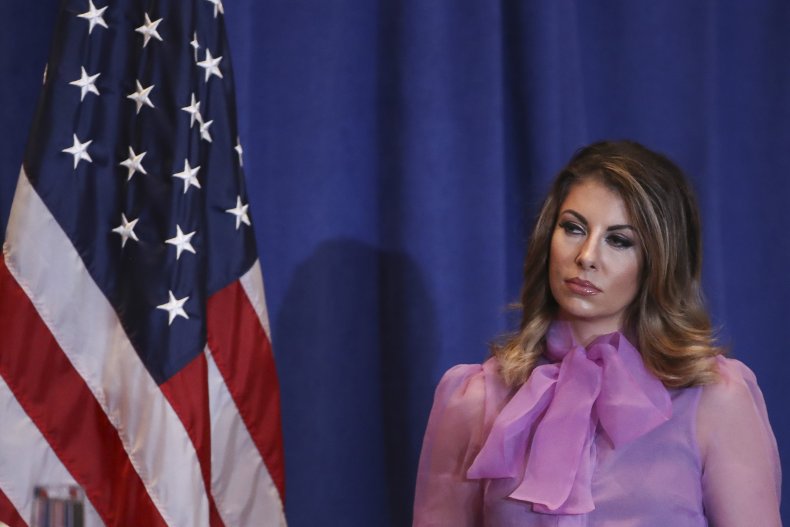 In an op-ed published in the Tennessean earlier this month, Ortagus said she moved from Washington D.C. to Nashville to start a healthcare company called Rubicon Founders.
"My husband and I moved to Tennessee because we saw a state and people that put their conservative ideas into action," Ortagus wrote.
In response to state lawmakers passing the residency requirements bill, Ortagus said she'll "continue to trust my fellow Tennesseans, the voters in the 5th district, to choose who will best represent them in Congress. Nashville is a warm and welcoming community that I am proud to be a part of, and am proud to raise my family here."
Trump supporters initially denounced his decision to endorse Ortagus over Robby Starbuck. Starbuck is a conservative filmmaker who announced his campaign in June 2021 with a video endorsement from Kentucky senator Rand Paul.
Ortagus is one of nine candidates running in the Republican primary for the congressional seat. The primary election will take place in August.