Trump-Backed Dr. Oz Eating Into Biden's Black, Hispanic Voter Base
Over the summer, Dr. Mehmet Oz's bid to represent Pennsylvania in the U.S. Senate seemed like a Quixotic quest all but destined to end in defeat.
Fetterman is still the clear favorite—more than half of likely voters in the state, according to several polls evaluated by Newsweek, expect him to win. But with just over a month left in the race, Oz is not only competitive, he's surging.
In August, Fox News pollsters projected Democrat John Fetterman's lead over Oz at about 11 points; it's now 4. Franklin and Marshall College had Fetterman winning by more than a dozen points in August, but the gap has fallen into single digits.
And where conservative pollsters had Fetterman with a slight advantage over the summer, the race—according to right-leaning pollsters like the Trafalgar Group and Emerson College—is now statistically tied, with the polling gap between the two reduced from a 12-point lean for Fetterman in mid-August to just six points entering the closing weeks of the campaign.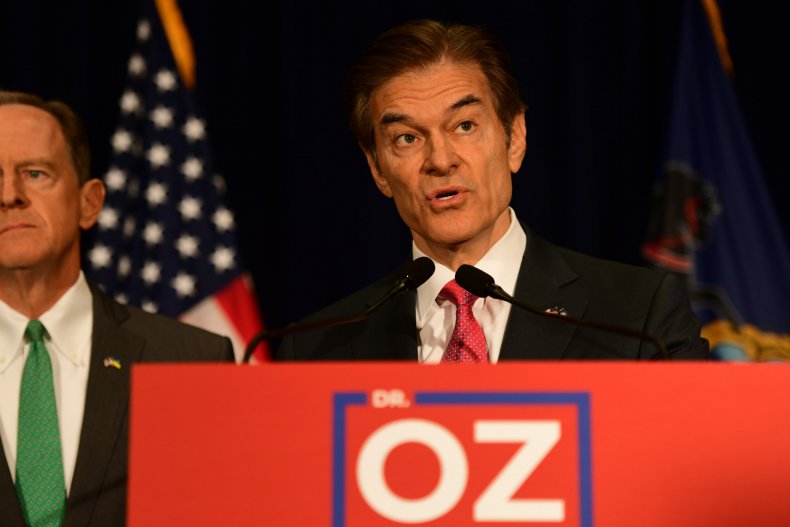 According to those polls, the shift came largely from Oz's increasing popularity among independents as well as the Black and Hispanic voter base that helped President Joe Biden to a 1.2 percent victory in the state in the 2020 presidential election.
According to a 2020 study by the University of California-Los Angeles, only an estimated 17 percent of urban Hispanic voters in Pennsylvania voted for President Donald Trump in that year's election, helping Biden achieve about 65 percent of the Hispanic vote nationally, according to exit polls. However, recent Emerson polling shows Oz currently outperforming Trump among that demographic, leading Fetterman's support among Hispanic voters at 46 percent.
And while Fetterman has a clear lead among Black voters—with roughly 65 percent of the vote, according to Emerson polling—Oz still has the support of 16 percent of Black voters in the state, according to an Insider Advantage poll published this week, outpacing Trump's percentage of the New York Times' estimated national Black vote in 2020 by more than 5 points.
Fox News polling shows Oz's support among non-white voters in the state at about 24 percent, a worrying indicator after a pro-Oz super PAC released an ad reviving an incident in which Fetterman pulled a gun on a Black jogger as mayor of Braddock roughly a decade earlier.
"I think Fetterman is struggling a little bit with urban and non-white voters," Franklin and Marshall pollster Berwood Yost told Newsweek. "They just don't seem as motivated as they could be for this race. And I think that could be an important part of the story."
The independent vote could also be of concern for Fetterman. According to recent polling by Franklin and Marshall, Democratic gubernatorial candidate Josh Shapiro holds a near 20-point lead over Republican nominee Doug Mastriano among independent voters. Fetterman's lead among that demographic is just 11 percent despite significantly higher favorability ratings and his more popular stance on social issues.
The key difference in the race? Economic issues. According to that same poll, nearly one-third of voters identified some economic concern—unemployment, taxes or the state of the economy—as their top concern entering the 2022 midterms. Overall, 39 percent of voters Franklin and Marshall surveyed believe Oz-backed policies will benefit them financially, compared to 32 percent for Fetterman.
But the main thing that boosted the number, Yost told Newsweek, was a consolidation of support among Republicans who were previously tepid in their support.
"Republicans have sort of warmed to his candidacy, I would imagine for a number of reasons, including economic reasons," Yost said. "It's hard for me to know which is more important in the race, but I think that the more Oz can turn the question to economic matters, the better off he is, because that is a top-of-mind concern to many people."