Pro-Oz Group Releases Ad Black Democrats Fear Could Cost Fetterman Election
A new conservative ad attacking Democrat John Fetterman for pulling a gun on an unarmed Black jogger almost a decade ago aims to sway Black voters in the Pennsylvania U.S. Senate race.
The reported $500,000 ad created by a political committee backing Republican Mehmet Oz, says Fetterman "chased down an innocent unarmed Black man" in his pickup truck, eventually pulling a 20-gauge shotgun on the individual. It is a reference to a December 2013 incident provoked by what Fetterman believed was heard gunshots while he was playing with his son.
Fetterman was at the time mayor of Braddock, a Pittsburgh suburb. Fetterman served in the role for 13 years prior to being sworn in as Pennsylvania lieutenant governor in January 2019.
The ad's release was feared by prominent Black Pennsylvania Democrats even prior to the state's May 17 primary, according to NBC News. Black-heavy populations in Pittsburgh and Philadelphia are viewed as an instrumental voting bloc to determine who represents the entire state.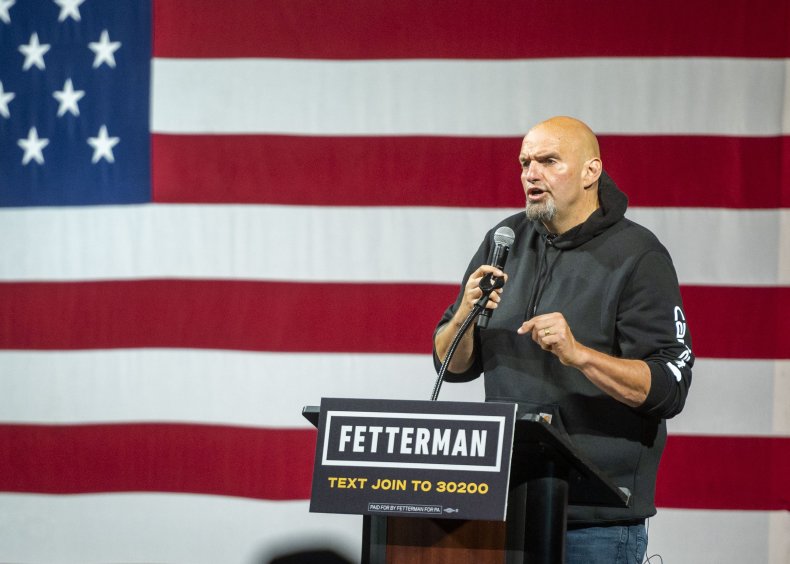 The 30-second spot reportedly started airing Tuesday on networks including Black Entertainment Television (BET), the Oprah Winfrey Network (OWN), MSNBC, and ESPN, in addition to shorter spots on mobile devices.
Reverend Mark Kelly Tyler, a top Democratic organizer in Philadelphia who helped President Joe Biden win over Black voters in 2020, told NBC News in April that those who believe Fetterman's actions regarding the jogger wouldn't be brought up were "living in fantasy land."
Tyler equated it with Hillary Clinton's use of the term "superpredators" being brought up again during her 2016 campaign.
"This story can become a drumbeat almost every day or just result in one good ad that can depress Philadelphia's turnout by 40, 50,000 votes," Tyler said. "That would be enough to lose the election for us."
Former Philadelphia Mayor Michael Nutter told NBC News that Fetterman needed to "fess up" and apologize instead of rationalizing that he "didn't know the guy was Black" or that he was the chief law enforcement officer.
Fetterman's liberal primary opponents, U.S. Representative Conor Lamb and state Representative Malcolm Kenyatta, also took Fetterman to task for the incident. At the time, however, Fetterman defended his "split-second decision" and instead brought up how five of his 13 years as mayor included zero gun deaths.
Fetterman communications director Joe Calvello directed Newsweek to a statement from Pennsylvania State Senator Vincent Hughes, who represents west Philadelphia in the State Senate.
"Dr. Oz is an out-of-touch millionaire who has no idea about the issues that are facing Black voters," Hughes said. "While Oz spends his time in his mansions in New Jersey, John Fetterman was the three-term mayor of Braddock–a majority Black town–and has worked hand in hand with the Black community for years. Black voters are excited to vote for John because of his long record, and because they know he will fight for them in Washington."
Pittsburgh City Paper reported last year that Fetterman–who never apologized for his actions–said he was unaware of the other individual's race and never put a bullet in the gun. The unarmed victim, Chris Miyares, said that Fetterman pointed the gun at his chest and was surrounded by six officers before being released.
The video also shows Fetterman talking to a reporter after the incident, saying, "I believe I did the right thing, but I may have broken the law during the course of it."
TribLIVE reported that Fetterman said he "did what I thought was appropriate at the time" and expressed no regrets for what led to the "very confusing and scary situation."
Miyares recently told The Philadelphia Inquirer that he forgives Fetterman and also supports him in the Senate race.
Voter surveys in August showed Fetterman leading over his opponent, with one poll indicating a commanding lead of nearly 20 points; others showed an average of nine points throughout the campaign.
Newsweek reached out to the Oz campaign, Tyler, the Pennsylvania Democratic Party and the Democratic Senatorial Campaign Committee for comment.