Trump-Backed Network Acknowledges Georgia Had 'No Widespread Voter Fraud'
One America News Network (OAN) on Monday admitted in a broadcast that there was "no widespread voter fraud" carried out in Georgia during the 2020 presidential election, several months after two election workers sued the network for defamation.
In the segment, which was posted to social media by OAN, the anchor sitting at the desk throws to an "updated report from Georgia officials" in which the reporter states: "Georgia officials have concluded that there was no widespread voter fraud by election workers who counted ballots at the State Farm Arena in 2020."
This report from OAN comes as a special grand jury was seated earlier this month as investigators continue to look into whether the former president attempted to interfere in the state's 2020 election results. Since leaving office, Trump and those around him have claimed baselessly that the 2020 presidential election was rigged against him. The claims have been debunked numerous times, with the Department of Homeland Security calling the election "the most secure in American history."
OAN's report goes on to state that "a legal matter with this network and the two election workers has been resolved to the mutual satisfaction of the parties through a fair and reasonable settlement."
The lawsuit mentioned in the broadcast was filed in federal court late last year by two Georgia election workers, Ruby Freeman and Wandrea "Shaye" Moss. Freeman and Moss, in their suit, claimed that OAN accused them of ballot fraud even after election officials stated that those allegations were not true.
Freeman and Moss stated that due to those allegations they faced "an immediate onslaught of violent and racist threats and harassment."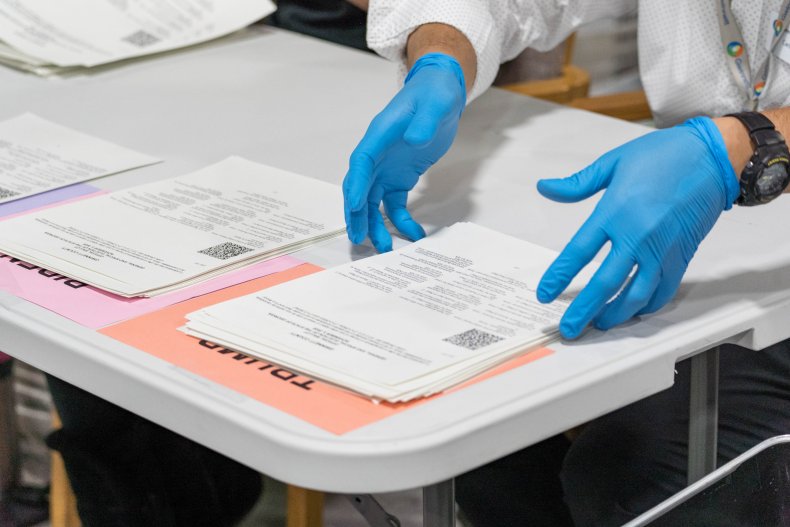 On Friday, MyPillow CEO and vocal Trump supporter Mike Lindell, who has continued to push claims of widespread voter fraud during the 2020 election, suggested to a reporter that a leak of a draft opinion from the Supreme Court was timed to distract from voter fraud.
"All of a sudden, the news comes in, and it leaked out from the Supreme Court. What kind of timing is that? You follow me?" Lindell said, drawing a parallel between the timing of the leak and last week's release of the documentary 2,000 Mules, which alleges voter fraud in the 2020 election. "And so that gets the news rather than more and more evidence and more stuff piling on of what happened in the 2020 election. It's disgusting."
Newsweek reached out to a representative for Trump and to OAN for comment.