Donald Trump criticized President Joe Biden over vaccine mandates on Friday, saying that when he was president, "people were not fighting the vaccine."
"Since I left, I think people just don't trust the Biden administration, or Biden. Because since I left, now you have the mandate fight and that's a big fight by the way, and you have to allow people their freedoms," Trump said in an interview on Real America's Voice show The Water Cooler.
"I took the vaccine, I think you might have taken the vaccine, a lot of people took the vaccine, and it's been very effective, but you have to allow people their freedom. But we didn't have this debate, there was no talk of mandates and all of the things that are happening right now, when I was there. People wanted the vaccine," he added. "And it's become a very very big, nasty and thorny issue."
Polling has shown that a majority of Americans support Biden's vaccine mandates, which were issued earlier this month. The mandates apply to federal employees, health care work and workers at businesses with 100 or more employees, all of which impact about 100 million people.
Trump had previously blamed Democrats for vaccine hesitancy.
"If you remember, when I was president, there were literally lines of people wanting to take it," Trump said in an interview with Fox News on September 13. "Now, you have a different situation, and it's very bad."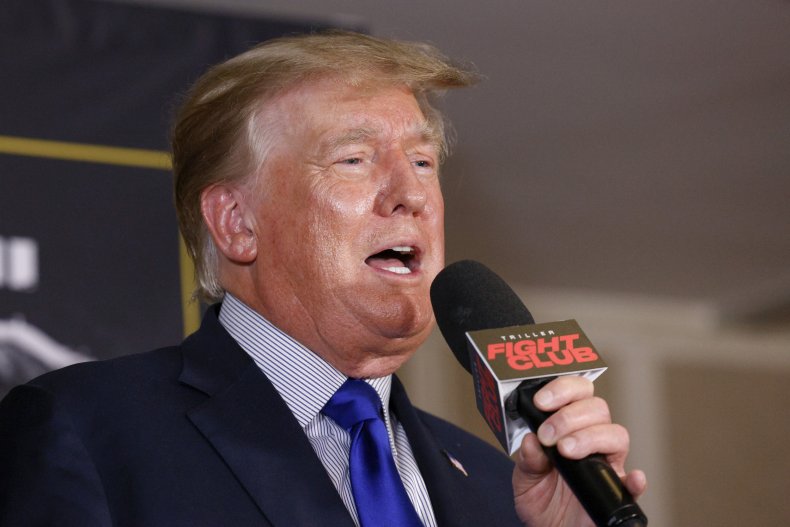 Trump only oversaw the beginning of the vaccine rollout in the United States. The vaccines became available in December 2020, and Trump left office in January 2021.
A poll released in March by the Pew Research Center found that the number of people who planned to get vaccinated increased after Biden took office. The survey found 69 percent of the American public said they intended to get a vaccine, or already had, compared to 60 percent in November 2020.
The poll noted partisan gaps, showing Democrats were more likely to want to get vaccinated.
"Democrats are now 27 percentage points more likely than Republicans to say they plan to get, or have already received, a coronavirus vaccine (83 percent to 56 percent). This gap is wider than those seen at multiple points in 2020," the Pew Research Center reported.
As of Friday, 55.3 percent of Americans were fully vaccinated against COVID-19 and 64.4 percent had received at least one dose, according to data from the Mayo Clinic.
Newsweek has reached out to the White House for comment.