60 Percent of Americans Back Biden's Vaccine Mandates as GOP Aims to Fight Them: Poll
As Republican leaders across the country aim to fight President Joe Biden's latest vaccine mandates, a new poll found that a majority of Americans support the COVID-19 initiatives.
According to the survey released by Axios/Ispos on Tuesday, 60 percent of Americans said they back Biden's vaccine requirement for federal employees, while around 39 percent said they oppose them.
In a separate tally, an identical 60 percent of respondents also said they support the vaccination requirement for all businesses with at least 100 employees.
The results were similar to a Morning Consult-Politico poll released Monday, which found that a total of 58 percent of Americans are behind the mandate on businesses and 56 percent back the decision to require federal workers to be vaccinated.
The latest findings varied by location and across party lines, with a majority of urban, suburban and Democratic respondents – 70, 60 and 84 percent respectively – saying they approve the initiatives. By contrast, more than 6 in 10 Republicans and a little over half of rural respondents said they oppose the mandates.
The poll also found that opposition to COVID-19 vaccines remains at an all-time low, with only 20 percent of Americans saying they will likely not get vaccinated, while just 14 percent said they would definitely not get the jab.
The survey was conducted from September 10–13 using a sample of 1,065 general population adults age 18 or older. The margin of sampling error is plus or minus 3.2 percentage points.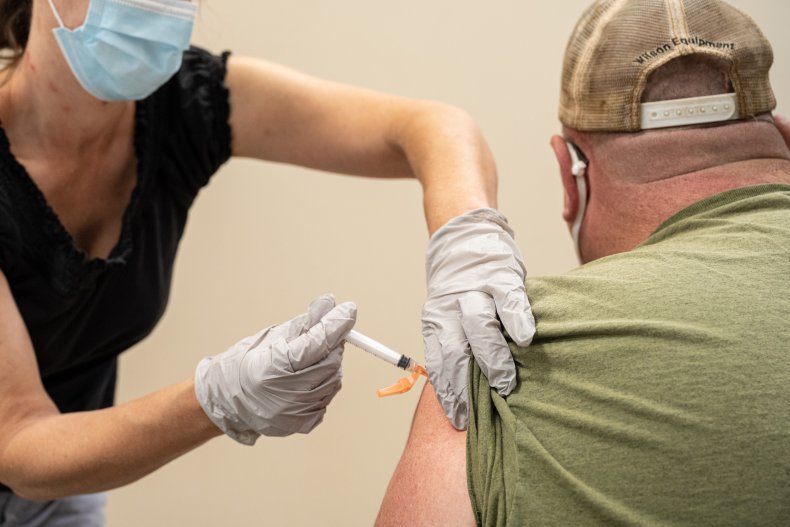 Biden announced the new mandates last week in an effort to get more Americans vaccinated, as COVID-19 variants continue to spread across the country. The move could affect 100 million American workers and marks the most aggressive steps taken by the federal government to address the pandemic.
The president has since faced significant pushback from Republican leaders, who argue that the requirements are an overreach of federal powers.
The Republican National Committee (RNC) and several GOP governors—including those of Georgia, Arizona, South Dakota, Nebraska, Oklahoma and Texas—have suggested they will take legal action to fight the mandates. On Monday, Florida Governor Ron DeSantis threatened to fine cities and counties thousands of dollars if they follow the president's mandates.
Biden's COVID-19 response team has argued that the vaccination requirements are perfectly legal, and have been implemented in the U.S. for decades to combat diseases such as polio smallpox and measles.
On Monday, White House Chief of Staff Ron Klain said in an interview that the political backlash was "something we expected," but the administration is "very confident" that the mandates will hold up legally.
Klain added that "the only way" to get the country back to normal "is to really put on these kinds of requirements to raise the share of the country that is vaccinated."