Trump Believes Harry Will 'Regret' Life With Meghan Markle
Former President Donald Trump criticized Meghan Markle, the Duchess of Sussex, for allegedly using Prince Harry and driving a wedge between him and his family.
Speaking to Nigel Farage on GB News, a British media outlet, Trump said he's "not a fan" of Markle and hasn't been from "day one." He criticized Markle for reportedly using her title when contacting Republican senators to persuade them to back paid family leave policies, calling it "inappropriate."
"I think Harry has been used horribly," Trump claimed. "I think someday he will regret it. A lot of people are saying I'm very good at the prediction business. I think someday he will regret it, he probably does already."
Trump also alleged Markle was "disrespectful" to Queen Elizabeth II and the entire royal family, adding that the couple's relationship "ruined" Harry's ties to his family.
Markle and Harry, who wed in May 2018, decided to take a step back from their royal duties in January 2020. Leaving England, they settled in California where they live with their two children. In February 2021, they confirmed they wouldn't be returning to Britain and wouldn't hold royal patronages.
The couple has been critical of the royal family, accusing them of subjecting the duchess to racist comments and being unsupportive of her while she struggled with mental health issues.
"It's a very trapping environment that a lot of them are stuck in," Harry said of life as a member of the royal family. "I was trapped, but I didn't know I was trapped."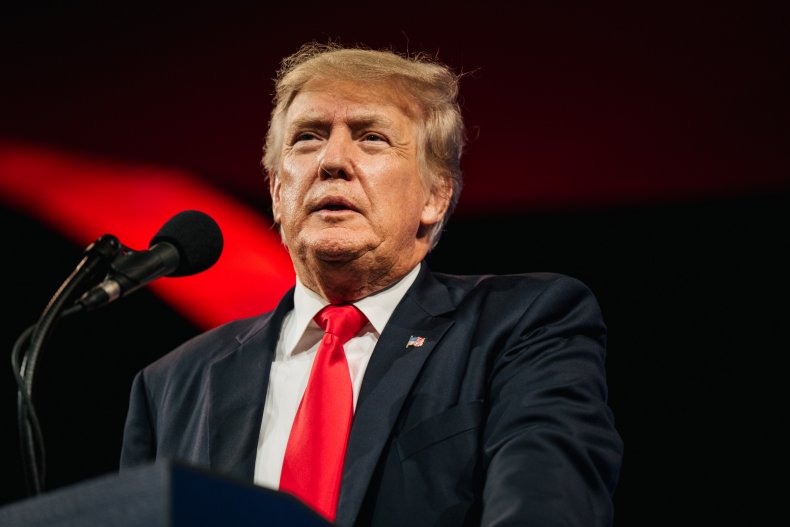 While the split has caused problems between himself and some members of his family, Harry denied that there were hard feelings with the queen. He said he never "blindsided" his grandmother with news they wanted to leave Buckingham Palace, telling Oprah Winfrey during an interview in March that he has "too much respect for her."
"My grandmother and I have a really good relationship, and an understanding and I have a deep respect for her," Harry said. The couple also named their daughter after the queen.
Despite their move to the United States, the couple has still found themselves under scrutiny, most recently about Markle's push for paid family leave. Senator Shelley Moore Capito, a Republican from West Virginia, and Senator Susan Collins, a Republican from Maine, told Politico they received calls from Markle, who introduced herself as the Duchess of Sussex.
Collins called it "ironic" that Markle used her title, given that the couple had wanted to step away from their royal roles. While she was "happy" to speak with Markle about the policies, Collins told Politico she is "more interested in what the people of Maine are telling me about it."
While Trump was heavily critical of the couple, he raved about Queen Elizabeth. Noting his mother was born in Scotland, he told Farage that she "loved the queen" and had a "great respect" for her.