Trump Berated British Prime Minister Theresa May During Call to Congratulate Him on Midterms: Report
British Prime Minister Theresa May had to endure a tirade from U.S. President Donald Trump when she called to congratulate him on the midterm elections, it has been reported.
May called Trump while he was on board Air Force One heading to Paris for events marking the centenary of the end of World War I, but instead of engaging in a convivial conversation cementing the special relationship between the United Kingdom and the United States, Trump berated May over a number of foreign policy issues, The Washington Post reported.
Trump criticized May for not doing enough to contain Iran, after the United States reimposed sanctions on Tehran on November 5. He also questioned her approach to Brexit and complained that U.S. trade deals with other European countries were not fair.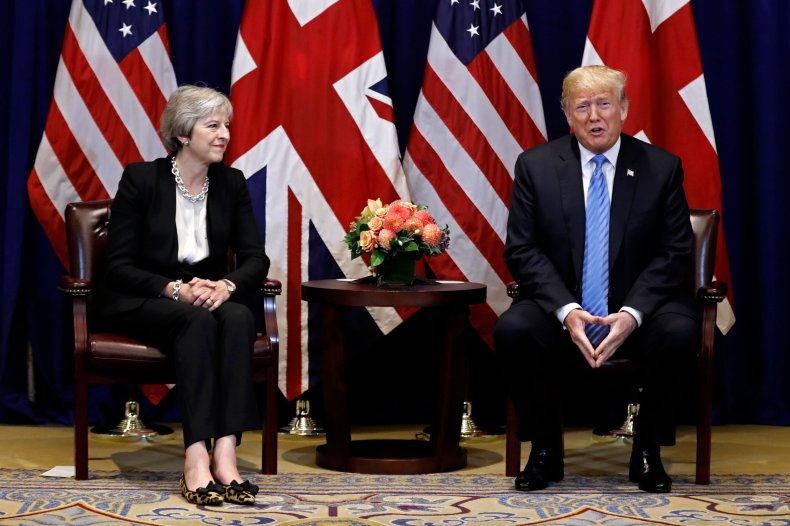 U.S. and European officials told the Post that May's aides and the prime minister herself were shaken by Trump's anger.
Downing Street has not commented on the claims, but The Telegraph reported the relationship between the leaders has been testy of late.
Although May was the first leader to visit Trump at the White House after he became president, he appeared to attack her handling of Brexit during a newspaper interview when visiting the U.K. in July.
The pair's latest interaction set the tone for "five days of fury" in which Trump lashed out in a series of tweets and criticized his staff for the media coverage of his skipping a ceremony marking the military sacrifice of World War I.
"He was frustrated with the trip. And he's itching to make some changes. This is a week where things could get really dicey," one senior White House official said, according to The Post.
Trump was reportedly unhappy at what he took to be criticism of him by French President Emmanuel Macron, who denounced rising nationalism and called it a "betrayal of patriotism."