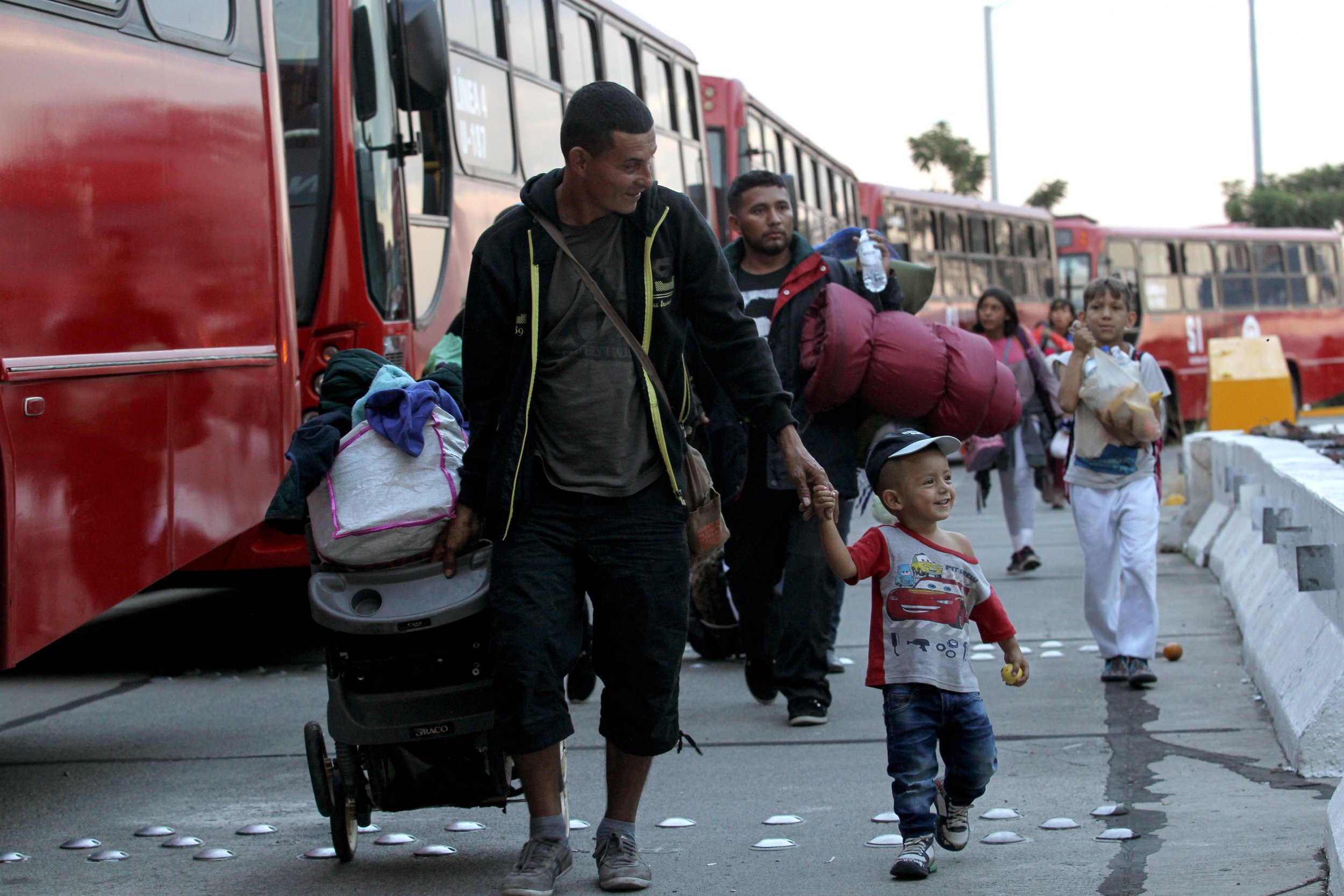 The Trump administration on Tuesday promised to allocate $5.8 billion in aid and investment for Central America and an additional $4.8 billion in development for southern Mexico. The announcement from the State Department was made in conjunction with Mexican Foreign Relations Secretary Marcelo Ebrard in Mexico City.
"The United States is committing $5.8 billion through public and private investment to promote institutional reforms and development in the Northern Triangle," the State Department said in a statement, referring to the region comprised of Guatemala, Honduras and El Salvador. The statement went on to say that the Overseas Private Investment Corporation (OPIC), a U.S. government agency established in 1971 that helps businesses gain a foothold in emerging markets, "could invest and mobilize up to $2.5 billion more in this region if commercially viable projects are identified," in addition to the more than $1 billion it has already invested in infrastructure, energy, economic growth and job creation in the region since 2017.
The statement explained that the Millenium Challenge Corporation, an independent U.S. foreign aid agency created by Congress in 2004, is earmarking more than $320 million "in funding for infrastructure, education and governance projects in El Salvador, Guatemala and Honduras." The aid package will be centered around security to stem drug trafficking, improve citizen security and reduce gang violence, as well as anti-corruption efforts, government accountability and economic growth, to name a few efforts.
According to the statement, nearly $1.8 billion in Department of State, U.S. Agency for International Development, and regional funding for fiscal years 2015 to 2018 has been allocated to the three countries.
"The Administration is requesting an additional $180 million in bilateral assistance for the region in our FY 2019 request," the statement added. The State Department stressed that Washington will continue to work closely with Mexico, international partners, the Inter-American Development Bank, the International Monetary Fund, the World Bank, the private sector and civil society "to maximize the impact of U.S. taxpayer investment in the region."
The Andrés Manuel López Obrador administration hailed the joint effort as "good news, very good news for Mexico," while U.S. officials have praised ongoing police training to fight MS-13 and other organized crime, thanks to bilateral cooperation. Nevertheless, experts believe Central Americans must take Trump's initiative with a grain of salt.
"Central Americans should be skeptical because a bunch of credits and guarantees for private investment will do almost nothing to address the reasons why migrants are fleeing," said Adam Isacson, director for defense oversight at the Washington Office on Latin America. "If they're fleeing poverty, they need assistance to make small farming viable, or decent formal-sector jobs. OPIC credits might help with the latter, but those would probably be $10 per day, nonunion, no-benefits jobs in the export sector," he added.
Although a concerted effort between the U.S. and Mexico to invest in Central America is a "great idea" for Michael Shifter, president of the Washington, D.C.-based think tank Inter-American Dialogue, he told Newsweek that such good intentions must be met with skepticism.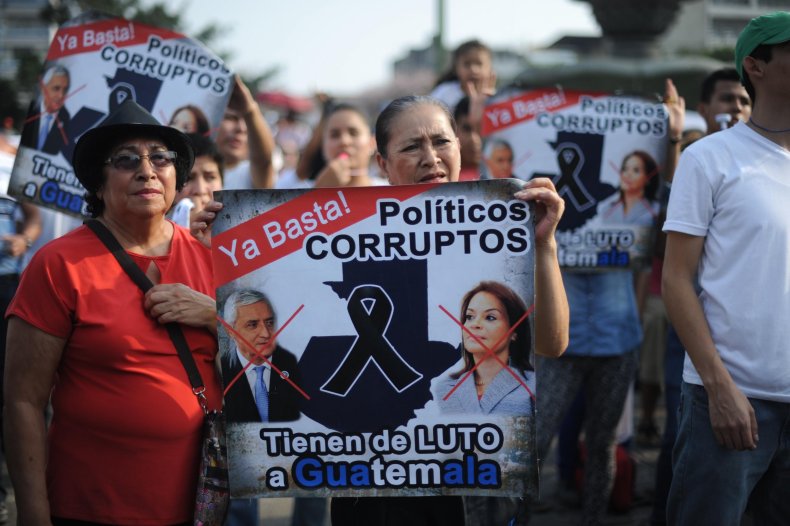 "After two years in office there is no discernible evidence that the Trump administration is actually interested in increasing aid to Central American countries," Shifter said. In October, President Donald Trump threatened to cut millions of dollars in U.S. aid to the Northern Triangle, explaining that all three countries "were not able to stop" the 7,000-strong migrant caravan bound for the U.S.-Mexico border.
This is not the first initiative aimed at improving the lives of Central Americans over a span of almost two decades. In 2001, Mexico and Central America—including Belize, Nicaragua, Costa Rica and Panama—proposed the creation of the Mesoamerica Integration and Development Project (also known as Plan Puebla Panama). It was expanded in 2008 with the incorporation of the Dominican Republic and Colombia in order to bolster regional economic development projects. At the same time, the U.S. Congress has appropriated over $1 billion for the Central America Regional Security Initiative (CARSI), a U.S. assistance program launched in 2008. Seven years later, Congress approved a multiyear $750 million aid package for the region, and $126 million of that amount was earmarked specifically for CARSI.
According to InSight Crime, there are no comprehensive impact studies of CARSI from either government agencies or independent organizations in recent years. As for the Mesoamerica Integration and Development Project, critics like the Mexico-based Association of Indigenous Communities in the Northern Zone of the Isthmus have said that transportation and energy corporations were the only beneficiaries of the plans' resources, leading local communities in Mexico and some parts of Central America to oppose infrastructure projects that had little government oversight.
The new plan "would be less like CARSI, which had citizen security as a central goal, and more like Plan Puebla Panama, which would mainly make Central America's tiny elite wealthier," Isacson argued.
The creation of these programs is meant to quell the long-lasting effects of civil wars that had afflicted Central America for decades. While the region has undergone political restructuring since the 1990s, poverty, inequality and social stratification continue deteriorating security. As a result, the Northern Triangle is grappling with massive emigration, gang-related violence and the strengthening of drug trade.
And corruption further exacerbates the region's woes. El Salvador, Guatemala and Honduras received low scores from Transparency International's Corruption Perceptions Index last year—ranking 112th, 143th and 135th, respectively, in a list of 180 countries.
"Plans like CARSI and Plan Puebla Panama have failed because of the staggering levels of corruption," Guadalupe Correa-Cabrera, George Mason University professor and global fellow Wilson Center's Latin American Program, in Washington, D.C., told Newsweek. "These resources could just fall in the hands of businesspeople who have no interest in developing communities and instead want to keep the money and hire fewer people."
In 2006, The United Nations and the Guatemalan government agreed to create the International Commission against Impunity in Guatemala (CICIG), which helped establish an investigatory commission to dismantle illegal security groups, combat impunity and spearhead anti-corruption efforts. In 2015, CICIG became instrumental in the downfall of former Guatemalan President Otto Perez Molina, who was linked to allegations of human rights abuse. He was sent back to trial—along with his former vice president, Roxana Baldetti—in October due to their alleged involvement in an enormous corruption scheme in which business paid bribes in order to avoid customs duties.
Despite CICIG's work to dismantle corruption, Guatemalan President Jimmy Morales and Secretary of State Mike Pompeo announced that CICIG was shutting down in September. Earlier this year, GOP Senator Marco Rubio announced the freezing of $6 million in funding for CICIG, alleging that the institution "has been manipulated and used by radical elements and Russia's campaign against the Bitkov family in Guatemala." However, Rubio did not provide any evidence on the matter.
Meanwhile, Trump-backed Honduran President Juan Orlando Hernández, who won a controversial presidential election on November 26, 2017, despite allegations of election fraud, has been linked to a graft probe into a diversion of funds from the state to his campaign last year.
In El Salvador, the National Development Foundation (FUNDE) found setbacks in the fight against corruption throughout 2018. "In the last year, of 12 trials that were considered by the Supreme Court of Justice, 11 were exonerated," FUNDE's legal coordinator Jaime López told Washington-D.C.-based Spanish publication El Tiempo Latino.
"This is clearly a lack of accountability on all fronts," Correa-Cabrera said. "The United States must be a leader that could help solve corruption cases in the region, especially when the Central American population is tired of the lack of opportunities. Building a wall at the border is not going to be the solution to the region's problems."
For many experts, a plan to help Central America should not just call for a serious commitment of resources for economic, social and institutional development.
"It also requires high-level engagement to provide advice and coordination. One major obstacle to success are the current governments of Guatemala, Honduras and El Salvador, which are hardly reliable partners in such an ambitious, collective effort," Shifter said. "Those countries are experiencing high levels of organized crime and corruption, which means that even if there were enough resources for a Marshall Plan, implementation would be problematic at best."
Isacson, for his part, echoed the same views. "A real Marshall Plan would work if it gave the region the judicial tools to shut down corruption, the security tools to protect people, and the economic tools, such as infrastructure and education, to let the excluded majority participate in the national economy," he said.