Trump Blames 'Cancel Culture' for Dearth of Opponents to Debate Him on 2020 Election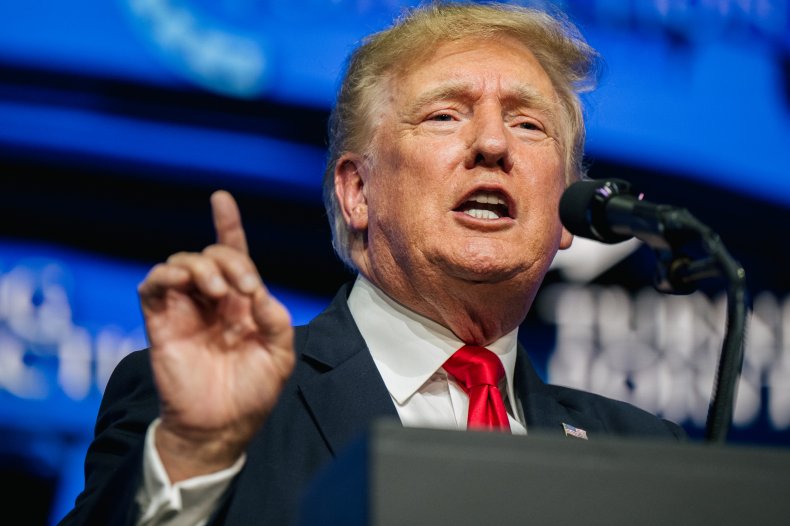 Former President Donald Trump has insisted in a statement that "Cancel Culture" is the reason he has been unable to find anyone to debate him on false claims of massive fraud in the 2020 presidential election.
Trump offered to debate "the heads of the various papers or even far-left politicians" over what he called "voter irregularities and fraud on a massive and determinative scale" late last month, promising that the proposed event would be "a ratings bonanza for television." The ex-president on Thursday suggested he had been "canceled" because not "one credible person" had chosen to engage with him over the "RIGGED" election.
"This was a publicly stated challenge—I have been called a 'ratings machine,' and therefore would be good for television economics—which have not been doing so well lately," Trump said in the statement. "With all the bravado out there, I have not had one credible person willing to stand up and debate me in order to defend the CROOKED election."
"This is Cancel Culture," he added. "They think they got away with the Crime of the Century and they don't want it to be talked about or discussed. Look at what has happened to our Country, and what a shame it is!"
Trump singled out members of the House Select Committee to Investigate the January 6th Attack on the U.S. Capitol for particular scorn, referring to members of what he called the "Unselect Committee of January 6th" as "sleazebags" who would not take him up on the offer because they "know that it is a losing proposition for them."
Newsweek reached out to the offices of Trump and January 6th Committee Chairman Bennie Thompson (D-Miss.) for comment.
Although opposition to cancel culture and so-called "woke" principles have become increasingly popular culture war wedge issues for many conservatives including Trump, it is unclear how the former president's failure to find a debate opponent is related.
Cancel culture usually refers to the practice of mob justice being unfairly unleashed on a person by shunning them from society due to their actions or stance on a particular issue. Trump has remained in the spotlight regardless of his false election claims and despite his inability to find a debate partner.
Trump's statement was issued only two days after the release of an interview where he at least briefly appeared to acknowledge the reality of his loss to President Joe Biden. During a discussion on his now-canceled U.S.-Mexico border wall, Trump told Flashpoint host Gene Bailey that the wall would have already been completed "had we won the election."
The former president's remarks on Thursday were much more in line with the stance that he has maintained since the election was decided more than a year ago. Trump has continued to argue that massive fraud was responsible for the presidency being "stolen" from him. No credible evidence of massive fraud has been uncovered despite extensive efforts by Trump and his allies.
Instead, legal voting procedures and already debunked theories or incidents are often cited by 2020 election fraud proponents, mostly issues that would not have overturned the election outcome even if they were true. Trump lost to Biden by a relatively decisive 74 votes in the Electoral College and over 7 million popular votes.
Although the facts about 2020 election fraud are not on the side of the former president, Trump did not allow for the possibility that his absence of a debate opponent could be for any reason other than fear of losing the debate. Experts have suggested that other concerns could be to blame.
"It is highly unlikely that any individual or media organization will take up Trump's offer to seriously debate his election fraud claims," Julie Norman, deputy director of University College London's Centre on U.S. Politics, told Newsweek earlier this month. "Such an event would only give Trump an additional platform to further his unfounded claims, which recent polls show still resonate with approximately 68 percent of Republican voters."
"Any opponent or media outlet who is serious about dampening the effect of such claims will want to distance themselves from giving Trump further airtime on this issue in particular," added Norman.