Trump Blasts Pelosi for Claiming He Hasn't Built New Border Wall⁠—But Is She Right?
President Donald Trump blasted House Speaker Nancy Pelosi on Tuesday over her claims that the U.S. leader has so far failed to build any "new wall" between the U.S.-Mexico border, despite vowing to see at least 450 miles built before the end of 2020.
In an interview earlier this month on Face the Nation, Pelosi said: "The president hasn't built any new wall in the whole term of office."
"I think that his comments about the wall are really an applause line at a rally, but they're not anything that he's serious about," she said.
On Tuesday morning, Trump appeared to hit back at the House speaker for saying "we are not building a wall." "Wrong," he said, "and it is going up fast."
However, in the same tweet, the president also appeared to acknowledge exactly why Pelosi may, in fact, be right in claiming that no "new" border wall has been built.
Noting that his administration has been working to "rip...down an old & badly broken Border Wall in an important location" and replace it "with a brand new 30 ft. high Steel & Concrete Wall," Trump appeared to confirm that, so far, his administration has only seen border barriers built to replace pre-existing structures.
The U.S. Customs and Border Protection agency confirmed that to Newsweek with the provision of a Border Wall Status report dated to Friday.
As of November 22, the report states, approximately 86 miles of new border wall system had been constructed "in place of dilapidated and outdated designs."
While that number does show that CBP has been making some headway with its border wall initiative, with the agency having seen 69 miles of its border wall built as of September 30, the agency also makes clear that it has so far only replaced previously existing designs.
The report does state, however, that "construction is currently underway in locations where no barriers currently exist."
According to a recent New York Times piece, developments on the first new section of border barriers where no structures had previously stood began in late October, just south of Donna, Texas.
So, while Pelosi may have been accurate in stating that Trump had yet to oversee the completion of any new border wall, it is likely that the first new stretch will be completed in the not-too-distant future.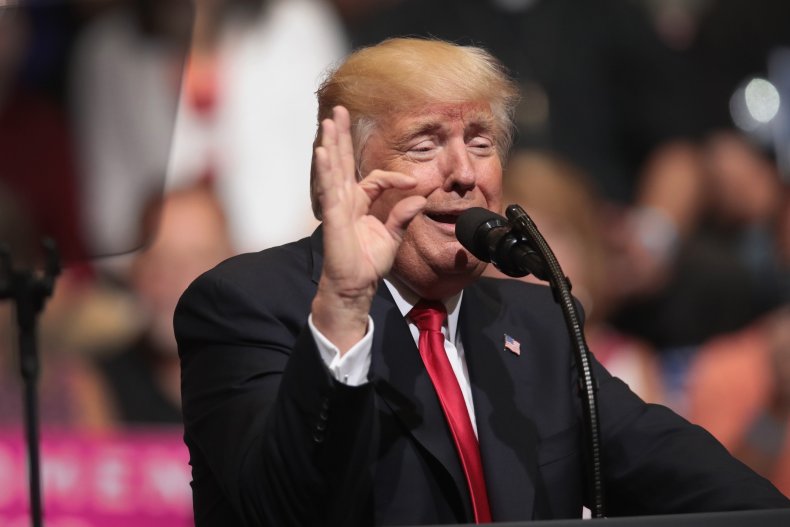 As Trump noted in his tweet, construction on the border wall project has been "closely coordinated" between the Department of Homeland Security, CBP and the Department of Defence.
"Since the first barriers were built in San Diego in 1991, [U.S. Border Patrol] field commanders have continued to advocate for border wall and the enduring capability it creates to impede and/or deny attempted illegal entries while creating additional time to carry out successful law enforcement resolutions," the report states.
"Today, CBP is constructing a border wall system which includes a combination of various types of infrastructure such as an internally hardened steel-bollard barrier, all-weather roads, lighting, enforcement cameras and other related technology," it adds.