Trump Calls John Bolton 'Disgruntled Boring Fool' Who Only Wanted War
President Donald Trump lashed out at his former National Security Adviser John Bolton on Wednesday night as details from the ex-official's new tell-all White House memoir were revealed to the press.
The commander-in-chief called Bolton "incompetent" and a "wacko" after one excerpt from the former adviser's book, The Room Where It Happened, alleged that Trump praised Saudi Crown Prince Mohammed bin Salman amid fury over the killing of Jamal Khashoggi to divert attention away from his daughter Ivanka Trump.
"This will divert from Ivanka," Trump is reported as saying. "If I read the statement in person, that will take over the Ivanka thing."
At the time of issuing his statement, the president's daughter Ivanka was under fire for using a personal email account to conduct government business.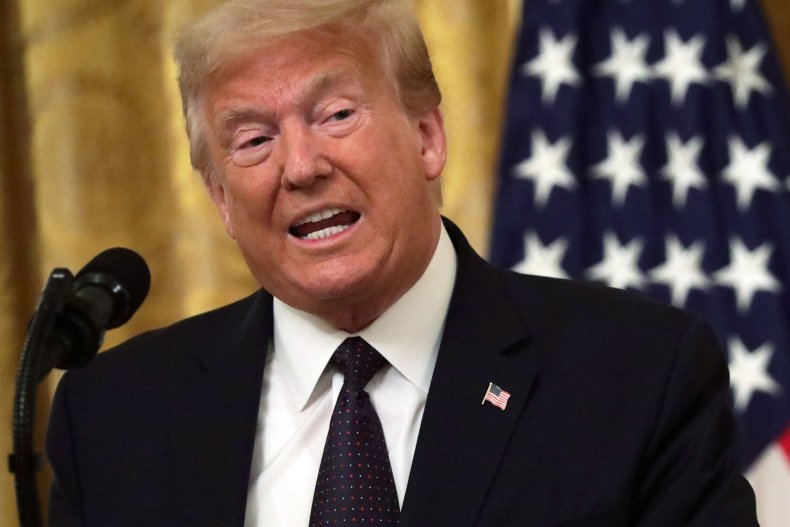 In social media posts and an interview with Fox News yesterday, Trump said Bolton was a "washed-up guy" who had littered his memoir with "fake stories" and lies.
Sharing a post by the filmmaker Dinesh D'Souza dubbing Bolton "thin-skinned" and unhinged, Trump tweeted: "President Bush fired him also. Bolton is incompetent!"
An hour earlier, the president said: "Wacko John Bolton's 'exceedingly tedious' (New York Times) book is made up of lies & fake stories.
"Said all good about me, in print, until the day I fired him. A disgruntled boring fool who only wanted to go to war. Never had a clue, was ostracized & happily dumped. What a dope!"
Newsweek has contacted a representative of Bolton for comment. This article will be updated with any response. The White House has also been contacted for comment on the allegation in Bolton's new book.
Trump launched an attack on Bolton last night as excerpts from his White House memoir sparked fresh criticism of the president amid the existing triple crises of a pandemic, unrest over police brutality, and a spike in unemployment.
In a passage of the book published Wednesday by The Wall Street Journal, Bolton alleged that Trump asked Chinese President Xi Jinping for help in winning the 2020 election, stressing the importance of Beijing's purchases of goods made in American farming areas.
Bolton also alleged that the president asked if Finland was a part of Russia in an excerpt from the book seen by The New York Times. The former ambassador added that Trump was also unaware that the U.K. was a nuclear power.
Jumping on the allegations from Bolton's as yet unreleased book, Former Vice President Joe Biden said: "If these accounts are true, it's not only morally repugnant, it's a violation of Donald Trump's sacred duty to the American people to protect America's interests and defend our values."