Trump Ridiculed After Border Wall Section Blows Over During Construction: 'Just Point And Laugh'
President Donald Trump is facing ridicule after a section of his long-promised border wall between the U.S. and Mexico appeared to blow over in high winds during construction.
Photos of the incident show a section of wall leaning at a sharp angle into Mexico at a construction site on the border between Calexico and Mexicali.
In a statement sent to Newsweek, Ralph DeSio, a spokesperson at the U.S. Customs and Border Protection agency, which is overseeing construction of the border wall, explained that "high winds impacted a handful of panels under construction yesterday afternoon."
"No property damage or injuries were sustained during this uncommon event while the concrete was drying and construction remains ongoing," he said.
"The border wall system is imperative to securing the border and is what border patrol agents have asked for and need to maintain operational control of the southern border," DeSio added.
While the incident may have been due to high winds and perhaps poor timing, Trump's critics were quick to ridicule the president over the snag in his border wall bid.
"Point and laugh everyone, just point and laugh," Juan Escalante, a prominent immigration advocate, who lives as an undocumented immigrant in the U.S., wrote on Twitter, sharing an article about the blunder. "Tax $ at work!" he added.
Democratic presidential hopeful Tom Steyer also took a jab at the president, mocking the president with one of his own quotes.
"I own buildings. I'm a builder; I know how to build. Nobody can build like I can build. Nobody. And the builders in New York will tell you that. I build the best product," Steyer wrote, quoting Trump, after the border wall section fell.
Sharing an article about the incident, Molly Jong-Fast, editor-at-large for The Daily Beast also weighed in, saying, "This episode of Arrested Development really has it all."
Meanwhile, Ana Navarro-Cárdenas, a Republican strategist and political commentator, wrote: "A piece of the border wall toppled over on Mexican side. I guess Mexicans wanted their property back. They paid for it, after all."
Navarro-Cárdenas appeared to be referring to Trump's recent comments reigniting his claim that Mexico would be paying for the construction of the border wall.
Throughout his 2016 election campaign, Trump had vowed to build his wall and make Mexico pay for it. But in the years since, the president had backed away from that promise, declaring a national emergency instead in order to gain access to military construction funds for the development of his wall.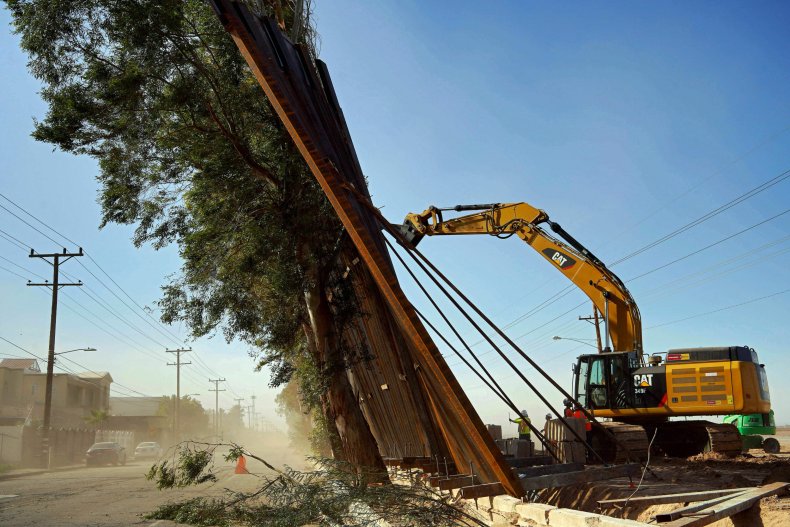 Speaking to supporters at a campaign rally at the Wildwoods Convention Center Oceanfront in Wildwood, New Jersey, on Tuesday, however, Trump reinstated the claim, asserting that Mexico would be "paying for the wall."
"You will soon find out," the president said.
It is unclear whether Trump has any reason to believe that Mexico would be paying for the construction of the border wall.
Speaking to reporters on Wednesday from the National Palace, Mexico's President Andrés Manuel López Obrador said he did not "want to fight" with the U.S. government, as he refrained from responding directly to a question about Trump's claims Mexico would be funding the border wall construction.
This article has been updated with a statement from CBP.