Donald Trump's Border Wall: How Much Of The Barrier Has Actually Been Built—And Will It Ever Be Complete?
For much of his life, President Donald Trump, a real estate-tycoon-turned world leader, has been a builder. With towers going up around the world in his name, it could be argued that success, for the U.S. leader, is a tangible thing only made real once it's written across the skyline.
So, it should have come as little surprise when, in 2014, Trump, then referred to as a "real estate tycoon" and "Celebrity Apprentice" star in the headlines, first hinted at what one of his first priorities would be if he were to be elected president.
Back then, it was a "fence"—"a border fence like you have never seen before," the real estate magnate told an audience in New Hampshire in April 2014. That summer, the "fence" would become a "wall" as Trump's advisers considered how to best brand a 2016 campaign that could be run on the promise of cracking down on immigration and putting "America first."
"And what better way than to have his brand incorporated by Donald Trump saying, 'Yeah, I'm going to build a wall. Nobody builds like Trump'?" former Trump adviser Sam Nunberg once told NPR.
Fast forward five years later and one of the biggest election upsets in U.S. history, and Trump, now president, is seeing his border wall ambitions become a reality one "beautiful" steel slat at a time, as the U.S. leader has put it, despite an uphill battle in Congress to see his vision brought to fruition.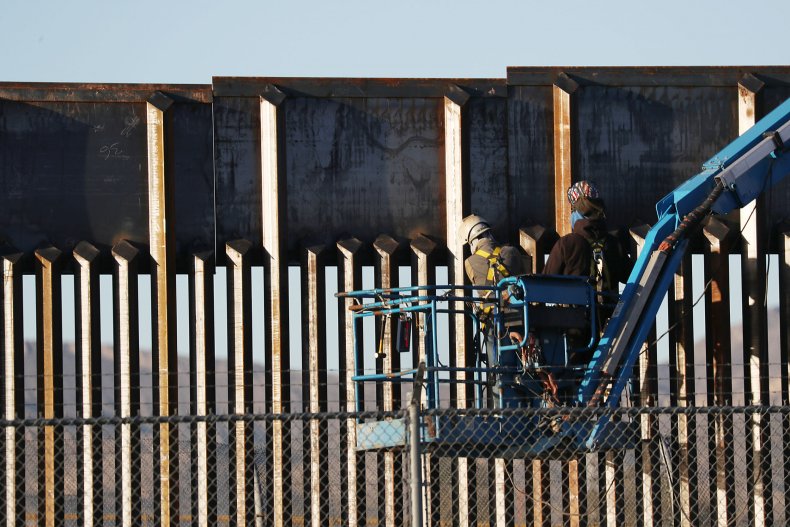 How much of the wall has been built?

So, just how much of the president's long-promised border wall has been built? According to data provided by the U.S. Customs and Border Protection agency, not a whole lot.
"Since January 2017, the Department of Homeland Security (DHS) and [CBP] have received funding to support construction of up to 201-205 miles of new border barriers," CBP said in a "border wall status" update dated on June 14.
Of those 201-205 miles the Trump administration has received funding for through a combination of appropriations and the Treasury Forfeiture Fund (TFF), however, only 46.7 miles have been built two-and-a-half years into Trump's presidency. Much of the border wall that has been built has been put up in places where construction is replacing "dilapidated designs."
While, during his 2016 presidential campaign, Trump had vowed to build a towering 2,000-mile wall that would stop migrants in their tracks before they considered attempting to cross into the U.S. outside a designated port of entry, the U.S. leader scaled back on that promise in January of this year, admitting that his border wall would not, in fact, be the "a 2,000-mile concrete structure from sea-to-sea" that he promised to build. "These are steel barriers in high-priority locations," he said.
The 46.7 miles of border wall that has so far been built (a meager 2.3 percent of the border itself), according to CBP, stands small in the shadow of the 654 miles of barriers that already existed along the southwest border before Trump took office. That total included 354 miles of pedestrian fencing, designed to stop people from crossing on foot, in addition to 300 miles of vehicle barriers, which prevent vehicles from driving across the border, but which can be scaled by a person on foot.
The graphic below, provided by Statista, illustrates that border apprehensions are hitting historic highs.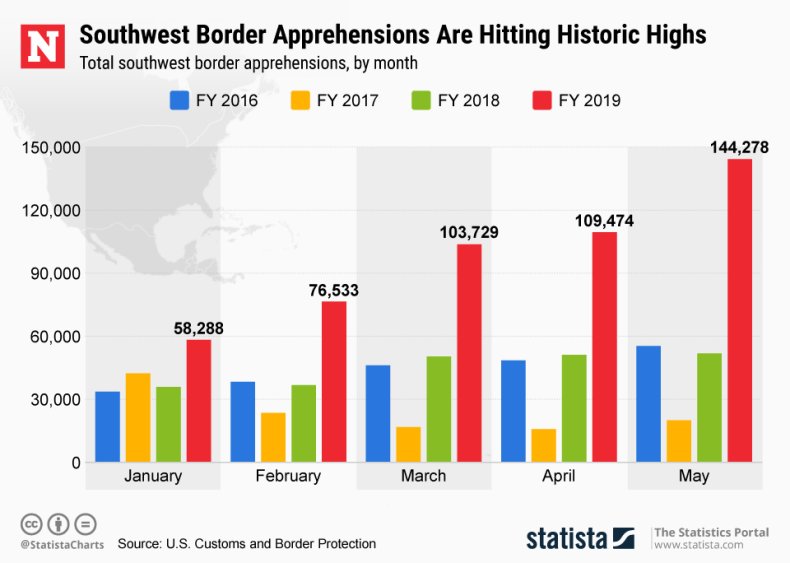 Is Mexico paying for Trump's wall? If not, who is?
While during his presidential campaign, Trump vowed to make Mexico pay for the construction of his long-promised border wall. However, it quickly became apparent after the U.S. leader's election that it would be U.S. taxpayers footing the bill.
With the U.S. leader unable to convince the country's southern neighbors cover the costs, Trump has faced repeated barriers of his own in Congress, with Democrats determined to push back against the president's plans.
Overall, the president's administration has been able to secure $6.1 billion in funding as of May 2019 to build it's border wall, according to CBP. That total includes funding that has been approved by Congress, in addition to extra money the U.S. leader has mined after declaring a state of emergency over immigration in February.
While Democrats in Congress have questioned just how much Trump's long-promised border wall would actually accomplish in deterring illegal immigration, CBP has backed the president's plans, asserting that "many older segments [of pre-existing border barriers] "are dilapidated, having been built with scrap metal from left-over Vietnam-era landing mat," in addition to having been, in some cases, "welded by Border Patrol Agents in the 1990s."
"Since 2008, CBP has received little funding to upgrade border barriers and no funding to expand the border wall's footprint into operationally necessary locations," CBP said in its progress update.
The Customs and Border Protection agency is not alone in believing those upgrades are necessary, with some Trump supporters showing so much enthusiasm for the president's border wall plans, that they were willing to pay for and build it themselves.
One landowner in Sunland Park, New Mexico could now face up to three months in jail after allowing part of a citizen-led border wall project to be put up on their property without city permission after a GoFundMe campaign calling on Americans to build Trump's wall themselves raised more than $23 million over the span of five months.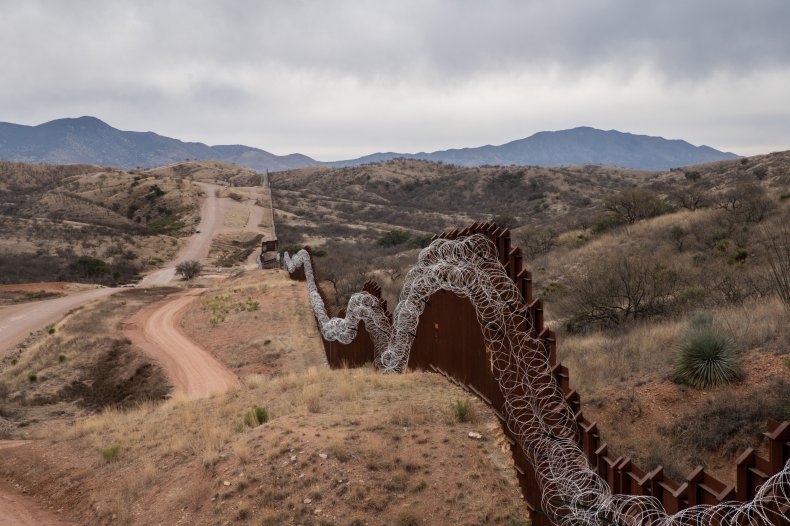 Border barrier or 'vanity project'?
While many within Trump's base would like to see the president's border wall plans brought to fruition, the majority of Americans appear to believe their money could be spent better elsewhere, with a survey conducted by the Pew Research Center in January finding that the majority of Americans, or 58 percent, to be against Trump's plans to expand U.S. border barriers, while 40 percent were in support of the plan.
Meanwhile, Trump's harshest critics, including California Senator and 2020 Democratic candidate Kamala Harris, have dismissed the president's bid as nothing more than "vanity project" aimed at securing an emblem to represent his legacy.
Immigration experts also appear to agree with that sentiment, with one former senior DHS official speaking to Newsweek on the condition of anonymity earlier this year, branding the border wall project a "truly absurd" waste of money that will see Americans' money "burned" for the "vanity project of an egomaniac."
"There are things that we can do with that money. So many things that would be more valuable to the average American," the former DHS official, who served under the Obama administration, said.
Rather than using taxpayers to build Trump's wall, which the former senior official said "isn't going to do anything," the Trump administration should be focusing on the "push factors" that drive refugees to flee their countries and come to the U.S. in the first place.
In Guatemala, Honduras and El Salvador, which are collectively known as the Northern Triangle, poverty, violence and food security are among those push factors.
Current homicide rates in Central America are among the highest ever recorded in the region, according to the UNHCR, with several cities, including San Salvador, El Salvador; Tegucigalpa, Honduras; and San Pedro Sula, Honduras, being listed among the 10 most dangerous in the world.
Meanwhile, in Guatemala specifically, many asylum seekers are also being driven to leave their home country due to food insecurity caused largely by drought.
Trump, the former official said, is right that the U.S. does "have a crisis at the border. But, it's a refugee crisis. Not a crisis of illegal crossings."
"The way you address refugee crises is by ending the push factors wherever those refugees are coming from," they said.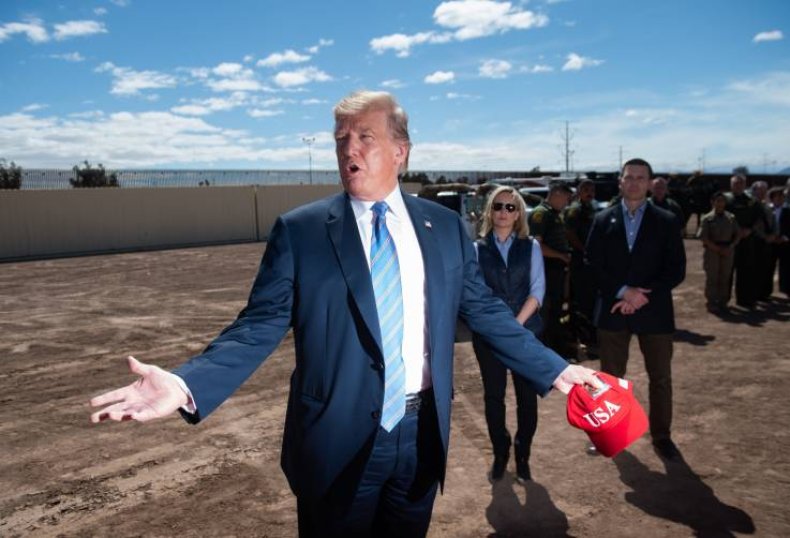 This article was updated to include an infographic.