Trump Border Wall: President Told Spain to Block Off Sahara Desert
President Donald Trump is still fighting to get his "big, beautiful wall" along the Mexican border, but that hasn't stopped him from suggesting the same strategy to fellow leaders.
According to Spanish Foreign Minister Josep Borrell, Trump told the Spanish government it should build a barrier to block off migrant access from the Sahara desert.
Spanish officials were skeptical such a barrier could work, El País reported, but Trump dismissed their concerns, saying, "The Sahara border can't be bigger than our border with Mexico," which is around 2,000 miles long.
The Sahara is about 3,000 miles long. Such a project would face significant diplomatic challenges, given that Spain holds only two small enclaves on the North African coast—Ceuta and Melilla. This means any wall would need to be built across foreign territory. Both Ceuta and Melilla already have a system of border fences to stop illegal immigration.
Borrell recounted the discussion at a lunch event in Madrid on Tuesday, sending ripples through the Spanish press. A spokeswoman for the country's foreign ministry said, "We can confirm that's what the minister said, but we won't be making any further comment on the minister's remarks."
The Guardian reported that the president likely gave the outlandish advice when Spanish King Felipe and Queen Letizia visited the White House in June, accompanied by Borrell.
Spain's borders have been put under pressure by migration from across Africa, as its territories on the continent's northern coast, and their proximity to the Spanish mainland's position at Europe's southern tip, make the country a focal point for arrivals hoping to make a new life in the EU.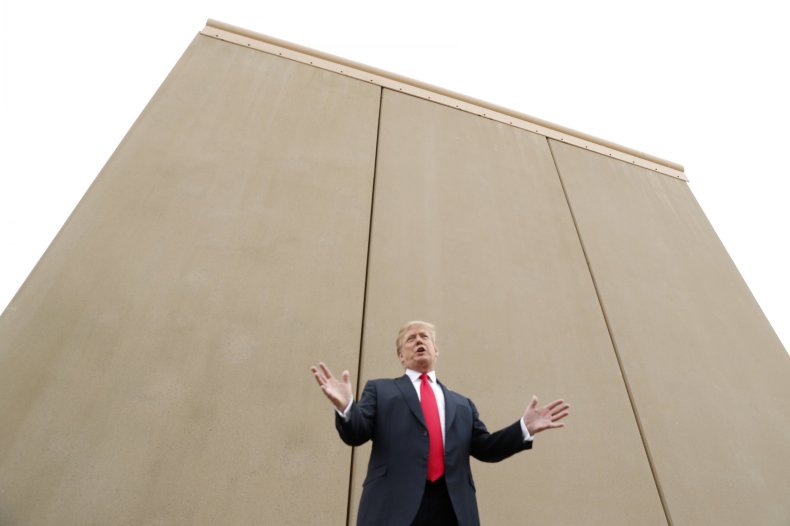 Migrants regularly try to get past the barriers along the borders separating Ceuta and Melilla from Morocco, and some have traveled thousands of miles north. In July, there were reports of around 800 people attempting to scale the Ceuta fence, and more than 100 migrants and 15 police were injured.
The southern Spanish coast is a favored destination for migrant boats launching from North Africa. More than 33,600 migrants have arrived by sea so far this year, according to the International Organization for Migration, with another 1,723 dying in the attempt.
Spain has now become the most common destination for migrants crossing the Mediterranean, outstripping both Greece and Italy. Spain has seen three times as many new arrivals, compared with 2017.
The country's socialist prime minister, Pedro Sánchez, has been receptive to the migrants, even accepting 630 refugees aboard the Aquarius rescue ship that was refused entry by Italy and Malta.
But right-wing parties claim the leader is too soft on migration. The new leader of the conservative People's Party, Pablo Casado, said, "Spain can't absorb millions of Africans who want to come to Europe in search of a better future…. We need to start saying it isn't, even though it's not politically correct."
But Borrell sees no need for panic. In July, he noted, "We're talking about 20,000 migrants so far this year for a country of more than 40 million inhabitants.… That's not a mass migration."
For now, at least, there seems little hope that Trump can export his wall politics to North Africa. While the president spent the summer threatening a federal government shutdown if he didn't get the money needed for the U.S.-Mexico barrier, prototypes for the wall have been failing.
A U.S. Customs and Border Protection report revealed that the test walls were breached multiple times, and in at least one case, testers were able to bring the wall to the point of collapse.
Critics of Trump's wall have suggested it could never adequately cover the entire U.S.-Mexico border, which crosses thousands of miles of mountains, rivers and desert.
Though the Department of Homeland Security said in 2017 the wall would cost around $21.6 billion, Senate Democrats have estimated the true cost would be $70 billion to build, plus $150 million each year to maintain, according to The New York Times.