Trump Budget Cut Proposals Spark Outrage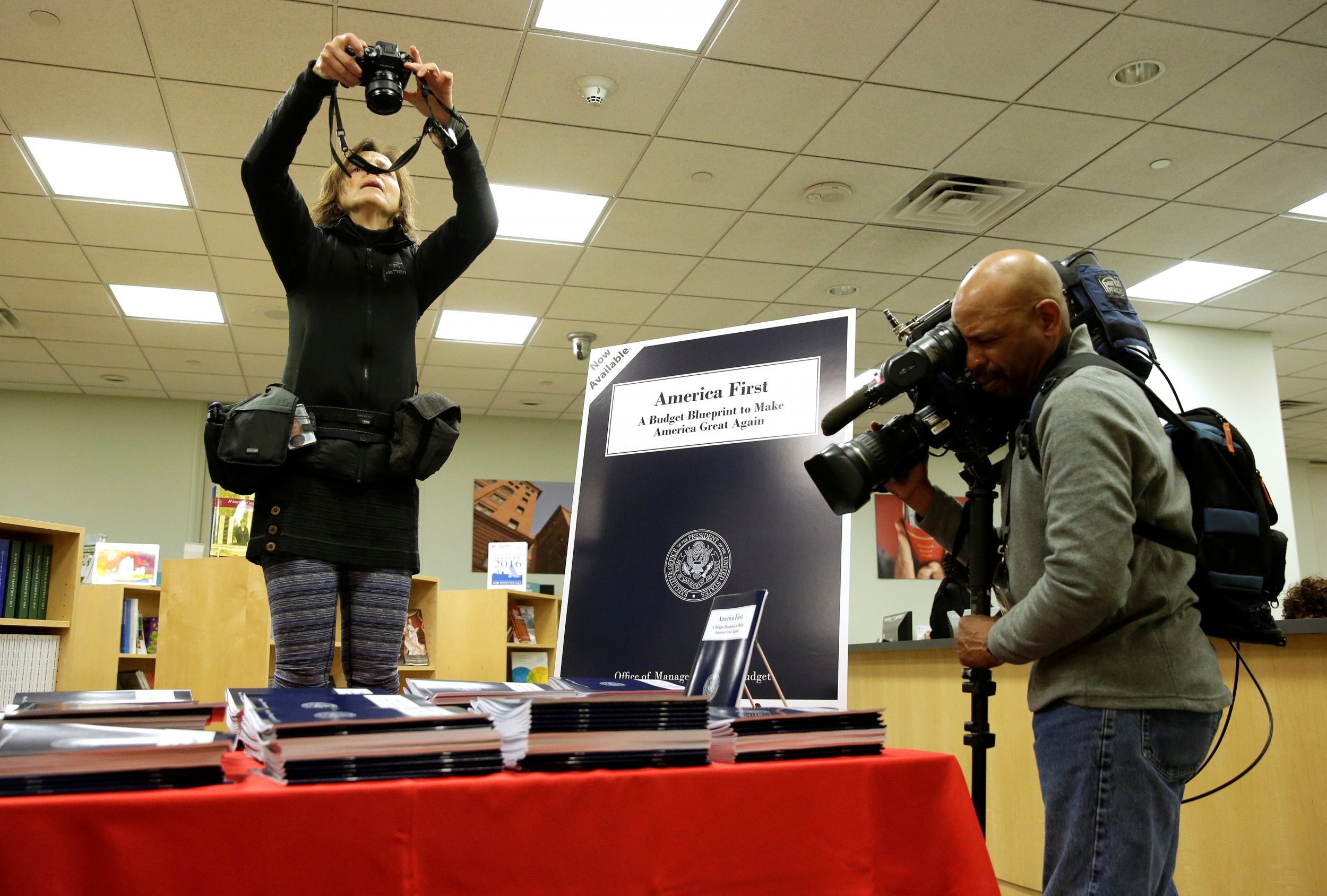 Updated | President Donald Trump's first budget proposal has already drawn ire from a wide array of people who view it as an attempt to increase the defense and national security budgets by targeting the poor, minorities and efforts to prevent climate change.
The "America First" budget, dubbed a "Blueprint to Make America Great Again," would eliminate funding for 19 independent government agencies that focus on regional development, international outreach and homeless programs. Funding would also be significantly decreased for the departments of agriculture, state and labor, and the Environmental Protection Agency would suffer a 30 percent cut and lose 50 programs and 3,200 staff positions, according to The Washington Post.
Related: Trump asks for $3.1 billion for border wall
"You can't drain the swamp and leave all the people in it," the director of the White House Office of Management and Budget, Mick Mulvaney, told reporters on Wednesday. Meanwhile, Trump's budget seeks $1.5 billion for the current fiscal year to begin the process of building a wall along the U.S. border with Mexico. Congress has the final say over whether the budget will pass.
The president seeks to increase defense department spending by $54 billion, and increase the homeland security department budget by seven percent. Phillip J. Crowley, former assistant secretary of state, said in a tweet, "Trump's approach to national security mirrors his approach to health care: a sharp cut in preventive medicine. That's what @StateDept does."
Perhaps the strongest reaction online was over Trump's plan to eliminate a number of programs and grants for the country's poor. The budget seeks to cut the Low-Income Home Energy Assistance Program, which helps heat homes in the winter, and the Community Development Block Grant program, part of the Department of Housing and Urban Development, which helps with homelessness programs, affordable housing assistance and funds the Meals on Wheels.
Here's what people are saying about the president's budget proposal to eliminate 19 independent agencies:
The U.S. Chemical Safety Board (CSB) said on Thursday that it's "disappointed to see the President's budget proposal to eliminate the agency." The agency added that it has investigated hundreds of chemical incidents over the past two decades, including the Deepwater Horizon and West Fertilizer disasters. "The American public are safer today as a result of the work of the dedicated and professional staff of the CSB. As this process moves forward, we hope that the important mission of this agency will be preserved."​
While the agency hasn't specifically commented on the proposed budget, its Twitter page tweeted out on Thursday morning: "Thanks to strong public-private partnerships, CNCS leverages additional $1.26B/year - that's more than fed investment! #NationalServiceWorks."
"There is no viable substitute for federal funding that ensures Americans have universal access to public media's education and informational programming and services," the organization said in a statement on Thursday morning. "The elimination of federal funding to CPB would initially devastate and ultimately destroy public media's role in early childhood education, public safety, connecting citizens to our history, and promoting civil discussions—all for Americans in both rural and urban communities."
The CPB goes on to say that public media costs approximately $1.35 per citizen per year, making it "one of America's best investments." It will "work with the new administration and congress in raising awareness that elimination of federal fudning to CPB begins the collapse of the public media system itself and the end of the essential national service."
"You cannot advocate for infrastructure development and economic security in rural America without also supporting the mechanisms, such as DRA, that make those projects a reality. DRA has a dedicated team that will remain focused on the projects and programs that are building the Delta while we work through this long budget process," Delta Regional Authority Federal Co-Chairman Chris Masingill said in a statement on Thursday.
American Library Association President Julie Todaro called the proposed cuts to the Institute of Museum and Library Sciences "counterproductive and short-sighted" and "ill-advised."
"Americans believe in justice for all, not just for those who can afford it. That's why civil legal aid is vital and why the Legal Services Corporation has enjoyed broad bipartisan support for decades," Martha Bergmark, former president of the Legal Services Corporation, said in a statement on Thursday. "President Trump promised to help the 'forgotten' America, but eliminating LSC would do just the opposite. Among the many it would harm are people in red states with large rural areas, who already struggle to find the legal help they need."
Richard Thornburgh, former Republican governor of Pennsylvania and U.S. attorney general under presidents Ronald Reagan and George H.W. Bush, said: "Fairness in the justice system should not depend on how much money a person has. Any proposal to cut the Legal Services Corporation would devastate the ability of civil legal aid programs to serve people in crisis, often facing wrongful evictions, mortgage foreclosures, wage claims, child custody disputes or denial of essential benefits."
"We are disappointed because we see our funding actively making a difference with individuals of all ages in thousands of communities, large, small, urban and rural, and in every Congressional District in the nation," National Endowment for the Arts Chairman Jane Chu said in a statement about the proposed budget cuts.
On Thursday, the hashtag #SaveTheNEA began trending on Twitter. As of press time, more than 200,000 people had already signed a petition—supported by artists and actors such Jasper Johns, John Lithgow and Roseanne Cash—in favor of protecting federal arts funding.
"We are greatly saddened to learn of this proposal for elimination, as NEH has made significant contributions to the public good over its 50-year history," National Endowment for the Humanities Chairman William D. Adams said on Thursday. "But as an agency of the executive branch, we answer to the President and the Office of Management and Budget (OMB). Therefore, we must abide by this budget request as this initial stage of the federal budget process gets under way."
Many Twitter users welcomed the proposed slashing of independent government agencies and questioned their use. See below:
Trump is also looking to cut all funding for the Northern Border Regional Commission, the Overseas Private Investment Corporation and the U.S. Institute of Peace. The Institute said in a statement that it will "continue to fulfill the mission given to it by Congress and the American people – to strengthen U.S. security by reducing violent conflict."
"When we reduce and resolve violent conflict, the need for a U.S. military response to crises is reduced," the U.S. Institute of Peace said in a statement.
The blueprint seeks to eliminate funding for the U.S. Interagency Council on Homelessness, which Julian Castro, former secretary of housing and urban development, tweeted "has been VITAL to reducing homelessness among veterans. Bad move."
Newsweek has contacted all 19 independent agencies named in the president's budget blueprint. This post will be updated as more comments become available.