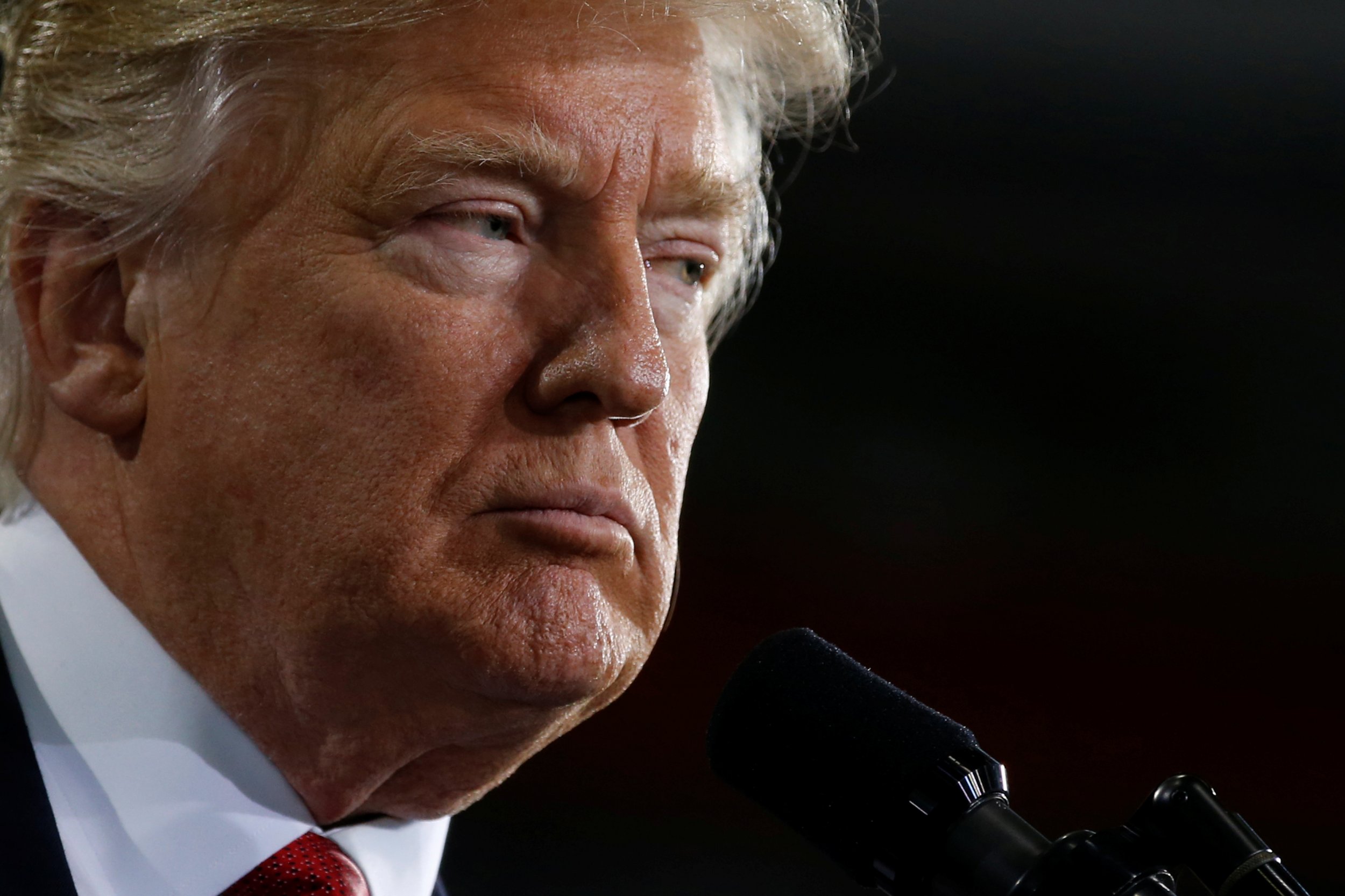 Donald Trump wants more than $3 billion over the next year and a half to start building his wall on the border with Mexico, one of a number of controversial requests the White House will roll out as part of its budget "blueprint" on Thursday.
Related: Trump's Controversial Budget Is Unlikely to Pass Congress
The president insists he will build the wall, one of his most prominent campaign pledges, despite intense skepticism among experts and lawmakers on Capitol Hill. Trump is asking for $1.5 billion as part of his request for the rest of fiscal year 2017, which runs through the end of September (Congress has only funded the government through April 28, 2017). For fiscal year 2018, the White House plans to request $2.6 billion, a senior administration official told reporters in a conference call on Wednesday.
That's just a fraction of what experts estimate building a wall the length of the 3,100-mile border will cost. The Department of Homeland Security's internal calculation, leaked in February, pegged the cost at more than $21 billion. The administration official conceded that the $1.5 billion for this year just "allows us to start that program."
"We haven't settled on construction types, we haven't settled on where we're going to start," he explained. "I think the funding provides [for] a couple different pilot cases, different kinds of barriers in different kinds of places."
Overall, the White House is looking to increase funding for the Department of Homeland Security by 6 percent year-on-year, largely for border enforcement. It hopes to cover the expense of the wall by eliminating other "inefficient, wasteful" programs, though the administration official did not specify which ones. He denied, however, reports that Trump plans to slash funding for the Coast Guard, which falls under the aegis of Homeland Security. Critics reacted to those reports by pointing out that the Coast Guard is integral to protecting national security and interdicting drugs and criminals that might try to enter the country by sea.
One thing the White House is clear on: big cuts are coming to American foreign aid, which will bear the brunt of the State Department's 28 percent budget reduction. "What you see in the State Department budget is a reflect of the reduction to the foreign aid program," the official said. "We have protected the core diplomatic function of State."
Trump is also looking to dramatically shrink the budgets of the Environmental Protection Agency (EPA) and the Department of Housing and Urban Development (HUD), as well as eliminate federal funding for the public broadcasters like PBS and NPR, the official confirmed. Those cuts will help balance out a $54 billion increase the president is seeking for the Pentagon and other defense functions. "There's no question, this is a hard power budget," the official said.
Presidential budget requests are not binding, they are simply outlines of priorities they hope Congress—the holder of the purse strings—will fulfill. But as the Trump administration is already finding, slashing budgets is easier in theory than practice. Virtually every federal agency and program has active constituencies and stakeholders prepared to fiercely defend their turf. Many Republicans may embrace the idea of crippling the EPA, but there are also moderates in Alaska or coastal states like Maine and Florida that are already being affected by climate change, and may not support such measures. GOP hawks, meanwhile, have already raised concerns about what major reductions in foreign aid funding will do to America's role in the world. Supporters of foreign aid, which includes many corporate CEO's and military brass, have been quoting Defense Secretary General Jim Mattis, who highlighted the connection between foreign aid and security when he led U.S. Central Command, "If you don't fully fund the State Department, then I need to buy more ammunition," he said at the time.
Border wall funding, however, may be the most contested budget item of all. Democrats loathe the idea of the wall. On Monday, Senate Democratic leaders warned their GOP counterparts in a letter that they would block any funding legislation for the rest of fiscal year 2017 that included money for it. That, of course, would result in a government shutdown.
Even Republicans have been openly skeptical that building a wall is feasible or cost-effective. "I don't think we're just going to be able to solve border security with a physical barrier because people can come under, around it and through it," Texas Senator John Cornyn told CNN in February. And Cornyn worried that paying for it would add to the country's growing debt. The president, of course, has famously claimed Mexico will ultimately pay for the wall. But the Mexican government has emphatically rejected no American politicians, of any political stripe, appears to be buying it, either.