Former Governor Chris Christie (R-N.J.) has blasted Donald Trump's "C-level legal team" for advising the president to waive his executive privilege and allowing White House counsel Don McGahn to speak openly with special investigator Robert Mueller's team.
Reacting to a report by The New York Times on Saturday, which has also been confirmed by Fox News, that broke the news of McGahn's cooperation, Christie chalked it up to "bad lawyering" while speaking to ABC's This Week on Sunday.
"You never waive [executive privilege]. Absolutely not," Christie said, The Hill reported. "This shows what a C-level legal team the president had in Ty Cobb and John Dowd."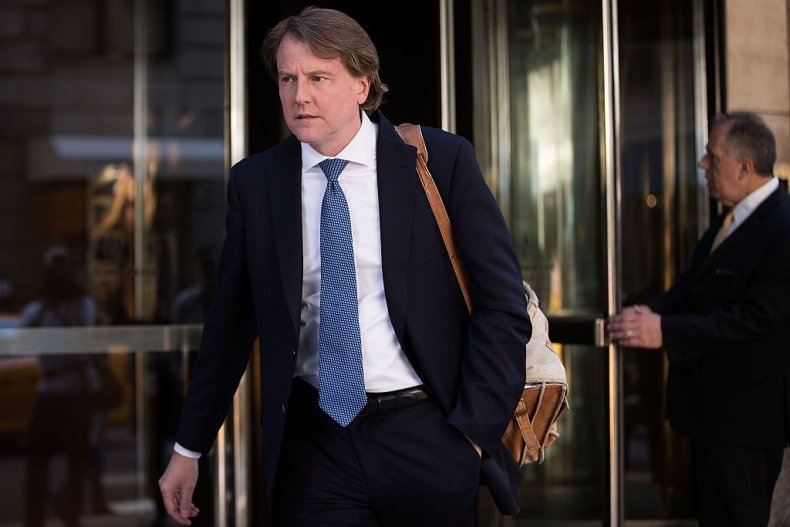 "This is not in the president's interest. It wasn't in the president's interest," he added. "It's bad legal advice. Bad lawyering."
According to The New York Times report, which relied on numerous sources familiar with the case, McGahn did at least three voluntary interviews with Mueller's investigative team, totaling thirty hours over the last nine months.
"Mr. McGahn described the president's fury toward the Russia investigation and the ways in which he urged Mr. McGahn to respond to it. He provided the investigators examining whether Mr. Trump obstructed justice a clear view of the president's most intimate moments with his lawyer," the report said.
The White House counsel's decision came with the approval of Trump, whose legal team advised him to go with "an open-book strategy" as the president insisted he had nothing to hide. They reportedly believed this would be the fastest way to wrap up the investigation.
However, McGahn reportedly feared Trump was attempting to set him up to be implicated in the case, and shared candidly with investigators to protect his own interests, according to sources who spoke to The New York Times on the condition of anonymity.
"A prosecutor would kill for that," Solomon L. Wisenberg, a deputy independent counsel in the Whitewater investigation of former President Bill Clinton, told the newspaper. "Oh my God, it would have been phenomenally helpful to us. It would have been like having the keys to the kingdom."
Commenting further on the situation Sunday, Christie said it put McGahn in an "impossible" situation.
"Because once you waive that privilege and turn over all those documents, Don McGahn has no choice then but to go in and answer everything, every question they can ask him," he explained.
Posting about the report on Twitter on Sunday morning, Trump insisted he has "nothing to hide." The president said that the report tried to make McGahan look like a "RAT," but the president argued this misrepresents reality.
"I allowed him and all others to testify – I didn't have to," Trump wrote.
The president and his administration have consistently classified the special investigation intp possible collusion between his campaign team and Russia as a "witch hunt."
Several top campaign officials have so far been indicted and his former campaign chairman Paul Manafort is currently on trial.