Trump in California: President Says State Is 'Begging Us to Build Walls'
President Donald Trump claimed California is "begging" for a border wall with Mexico during a trip to look at prototypes in San Diego on Tuesday.
"The state of California is begging us to build walls in certain areas," Trump said on what was his first visit to the state. "They won't tell you that, but we said no, we won't do it until we build the whole wall."
"There are certain areas where they are really wanting us to build a wall because people are complaining, people pouring in," Trump added.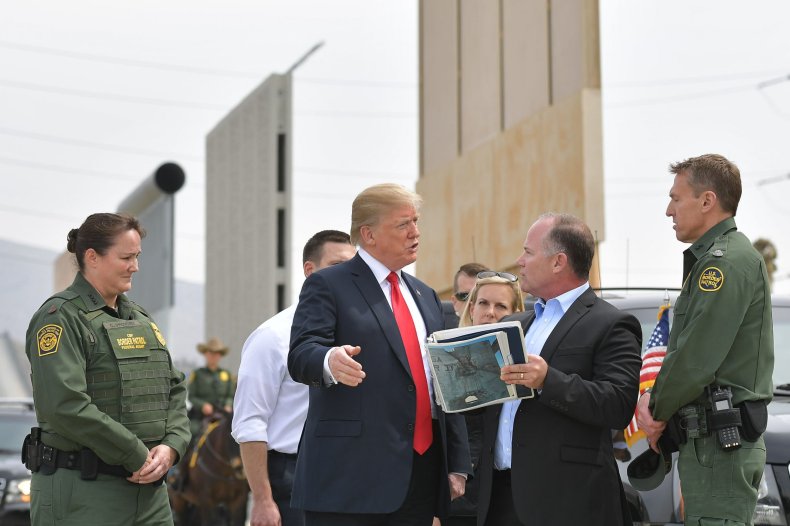 Authorities held protesters in the U.S. at bay blocks away from the survey site where Trump looked at a series of potential walls, but they could not stop demonstrators in Mexico from shouting their opposition from across the border.
As many as 50 protesters on the Mexican side of the border held up sign and shouted slogans, including "no queremos muros"—Spanish for "we don't wall walls"—within earshot of the president, according to NBC News.
"They have a lot of problems in Mexico, they have a lot of problems over there," Trump said during the visit. "They have the cartels. We're fighting the cartels and we are fighting them hard. Nobody fought them like we fought them. If you didn't have a wall system, it would be bedlam, I imagine."
The president went as far as to claim "if we don't have a wall system, we're not going to have a country," calling on Congress to fund his border wall and prohibit grants to sanctuary jurisdictions that he claimed "threaten the security of our country and the people of our country," in a tweet.
The U.S. leader looked at several prototypes for the border wall he has been adamant on building between the U.S. and Mexico since the start of his 2016 presidential campaign.
Trump asked which of the 30ft walls would be the most difficult to climb, adding that the wall would most likely have to be transparent, even though he would rather it be concrete.
Read more: ICE spokesman resigns, accusing Trump administration of making false claims about California sweep
On his way to the San Diego site, Trump hit out at California in a tweet, saying its "sanctuary policies are illegal and unconstitutional and put the safety and security of our entire nation at risk."
"Thousands of dangerous and violent criminal aliens are released as a result of sanctuary policies, set free to prey on innocent Americans. THIS MUST STOP," he added.
He also cited a Fox News story claiming the $18 billion wall "will pay for itself by curbing the importation of crime, drugs and illegal immigrants who tend to go on the federal dole," which cited the Center for Immigration Studies. Advocacy groups, including the Southern Poverty Law Center, were quick to accuse the president of citing an anti-immigrant hate group "in support of his border wall."
"The Center for Immigration Studies repeatedly circulates white nationalist and anti-Semitic writers and hypes the criminality of immigrants," the SPLC said.
The president was also critical of California governor Jerry Brown, saying he was doing a "terrible" job, while claiming to have a "great relationship" with Mexican President Enrique Peña Nieto, who he praised as a strong negotiator.
Brown was quick to hit back, writing to Trump on Twitter: "Thanks for the shout-out...But bridges are still better than walls. And California remains the 6th largest economy in the world and the most prosperous state in America," adding the hashtag "#Facts."
The governor had also addressed a letter to the president on Monday, recalling how George W. Bush had referred to California as "the place where the future happens first" and saying the state's "continuing success is essential to the success of our national economy" when he made his first visit as president.
"That is as true today as it was then. And the Golden State–the sixth largest economy in the world–is thriving. California added almost 3 million jobs since the recovery began," Brown wrote. "But, our prosperity is not built on isolation," he added. "Quite the opposite. California thrives because we welcome immigrants and innovators from across the globe."
"In California, Brown added, "we are focusing on bridges, not walls. And that's more than just a figure of speech."