Trump Calls Mitch McConnell 'Most Overrated Man in Politics' Ahead of Infrastructure Vote
Former President Donald Trump on Tuesday called Mitch McConnell the "most overrated man in politics" just before the Senate minority leader was poised to vote for passage of the $1 trillion bipartisan infrastructure bill.
Trump, who has repeatedly voiced his opposition to the infrastructure package, questioned why McConnell supports the bill. "Nobody will ever understand why Mitch McConnell allowed this non-infrastructure bill to be passed. He has given up all of his leverage for the big whopper of a bill that will follow," he wrote in a statement.
"I have quietly said for years that Mitch McConnell is the most overrated man in politics— now I don't have to be quiet anymore. He is working so hard to give Biden a victory, now they'll go for the big one, including the biggest tax increases in the history of our Country."
Trump's statement came just before the Senate appeared set to pass the bipartisan measure. Debate on the bill is expected to conclude at 11 a.m. Tuesday, and the House of Representatives is preparing to take up the legislation later.
Following months of negotiations, enough Republicans supported its advancement in the Senate. In total, 68 senators—including 18 Republicans—voted to move the bill forward on Sunday. Among the GOP senators giving their support were McConnell, Roy Blunt, Shelley Capito, Bill Cassidy and Mitt Romney.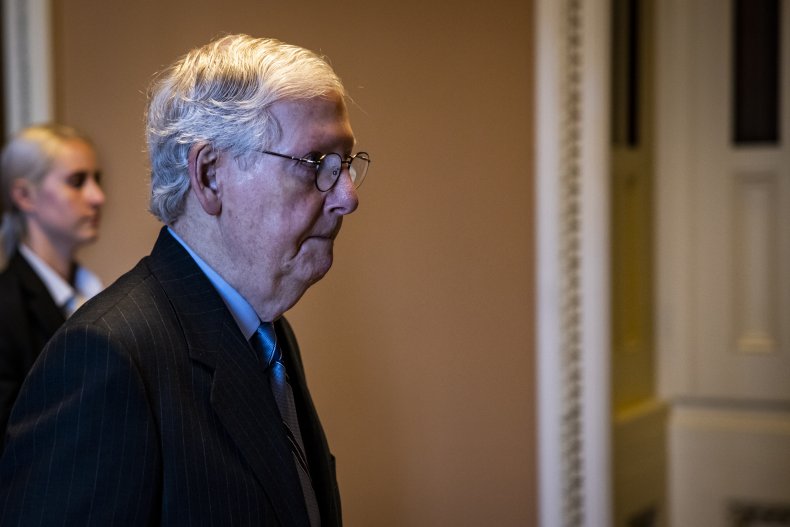 The package, which has been pushed by the Biden administration, includes funding for roads, bridges, broadband internet, power grid upgrades and other priorities.
Senate Majority Leader Chuck Schumer said Monday that the chamber can be "proud" that Republicans and Democrats have come together to move forward with the legislation.
"We have come to an agreement after all the long, hard negotiating, the stops and starts. We're here. And it's a good thing, a very good thing for America," he said.
Trump, however, has repeatedly expressed his opposition. On Saturday, the former president said it would be "very hard" to endorse Republican lawmakers who vote in favor of the bill.
"Joe Biden's infrastructure bill will be used against the Republican Party in the upcoming elections in 2022 and 2024. It will be very hard for me to endorse anyone foolish enough to vote in favor of this deal," Trump said. "If Mitch McConnell was smart, which we've seen no evidence of, he would use the debt ceiling card to negotiate a good infrastructure package."
Once the infrastructure bill is passed in the Senate, it will need to be passed by the House of Representatives, which is expected to take it up in late September following its summer recess.
Newsweek contacted representatives for McConnell for comment but did not hear back before publication.