Donald Trump Announced His Campaign Two Years Ago, and Here Are 10 Crazy Things He Has Done Since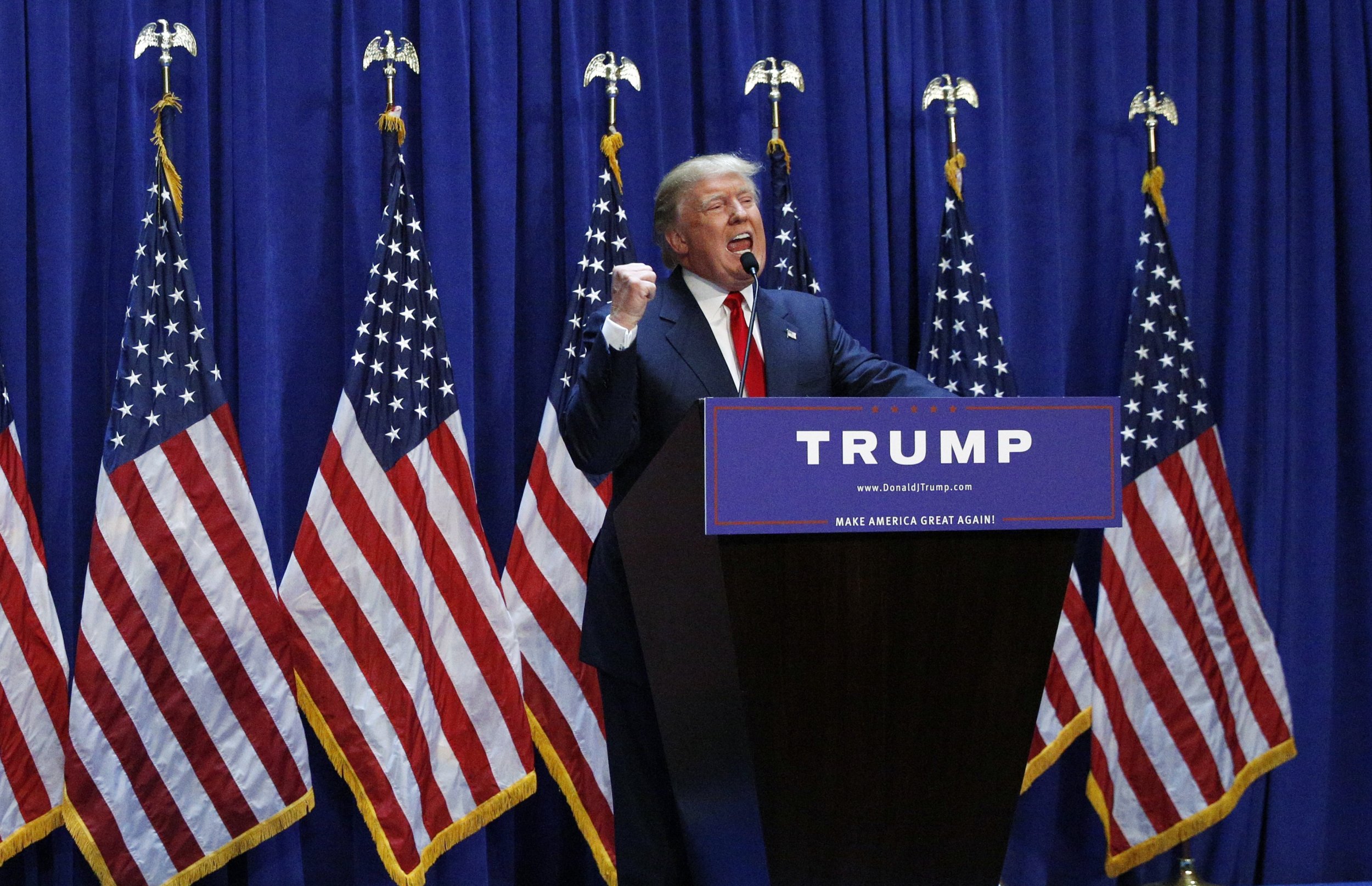 Some days, it may feel hard to remember a time before Donald Trump was president of the United States. But in reality, he hasn't been in politics forever.
In fact, it's only been two years.
On June 16, 2015, Trump rode an escalator down to the lobby of Trump Tower in New York City as Neil Young's "Rockin' in the Free World" blared over speakers. When he reached the bottom, he proceeded to give a wide-ranging speech discussing everything from unauthorized immigration to Common Core education, and in doing so he launched his presidential campaign.
Since then, it's been a wild ride. Here are 10 crazy things that Trump has done in the past 24 months.
1. Criticized Arizona Sen. John McCain, a Former Prisoner of War, for Being a Prisoner of War
Just a month after announcing his candidacy, Trump made some of his first political enemies when he criticized McCain, who was imprisoned during the Vietnam War. Trump never served in the military; instead he received five deferments, according to Politico.
"He's not a war hero," Trump said of McCain in July 2015. "He was a war hero because he was captured. I like people who weren't captured."
2. Brought Up His Penis—Er, Hand Size—at a Presidential Debate
In March 2016, after Florida Sen. Marco Rubio teased him about the size of his hands, Trump addressed the legend that having small hands means having a small manhood.
"Look at those hands, are they small hands?" Trump asked the crowd at a GOP debate. "And he referred to my hands—'If they're small, something else must be small.' I guarantee you, there's no problem. I guarantee."
3. Proposed Shooting Hillary Clinton
While speaking at a campaign stop in August 2016, Trump implied that gun rights fans could assassinate his opponent. He was talking about how if Clinton were elected, she would get to nominate a justice to the Supreme Court.
"If she gets to pick her judges, nothing you can do, folks," Trump said, according to The New York Times. "Although the Second Amendment people—maybe there is, I don't know."
4. Suggested Ted Cruz's Dad Helped Kill John F. Kennedy
Last summer, Trump used a National Enquirer tabloid story linking the Texas senator's dad with JFK assassin Lee Harvey Oswald as the basis for an attack on Cruz.
"What is this, right prior to his being shot, and nobody even brings it up? They don't even talk about that. That was reported, and nobody talks about it," Trump told Fox News at the time. "I mean, what was he doing—what was he doing with Lee Harvey Oswald shortly before the death? Before the shooting? It's horrible."
5. Got Caught on a (Now-Leaked) Tape Discussing Sexual Assault
In October 2016, The Washington Post published audio from a 2005 conversation between Trump and TV host Billy Bush, in which the Republican bragged about using his stardom to approach women.
"You know, I'm automatically attracted to beautiful—I just start kissing them. It's like a magnet. Just kiss. I don't even wait. And when you're a star, they let you do it," Trump said. "Grab them by the pussy."
6. Threw a Fit About Inauguration Crowds
In January, National Parks Service photos circulated in which the size of the audience who attended Trump's inauguration appeared smaller than that at former President Barack Obama's, contradicting press secretary Sean Spicer's claim, "This was the largest audience to ever witness an inauguration, period."
Trump aide Kellyanne Conway responded to the controversy in an NBC interview, saying Spicer simply "gave alternative facts."
7. Accused Obama of Bugging Him
In March, Trump tweeted a message that kick-started a conspiracy theory. "Terrible!" he wrote. "Just found out that Obama had my 'wires tapped' in Trump Tower just before the victory. Nothing found. This is McCarthyism!"
His predecessor reacted by issuing a statement rejecting these claims, but the White House held fast. "I think our sides been proven very strongly, and everybody's talking about it, and frankly, it should be discussed—I think that is a very big surveillance of our citizens. I think that's a very big topic. And it's a topic that should be No. 1, and we should find out what the hell is going on," Trump told CBS. "You can take it the way you want."
8. Gave Classified Information to Russia
This past May, Trump came under fire for sharing secret information about the Islamic State group during a meeting with Russian Foreign Minister Sergei Lavrov and Ambassador Sergey Kislyak. The White House immediately began damage control, with national security adviser H.R. McMaster telling reporters "at no time, were intelligence sources or methods discussed."
But then Trump tweeted. "As president I wanted to share with Russia (at an openly scheduled White House meeting), which I have the absolute right to do, facts pertaining to terrorism and airline flight safety," he wrote. "Humanitarian reasons, plus I want Russia to greatly step up their fight against ISIS [and] terrorism."
9. Fired James Comey
Trump terminated the FBI director investigating whether his campaign had inappropriate contacts with Russia, which is believed to have interfered in the U.S. election. Initially, the president said he fired Comey at the advice of Attorney General Jeff Sessions and his deputy Rod Rosenstein, who said the public didn't have faith in the agency anymore.
"I was going to fire Comey," Trump told NBC News after the fact. "Regardless of the recommendation, I was going to fire Comey."
10. Invented a Meme
Last month, Trump attempted to start one of his infamous nighttime Twitter rants. But what he tweeted instead was, "Despite the constant negative press covfefe." And then he didn't delete it for hours.
The internet went wild, sharing everything from covfefe Twin Peaks jokes to real-life covfefe merchandise. When Trump eventually came back online, he wrote "Who can figure out the true meaning of 'covfefe'??? Enjoy!" Spicer insisted it wasn't a typo, later telling reporters that "the president and a small group of people know exactly what he meant."