Trump Campaign Appeals Pennsylvania Mail-In Ballots Case as State on Verge of Certifying Election Results
Donald Trump's presidential election campaign is appealing a Pennsylvania judge's decision to dismiss its lawsuit challenging the state's ballot counting procedures, with intent to halt its upcoming certification of results.
The appeal, filed Sunday, came about 24 hours after District Court Judge Matthew Brann issued a ruling that tossed out allegations included in the Trump campaign's legal complaint. In his decision, Brann noted that attorneys failed to provide sufficient evidence supporting their insistent claims that misconduct on the part of elections officials gave Joe Biden his projected presidential win.
"One might expect that when seeking such a startling outcome, a plaintiff would come formidably armed with compelling legal arguments and factual proof of rampant corruption," Brann wrote. "That has not happened. Instead, this Court has been presented with strained legal arguments without merit and speculative accusations, unpled in the operative complaint and unsupported by evidence."
Among numerous lawsuits filed by the Trump campaign after November 3, each of which aimed to discredit election results in areas where Biden secured a projected win, this particular legal proceeding targeted a handful of Pennsylvania counties and Democratic Secretary of State Kathy Boockvar. It alleged Republicans were disadvantaged by certain local statutes that allow individuals to amend errors on mail ballots prior to Election Day, saying the laws favored Democratic voters.
The suit sought an injunction from the court prohibiting counties listed from certifying election results, which would, in turn, prevent Pennsylvania from doing the same. Pennsylvania's county elections boards are due to certify results with Boockvar's office on Monday.
Although a different suit filed in Pennsylvania, which asked the state to disqualify certain mail ballots received without proper identification, proved successful in court, the absence of those votes would not sway the overall results of the state's election. Ballot tallies reported by the Associated Press show Biden earned nearly 80,000 more votes than Trump in the critical swing state, giving him an anticipated 20 additional votes from the Electoral College.
Trump attorney Rudy Giuliani shared the campaign's intentions to seek an appeal from the U.S. appellate court in Philadelphia, and suggested it would carry the case as far as the U.S. Supreme Court if necessary, in a statement issued after Brann released his Saturday decision. Trump's legal team could appeal an unfavorable decision from the Third Circuit with a petition to the Supreme Court.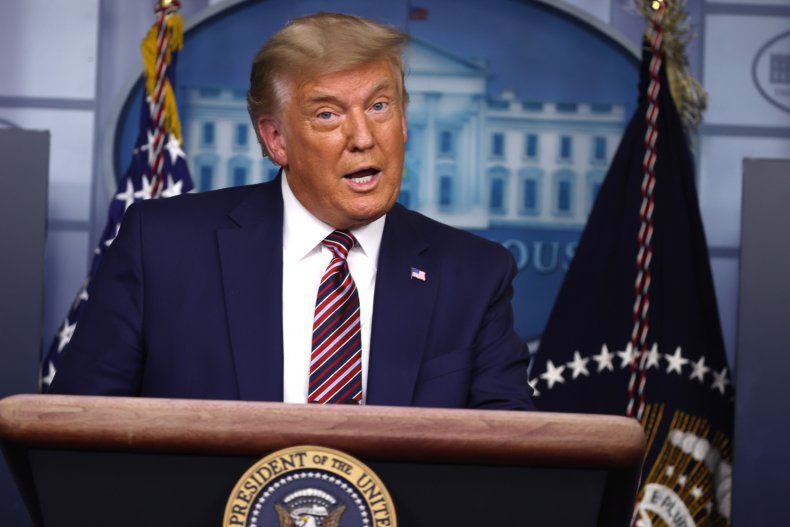 "Although we fully disagree with this opinion, we're thankful to the Obama-appointed judge for making this anticipated decision quickly, rather than simply trying to run out the clock," Giuliani said in the statement, reiterating previous claims that "so much evidence" exists to bolster the campaign's legal efforts, but attorneys did not have ample opportunity to present it.
Giuliani, the Republican former New York City mayor and longstanding Trump attorney, joined the sitting president's legal team hours prior to its first hearing in Pennsylvania federal court last Tuesday. His emphatic remarks about voter fraud and a Democratic coup to manipulate ballots to Biden's advantage during a subsequent press conference gave rise to widespread speculation, as well as calls for proof to back the ambitious accusations.
Newsweek reached out to the Trump campaign for further comment but did not receive a reply in time for publication.