Trump Campaign Chief Calls US Rep. Ilhan Omar 'Dangerous'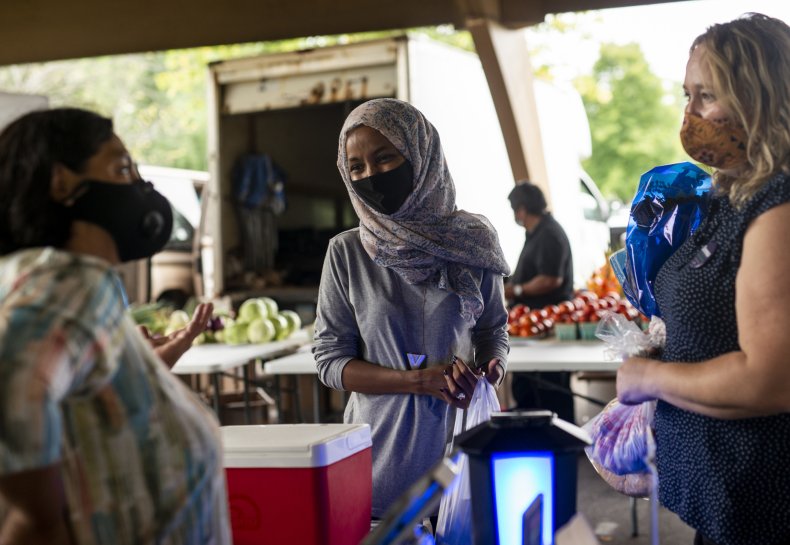 Donald Trump's top campaign aide lobbed another attack on U.S. Rep. Ilhan Omar on Friday, as the president's reelection team makes a play for Minnesota, calling her "the most extreme, the most dangerous" member of the Democratic Party.
"Everywhere else in the state you have common-sense Democrats who don't recognize Joe Biden's Democrat Party anymore," campaign manager Bill Stepien told Newsweek and other media outlets during a call Friday. "They don't recognize what it's become."
A spokesman for Omar declined to comment when contacted by Newsweek on Friday.
Trump and his campaign team have repeatedly taken aim at the freshman congresswoman from Minnesota who is among the chamber's progressive wing. During a recent rally in Michigan, Trump claimed Omar "truly hates our country."
"We're going to win Minnesota because of her," he said.
During a campaign event in Florida days earlier, Trump floated the baseless allegation that Omar had married her brother.
Omar has said the attacks from Trump and his allies have prompted threats on her life.
"Every time the president has invoked my name, it has incited violence against me," she said said during an appearance on MSNBC this week.
Omar's district includes Minneapolis, which was roiled by the death of George Floyd over the summer. Video quickly circulated showing Floyd pinned down by a police officer for nearly nine minutes, with the officer's knee on Floyd's neck, prompting a wave of protests across the country.
Trump has made aggressive plays for Minnesota this election cycle, even though the state has voted for the Democratic presidential candidate in all elections for nearly five decades.
Trump came within a point of winning the state four years ago. According to RealClearPolitics' analysis of recent polls, Biden holds a 6-point lead over Trump in the state.
Stepien accused Omar of pushing Biden to the left on issues.
"We know what she wants to do, she wants to defund the police, she is pushing for the Green New Deal," he said.
Vice President Mike Pence is scheduled to travel to Minnesota to campaign on Monday.