Trump Campaign Directed Roger Stone to Find Out When Wikileaks Would Release Damaging Clinton Emails, Mueller Indictment Suggests
Senior members of the Trump campaign directed Roger Stone, a longtime aide of President Donald Trump, to find out when WikiLeaks would release harmful information on Hillary Clinton, according to an indictment released by the Justice Department on Friday.
The FBI arrested Stone early Friday morning for allegedly lying to Congress and attempting to obstruct the House Intelligence Committee's investigation into whether members of the Trump campaign colluded with Russia to influence the outcome of the 2016 election. The special counsel's office is investigating the same matter, and the indictment released for Stone outlined that top members of the Trump campaign were in fact communicating with WikiLeaks, a transparency organization that is widely believed to be working on behalf of Russia.
In summer 2016, around the time of the Democratic National Convention, WikiLeaks published tens of thousands of emails stolen from the Democratic National Committee by Russian hackers. Then, in October of that year, Wikileaks also published emails stolen from Clinton's campaign chairman John Podesta. The publication appeared to have been timed to cause the maximum damage to the campaign of then-presidential candidate Clinton.
Shortly thereafter, Senior Trump campaign officials contacted Stone to find out when WikiLeaks would release more information, according to Friday's indictment.
"STONE was contacted by senior Trump Campaign officials to inquire about future releases by Organization 1," the indictment read, referring to WikiLeaks as "Organization 1."
"After the July 22, 2016 release of stolen DNC emails by Organization 1, a senior Trump Campaign official was directed to contact STONE about any additional releases and what other damaging information Organization 1 had regarding the Clinton Campaign. STONE thereafter told the Trump Campaign about potential future releases of damaging material by Organization 1," the indictment detailed.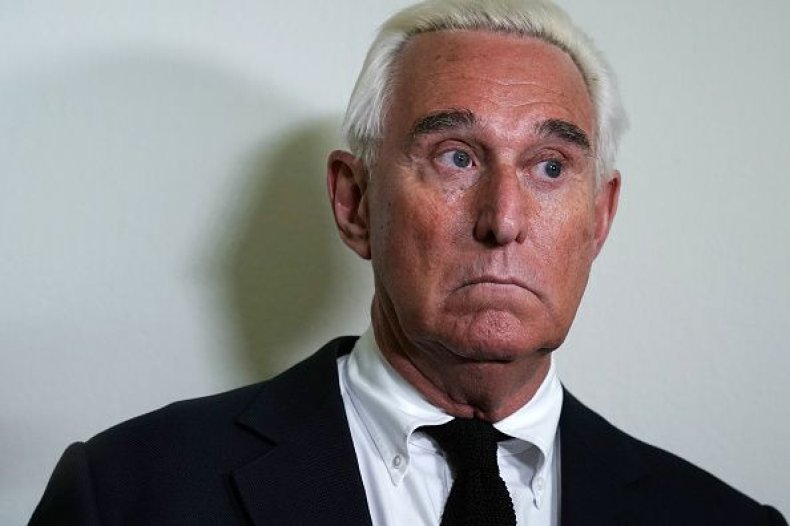 "On or about October 7, 2016, Organization 1 released the first set of emails stolen from the Clinton Campaign chairman. Shortly after Organization 1's release, an associate of the highranking Trump Campaign official sent a text message to STONE that read 'well done,'" the indictment continued.
Stone had tweeted hints about the publication of the stolen information before WikiLeaks published it—a move that raised suspicion about his ties to the organization. But Friday's indictment appeared to corroborate long-held suspicions that the Trump campaign used Stone as a go-between to contact WikiLeaks regarding the publication of information stolen by Russia.
What's more, the indictment demonstrated that the Russian hackers specifically aimed to hurt Clinton's campaign.
"Time to let more than [the Clinton Campaign chairman] to be exposed as in bed w enemy if they are not ready to drop HRC," "Person 1," who is believed to be political commentator and conspiracy theorist Jerome Corsi, wrote in an email to Stone about Hillary Clinton.
"That appears to be the game hackers are now about. Would not hurt to start suggesting HRC old, memory bad, has stroke—neither he nor she well. I expect that much of next dump focus, setting stage for Foundation debacle," the email continued.
During the 2016 presidential campaign, surrogates for the Trump campaign did accuse Clinton of being old and physically unwell.
During his campaign for president, Trump repeatedly praised WikiLeaks. The Justice Department has filed charges against WikiLeaks's founder Julian Assange, but they are under seal. On Wednesday, Assange, who has been hiding in the embassy of Ecuador in London since 2012 to avoid extradition, filed a legal challenge against the Trump administration, demanding it make public the charges against him.